I was thrilled to return tonight to see the latest production from PADOS at the beautiful PADOS House in Prestwich. Following their last production of I Love You, Your Perfect, Now Change which won 4 awards at the recent GMDF Awards my expectations were high. PADOS House is a stunning little theatre space with hospitality to match and is always a pleasure to visit.
I should start by congratulating the production on a whole. For once, and this is sadly rare these days, the sound department (Glenn Knight) excelled. Not once during the two hour performance did they miss a cue and all the artists on stage could be heard at all times. I also need to mention the costumes provided by Bell Costumes. I lost count before the end of the first half of the number used but all were stunning, colourful and in keeping with the era of the songs or their subject.
Gotta Swing directed by Simon Fletcher and choreographed by Helen Marland delves into the classic era of swing, providing a selection of the most iconic hits from the past 60 years. My first gripe about this show is the fact they decided to use a pre recorded backing track instead of live musicians on stage. Whilst this didn't detract from the performance on stage too much there is something about a live band that injects an added thrill and luxury to a revue show.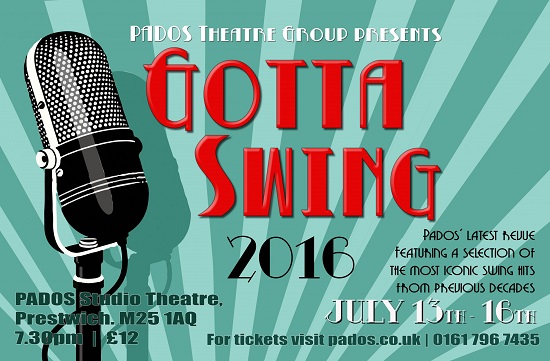 This show is packed with 33 songs, some of which are immediately identifiable such as "I Got Rhythm', 'Luck Be A Lady', 'Mr Sandman' and 'Dancing Fool'. Performed by a cast of 12 talented individuals there is hardly time to draw breathe in between each song. Opening with the entire company performing the Gershwin classic 'I Got Rhythm' which featured most famously in the 1951 musical film An American In Paris it was clear from the off this was going to be a fantastic night of music and dance.
I shall name the entire cast on this occasion as they all played an equal part in making this show a success. The ladies on stage were April Grime, Amanda Ernest, Emily Richardson, Rachel Slater, Samantha Richards and Susan Glover. Making up the other half of the cast were the men David Glynn Whitehead, Gary Griffin, Jack Martin, Matthew Phillips, Richard O'Connor and Simon Fletcher.
Performances of note in the first half included 'What A Difference A Day Makes' from Slater and 'Smile' from O'Connor. The highlight of the first half was possibly not surprisingly the final number, a large song and dance number 'Swing' was sung superbly by my favourite performer of the night Samantha Richards. Richards throughout the evening impressed with her strong vocals and I shall be keeping an eye out for future performances she is in.
The second half featured more recognisable songs (for me anyway) such as 'Luck Be A Lady', 'Beyond The Sea', 'W.O.M.A.N' and 'Fly Me To The Moon'. Once again Richards impressed with a superb version of 'Why Don't You Do Right' with the choreography allowing her to wander round the stage teasing the male cast members as they sat in a cocktail bar. Another highlight was the full company singing 'Tu Vuo Fa L'Americano' sung completely in the Neapolitan language, impressive and wonderfully executed.
Rachel Slater performed a lovely version of 'At Last' before the entire male line up impressed with 'Under My Skin'. The finale of the evening 'Dancing Fool' featured dancing girls and would not have looked out of place in a Vegas show bar and was warmly appreciated by the near capacity audience.
As much as I thoroughly enjoyed my evening in the company of PADOS there was one thing that if changed could have made the evening virtually perfect. After every song bar 2 there was a complete blackout to allow the cast to reposition or get onto stage. These blackouts were also used to set the few props used during the show. They were just too frequent and became almost tiresome even half way through the first half. A small gripe from such a good show.
Gotta Swing marks the end of the current PADOS season and I am already looking forward to hearing details of their next and to returning to this wonderful venue. Enjoy your break you all deserve it.
Reviewer: Paul Downham
Reviewed: 14th July 2016