Wonderful Performance of a Timeless Classic
I was greeted by the butler, Lane (George Trier) at the entrance to The Black-E and shown to a table which was set out, as they all were, with cucumber sandwiches and cream & jam scones. I knew then that the promised twist from Director Rowan Dyer wasn't going to be restricted to a slice of lemon or lime in the gin on offer at the bar. The use of a low level stage served to bring the full-house audience into the piece and the black & white art deco set, complete with chaise longue and arches, was set off perfectly throughout with the use of black and white period costumes which added a touch of real class to this production.
The play commences with Lane serving tea at the London home of dandy Algernon Moncrief (Cameron Steen) whose friend 'Ernest' Worthing (Geraint R Williams), whose real name is in fact 'John', has just arrived: when Worthing tires of life in the country looking after his teenage ward, he escapes to enjoy the London high life under the guise of going to see his wayward brother 'Ernest'. Next to arrive are Algernon's aunt Lady Bracknell (Geraldine Moloney Judge) and her daughter, Gwendolen Fairfax (Josephine Dalton), to whom John wishes to become engaged but can he meet the exacting standards of Lady Bracknell?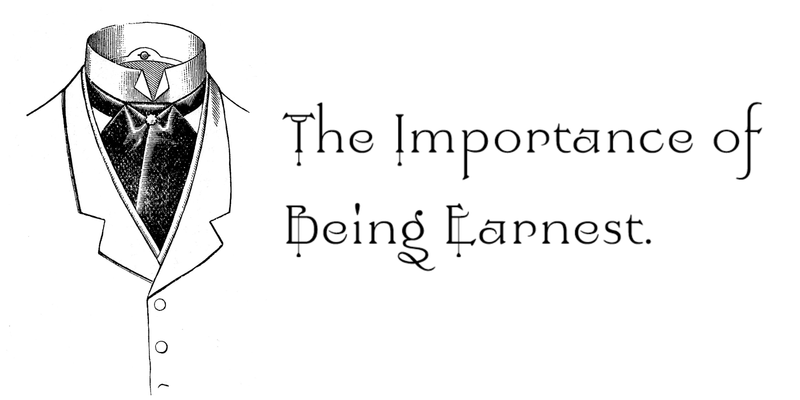 The scene changes to the garden of Worthing's country home where we meet his ward, Cecily Cardew (Lily Almond) and her Governess, Miss Prism (Vicky Lodge), along with the Rev. Canon Chasuble (Nigel Goodwin). Trier doubles as the butler, Merriman. 'Ernest' (Algernon in disguise) has arrived to woo the pretty young girl he has heard so much about before everything is thrown into disarray when first Gwendolen turns up followed closely by John before the inimitable Lady Bracknell appears and a hilarious series of mistaken identities ensues as everyone learns the vital importance of being earnest.
As much as this is a play for laughs there are deeper issues going on beneath the surface that mirror Wilde's own life as we see sincerity versus cynicism; chastity versus desire; abstinence versus appetite; respectability versus honesty; and truth versus fiction, and the production does well to draw these out without detracting from the humour of the piece. As entertaining a battleaxe as she may be, Lady Bracknell pontificates over this air of change which threatens to burst the perfect little bubble these characters exist in and who delight us so with all their faults and foibles, even revealing at one point that she is not all she may seem to be, not that that will hold her back in judging everyone else however!
I have always thought of this as a play of pairs and contrasts and we are immediately drawn to this in the opening scene between Williams' straight Worthing and Steen's delightfully comic Moncrief; Worthing and Gwendolen's budding romance makes it clear that despite all Williams' apparent sophistication, it is Dalton's assured young lady who is well and truly calling the shots. Algernon and Cecily's own budding romance allows Steen to play the cad to glorious effect but he is ultimately shot down by the arrow of Almond's exquisite precociousness as she aims to get her man too. Equally when she is in the company of Miss Prism, we are aware that whilst she has much to learn, there is a lot about life that she instinctively knows. Lodge is in her element as Miss Prism and delights beyond expectation and her comic scenes with Goodwin's Chasuble were a joy to watch as both played out their characters mannerisms to the extreme. Trier gets to play both butlers and does so brilliantly with each in complete contrast to the other as the dry and laconic Lane evolves into the older and wiser Merriman, with many a knowing look on the way, as the play switches from town to country.
And so to the more singular: Moloney Judge is superb and provides what I can only describe as an acting masterclass as she plays Lady Bracknell to full aplomb but without detriment to the scene or the performances of the other actors which I have often seen happen with this play. There is a skill and dexterity that comes with experience that is on show here and her performance is worth seeing for that alone.
This was Wilde's last play before his fall from grace and with its mocking of traditions and social customs serves to provide more quotable lines than just about any play outside of Shakespeare. In its familiarity lies its greatest challenge and so much credit too to Dyer, who also handled the lighting and sound, in pulling this rich tapestry together and he was ably supported by Assistant Director Sandra Tschackert, Production Manager Stephen Tyler-Parke and Stage Manager Elaine Louise Stewart. Set design by Priyanka Bedia, costumes by Stewart and Lodge, and make-up by Vicky Millar ensured that the visual impact complemented the cast's delivery perfectly.
The Importance of Being Earnest performs at the Black-E from 6th - 9th September 2016.Tickets are priced at £10 (Concessions £8.00) and are available from www.ticketsource.co.uk/Brimstonetheatre
Brimstone Theatre was set up in 2013 by a group of friends interested in exploring darker plays. Productions to date have included Dr Faustus, Antigone and A Christmas Carol. Following its critical success, a much longed for re-staging of Dr Faustus is anticipated. Brimstone Theatre also have a play reading group via their Facebook page which is open to everyone and where an old favourite or something new can be explored.
The Black-E is considered the UK's first community arts project and a centre where all the arts (performing and making, experimental and traditional) engage with all the people who choose to come through its doors (young and old, disadvantaged and privileged). Further details http://www.theblack-e.co.uk/
Reviewer: Mark Davoren
Reviewed: 6th September 2016