A Thoughtful and Evocative Drama
Following critical acclaim earlier in the year, Liverpool Lambs is being re-staged at St Michael's Irish Centre as part of the Liverpool Irish Festival 2016. Written by Steve Nolan and Peter King, it tells the little known story of the men and women from Liverpool, much of it based on King's real family members, who helped to change the course of Irish history as it remembers their contribution to the formation of an independent Irish Republic through drama, dance, music and song.
To a backdrop slideshow of photographs chronicling key events in Irish history from 1798 up to the Easter Rising of 1916 which the play itself depicts, we are introduced to some of the cast, armed and ready for action and touched into speech by the pirouetting Niamh Owens, with the melodic sound of harp (Gill Boggan) and mandolin (Ciara Owens) softly playing in contrast before singer and poet Bruce Scott appears on stage with his rendition of a newly composed song capturing this troubled period.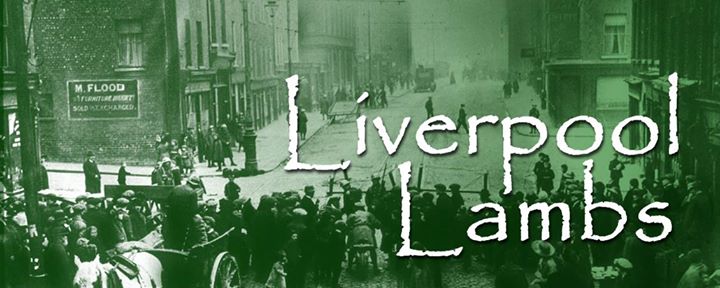 At the heart of this story is the King family and we are introduced to mother Mary (Anne Rock), father John (Frank Kennedy) and their four sons: Seán (Ciaran Doolin), Patrick (Mark Dawson), George (Liam Powell-Berry) and the youngest Tom (Josh Davies). This is 1916 and the family is caught between their loyalty to Ireland and the arrival of call-up papers for eldest son Seán to serve a king and country he doesn't recognise as his own. In contrast, neighbours Mr and Mrs Feeney (Michael Finnigan and Margaret Gill) have no such qualms with their son Kevin (Christie Roberts) heading off to France to do his duty. Cue a leaving party, with the obligatory Irish priest, Father Breen (Paul Gee), which allows us to delight in more music, half-set dancing and the singing of Niamh Owens as we revel in an innocence soon to be lost.
Whilst Sean, Patrick and George train with the Irish Volunteers, we meet Rose (Stephanie Barr) and Peggy (Emma Turner), volunteers with the Cumann na mBan (republican women's organisation) who are placed equally centre stage reminding us of the opening lines of the Irish Proclamation which called out to 'Irishmen and Irishwomen'. In contrast young Kevin is put through his paces by an army instructor (Steve Nolan) although there is little difference other than the uniform worn. Both sides convene at the docks as one heads for France, seen off by girlfriend Lily (Kerry Finnigan), and the brothers for Dublin.
The second half of the play opens with another song from Bruce Scott before we are launched into Dublin, the monotony of drilling amid the anticipation of something unknown, all encompassed with great humour as we get a 'Keystones Cops' hold-up of a tram by the three brothers, now joined by other volunteers including Joe (Frank Kennedy) and Arthur (Luke Morgan), as well as a joke directed at the 'cream' of Trinity College. Rose and Peggy are now here too with but with no time for make-up when cooking and nursing skills are going to be required as that 'terrible beauty' is soon to be born.
The scene in the GPO is particularly moving as led by Rose, the cast in turn read the proclamation aloud before Kearney and Heeney's 'A Soldiers Song', the Irish national anthem, is sung first by Peggy then by Liam in its original Irish as one of the leaders of the rising, James Connolly (Steve Nolan), spurs them on. As the battle unfolds the sound effects of gunfire and explosion alongside the narration of the unravelling events really hits home as we are dragged towards the impending surrender and the plea of Pádraic Pearse, one of the leaders, for them to survive to continue the struggle. And then the hard facts. The execution of the leaders, the injured Connolly strapped to a chair as he was unable to stand. The King brothers initially imprisoned then returned home where their continued refusal to serve king and country sees them incarcerated again. Rose and Peggy return as well, as indeed did all of the Liverpool volunteers. As Bruce Scott sings us out with 'Foggy Dew' there was indeed a chill in the bone: Éirinn go Brách.
I like the idea of using music, song and dance to embellish the play but there is a delicate balance. I felt the song lengths could have been reduced for greater impact and the 16-hand reel in the gaol seemed forced. It meant the second half, where all the action unfolds, became somewhat squeezed and we were told more than we were shown. This is a powerful drama based on real people from the heart of a community and it was pleasing to see Irish TV recording tonight's performance as it deserves a wider airing. With much re-casting there were good performances from all of the cast which often included doubling up of roles. The experienced Kennedy and Nolan undoubtedly shone through. I enjoyed Dawson's Patrick and his letter to mother scene was quite moving. Barr and Turner also delivered strong performances - don't upset Barr though as she's quite a good shot!
St Michael's Irish Centre was formed in 1999 and runs a full range of activities in support of the Irish community including dancing, music, language and sports. Further information about their exciting range of events is available at http://www.stmichaelsirishcentre.org/
Liverpool Lambs has one further performance at St Michael's Irish Centre on Sunday 16th October at 4pm. Tickets can be secured at http://bit.ly/2deFlb9
Reviewer: Mark Davoren
Reviewed: 14th October 2016