How do you review a show that is technically supposed to be bad? Well, the Farndale series of plays by David McGillivray and Walter Zerlin Jnr are a spoof of local amateur productions, and in this one, we are presented with a murder mystery with a difference as everything that could go wrong does!
Led by their indomitable chair, Mrs Reece (Lynn Aconley), Felicity (Tracey Duffy), Audrey (Linda Saavedra), and Miss Farndale herself, Thelma (Jo Webster), get the show well and truly on the road with assistance from last-minute stand-in Gordon (Rob Williams), as we career via a collapsing set, mistimed special effects, flying props, and much, much more, as our Ladies present an ambitious evening's entertainment with their Agatha Christie-style whodunnit, 'Murder At Checkmate Manor'. But who's the culprit? There is the obvious butler, Pawn, as well as the French maid, Régine, who may not be all she seems to be, along with an array of family members including Bishops, Rooks, and Kings. The plot thickens as bodies pile up all over the place and Inspector O'Reilly is faced with his most challenging case yet.
However, if the suspense is not enough for you, we are also treated to recipe ideas and make-up tips, along with an all too memorable fashion show and an interval quiz.
The strong cast excel in playing more than a dozen roles badly, involving chaotic plot twists and rushed costume changes, and very cleverly mixed up lines which are delivered with full aplomb right up until the end when a final inventive twist, of sorts, is brought in to save the day.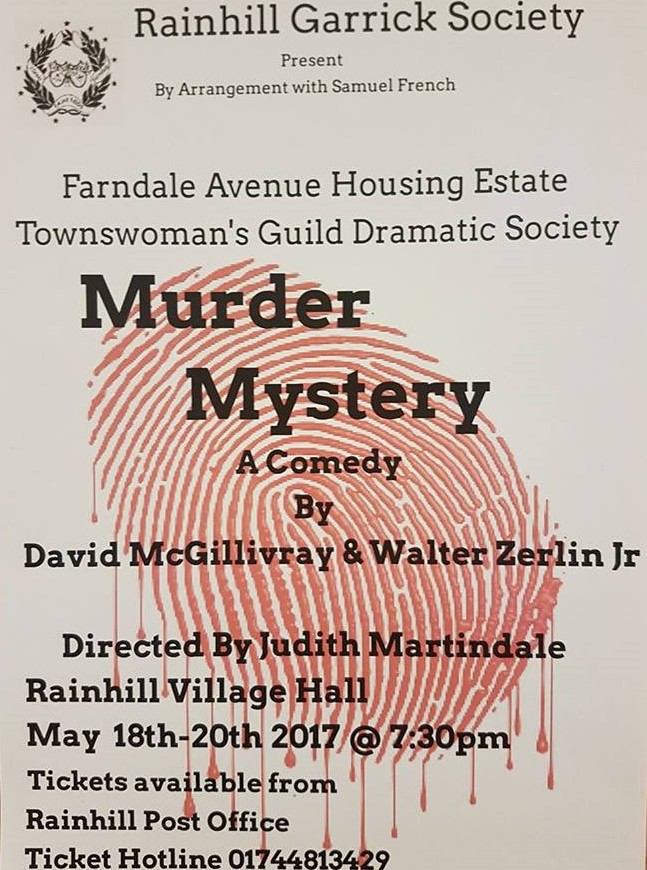 It is a brave move for any company to attempt a play within a play, especially when all the characters are so excruciatingly bad, but in closing their season, Rainhill Garrick Society, under the expert direction of Judith Martindale, have truly excelled themselves with this intentionally shambolic production.
I enjoyed the catty rivalry between Aconley's Reece and Webster's Thelma which was ever-present from the off; Duffy's comic timing was superb as she switched between playing the butler and the colonel; Webster's Thelma and Williams' Gordon gave us pure slapstick with their 'Daphne and O'Reilly' contrived song and dance routine, ably supported by dancers Rosetta Parker, Alison Mawdsley, Betty Swift, Emma Gough, Olivia Draycott, and Danni Gore. For me though, Saavedra provided a comedy masterclass as Audrey, from her opening warm-up routine through her perfectly over-acted characters to her purposeful disdain with proceedings at the end. Wonderful.
The technical support necessary to deliver a laugh-out loud performance of this nature cannot be understated either with lighting by stage manager Graham Swift; sound and set design by Richard Parker (as well as a brief appearance as a dog if I'm not mistaken); props by Rosetta Parker and Alison Mawdsley; and intended prompts from Betty Swift and George Lowe.
It is said to be able to laugh at oneself should be applauded. To do it and have everyone laugh along with you is surely even more praiseworthy. Rainhill Garrick Society certainly deserve the highest praise for this production and more: it is one of the funniest shows I have ever seen.
For further information on their productions or to get involved then visit their website http://rainhillgarrick.co.uk/index.html
Farndale Ladies Murder Mystery plays at Rainhill Village Hall on Thursday 18th, Friday 19th and Saturday 20th May 2017 with performances starting at 7.30pm. Tickets at £6 (£5 concessions) are available at Rainhill Village Post Office or by calling 01744 813429.
Reviewer: Mark Davoren
Reviewed: 16th May 2017