Carlton Players end an entertaining season with this once-famous farce written by Brandon Thomas, a contemporary of Oscar Wilde, and renowned in his own right as both an actor and playwright having produced a number of popular comedies, few of which sadly survive. Charley's Aunt premiered in 1892 and went on to complete a record-breaking run of 1,466 performances in London as well as transferring to Broadway.
Oxford students Jack Chesney (Jake Szuplewski) and Charley Wykeham (Marc Smith) are secretly pleased when they discover that Charley's aunt, who he has never met, is due to arrive at any minute and can therefore act as the respectful chaperone they require in order to propose to their respective belles, Kitty Verdun (Lydia Jones) and Amy Spettigue (Jade Franks). Everything seems to be in order until said aunt's arrival is delayed and with the imminent departure of the ladies in question to Scotland for the summer, all their plans seem up in the air. What's a boy to do other than get their equally love-stricken friend Lord Fancourt Babberley, 'Babbs' (Charlie Knowles), to impersonate her, a role he quickly and readily adapts to, much to the concern and consternation of Jake and Charley.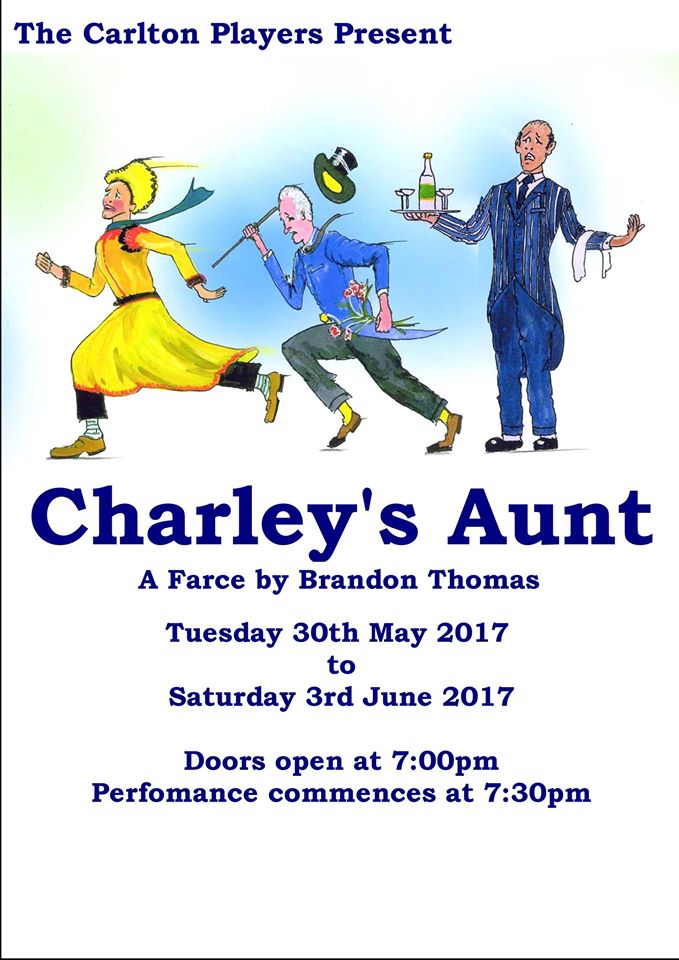 With matters being attended to by their irrepressible butler, Brassett (Gareth Crawshaw), the only trouble appears to be Jack's father, the somewhat bemused Sir Francis Chesney (Mike Sowden), and Amy's uncle and Kitty's guardian, the blustering Stephen Spettigue (Ian Nenna), deciding that the widowed millionaire aunt in question might just be the answer to their own problems. Until that is the real aunt, Donna Lucia (Laura Cooper), arrives on the scene and whilst she's not impressed with the impostor, her ward, Ela Delahey (Susana Lousada), appears to feel somewhat to the contrary. Whatever next…
There are a lot of things necessary for a successful farce including some OTT acting, immaculate timing, improbable coincidences, and of course that mainstay of British comedy down the years: dressing a man up as a woman. Much to his credit, director Nick Fawdry has been able to serve up three courses of delightful entertainment with this production, aided and abetted in equal measure by a strong and adaptable set design, a period-perfect wardrobe, and assured performances from all the cast. I have a thing about period comedy butlers and so was pleased to see Crawshaw excel with his all-too-knowing and understated manner and I particularly enjoyed his confidences to the audience as he broke the fourth wall. The standout performance was Knowles who provided great energy and showed maturity beyond his years to pace himself amidst all the to-ing and fro-ing and deliver his lines with great comic timing. One to keep an eye out for.
The Little Theatre in Birkenhead is a delightful venue complete with bar and seating almost 300 including full disabled access. There is free parking to the rear of the theatre from 6.30pm.
The Carlton Players are the resident company and produce 7 plays a year including a pantomime, comedies, and serious plays. They are always looking for new members so why not get involved?
Charley's Aunt runs through to Saturday 3rd June 2017, doors open at 7.00pm with performances commencing at 7.30pm. Tickets £8 (£6 concessions) and available at the Box Office on 0151 647 6593 (email: This email address is being protected from spambots. You need JavaScript enabled to view it.) or via www.ticketswirral.com
On 16th June, the theatre will be hosting a 'Memories Night' featuring films of Birkenhead from yesteryear along with guest speakers, all in aid of the Theatre Restoration Fund. Further details can be found at http://www.carltonlittletheatre.co.uk/
Reviewer: Mark Davoren
Reviewed: 30th May 2017