Centenary Theatre Company present their latest production, "Oklahoma" at the Brindley Theatre Runcorn and it is easy to see how this traditional musical is still so successful, 75 years after it was written. Between the set, the costumes, the sound and the performances, the audience were completely transported to 'Oklahoma' for a night of music, dance and good old fashioned American wholesomeness.
The story revolves around two love triangles. Firstly, there is the much-loved Aunt Eller's (Patsy Roberts) niece Laurey (Jo Novoa Bradley) and the two men chasing her heart, cheeky cowboy Curly (Thomas McLoughlin) and mad farmhand, Jud Fry (Kenneth McConaghy). It's the day of 'the box social', a charity auction and dance where women bring picnic baskets filled with homemade goods in the hope that a man will pay good money for it. Laurey agrees to go to the dance with Jud, despite being secretly in love with Curley. Jud is very jealous which makes life very difficult for Laurey and her true feelings are soon revealed as the drama unfolds. Meanwhile, the comic trio Ali Hakim (Mark Murphy) is trying his very best to avoid marrying the clueless Ado Annie (Sarah Cragg) whilst Will Parker (Matthew Orrillard) is daft about her and doing everything in his power to win her over.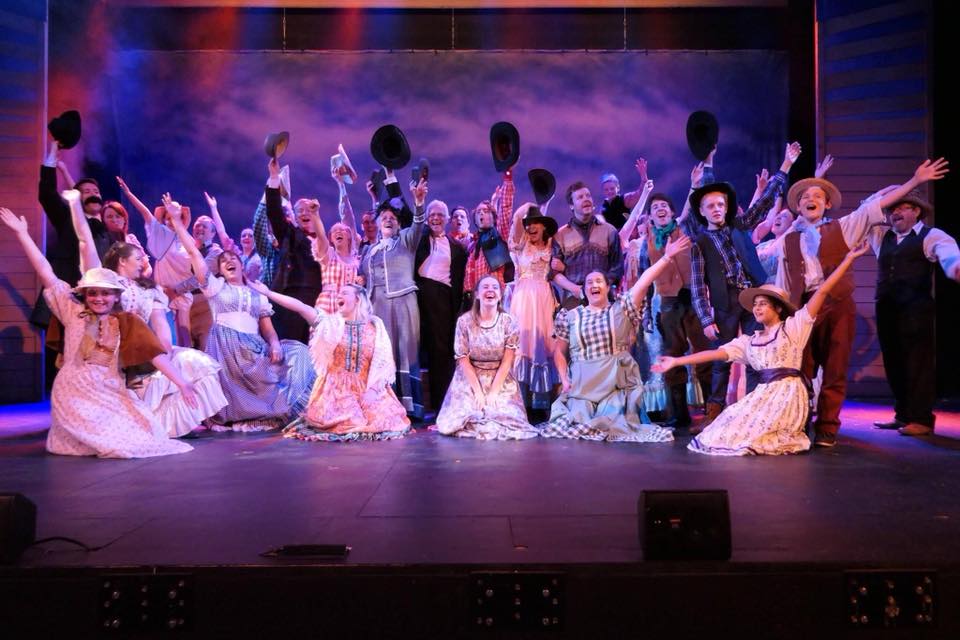 The show took a slow start tonight and I felt that first night nerves were apparent however these were soon squashed when the chorus first graced the stage and a bright entrance from the talented and infectious Sarah Cragg as Ado Annie was a breath of fresh air, her fun-loving energy giving the show the lift it needed. Although there were no weak links in this cast, other standout performances came from Mark Murphy as Ali Hakim, who was a pleasure to watch with his wonderful accent and humorous characterisation and Kenneth McConaghy who was very believable and a little scary as the unstable and rough-edged Jud Fry. Some diction was lost in the dialogue due to the accents from some performers however this aside, the whole show looked, felt and sounded authentic and in keeping with this Rodgers & Hammerstein classic. The audience was treated to effortless performances from all of the principals and vocal talent that knows no limits.
The chorus and choreography play a huge part in creating the ambience required to bring all the cowboys and farmers to life in this musical and Centenary have achieved this under the clever direction of James Gibbons (choreographer). It was a delight to have incorporated some youth into this production who opened the show's famous poetic "Dream Ballet" that was arranged artistically and performed skilfully. Not only was Jo Novoa Bradley pitch-perfect in her lead role but her dance abilities were beautifully demonstrated during this scene. Other personal highlights came from musical number such as "I can't say no" "People will say we're in love" "Poor Jud Fry is Daid" and not forgetting the bigger musical numbers such as "Kansas City" "The Farmer and the Cowman" which looked so enjoyable for the cast that the audience wanted to join in.
Congratulations to an undoubtedly hard-working production team on the success of this show which was filled with colourful lighting and smoke machines on a perfectly fitting timber based set design. The additional pieces of action during scene changes were a lovely additional touch and helped keep the audience fully engaged and engrossed throughout. Oh what a beautiful show! Centenary have completely pulled it off - enjoyable, entertaining and completely timeless. 'Oklahoma' continues at The Brindley Theatre Runcorn, for more information please visit https://tickets.thebrindley.org.uk/en-GB/shows/oklahoma/events
Reviewer: Bláthíne Maguire
Reviewed: 15th May 2018