Jenna Boyd is a professional actress from Southport in Merseyside. She has appeared in many of London's top West End musicals, on television and in film and since her first professional job in 2000. Her career has taken her to the international stage performing in New York, Moscow, Europe and Dubai. Jenna can be seen playing the role of Beulah in the Original West End Cast of Come From Away.
NWE: What are your top 5 Musicals?
JENNA: Come From Away, Les Misérables, La Cage aux Follies, The Last Five Years and The King and I.
NWE: What are your top 5 Plays?
JENNA: King Lear (especially the National production with Simon R Beale), The Play that Goes Wrong, The Crucible, Posh, A Doll's House.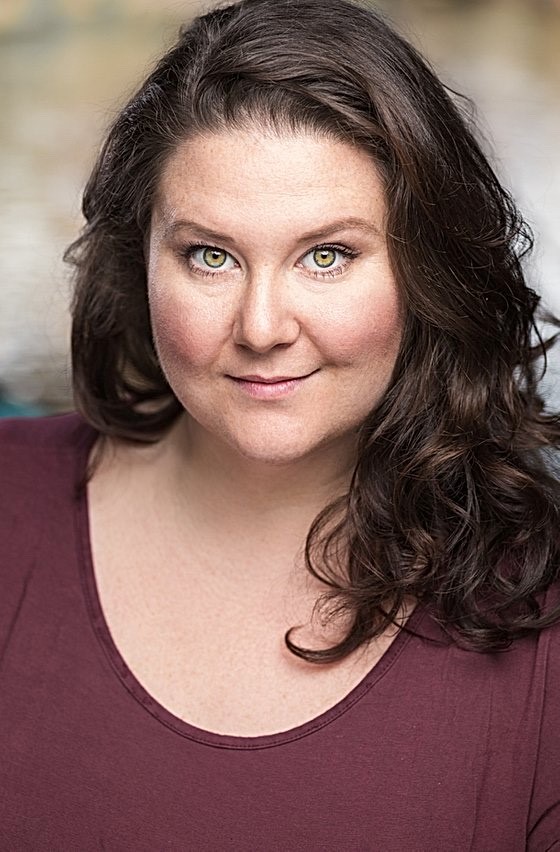 NWE: Come From Away recently entered its second year at the Phoenix Theatre, and recently welcomed new cast members and you are one of those who have remained from the original cast. How is the show going, and how are you finding working with the new cast?
JENNA: The show was/is going great. We still get the same incredible reaction for our audiences night after night! I have loved every moment of working with the new cast members - it doesn't stop me missing the original people however. It's such an odd thing - I wish we could somehow do it together!
NWE: What is it like performing Come From Away every evening? What are the challenges? What are the highlights?
JENNA: It is an absolute privilege and honour to do this show every night. I miss it more than you could imagine at the moment. The only challenge there really, is drinking enough water and making sure you go to the bathroom before you start as I have no opportunity to go during the show! - unlike others! lol
NWE: What research was involved with entering Come From Away?
JENNA: We were so lucky to have such a long time with the director Chris Ashley - we spent time talking about our own experiences, reading interviews with the people involved and watching documentaries that it really did make us all feel really prepared to tell this story.
NWE: Come From Away is an incredibly emotional piece of theatre, do you still find it emotional after all this time to perform it?
JENNA: This is an interesting question and one I get asked a lot. No, I, Jenna Boyd am not affected, by the emotions of the piece whilst I am telling the story. That right is for you the audience. Something Chris was really keen to get across to us was that there was no place in this piece for sentimentality - for many reasons one of which being - that's not the Newfoundland way. At the time of these events happening these people didn't think they were doing anything spectacular, therefore there is nothing to be "emotional" about. Also, it is so fast paced that by the time you have told any part of the story which is sad you have moved on to the next part. However, during the curtain call, when we can see the audience, that has made me very emotional at times. seeing people so moved by the story they just saw - that gets me.
NWE: What age were you when you decided you wanted to be a stage performer? What attracted you to it?
JENNA: Sadly, this is a boring answer. I was just born this way!! According to my wonderful Mum (who is no longer with us), when I was 18 months old she took me to see the local Panto at the Floral Hall in Southport (I don't think it's called that anymore) and when we left I said to her "Mummy , when I grow up I want to be a Princess in a Pantomime. Now obviously that didn't happen - but I have played the Fairy!!
NWE: What are your dream roles?
JENNA: They haven't been written yet! Beulah is currently my dream role and I didn't know it existed until I auditioned for it - always looking forward!
NWE: Who are your influences in the industry? Is there anyone you would really like to work with in the future?
JENNA: I can't say I am particularly influenced by anyone. I always want to work with people who care as much about their job as I do, people with passion and integrity, who care more for the piece and the telling of the story than they do about themselves.
NWE: What advice would you give to performers currently leaving drama school?
JENNA: Be prepared to be unemployed! We've all been there! Don't compare yourself to others - it's pointless. Be brave especially at the start of your career. Know your worth and learn who you are, this will change over the course of your career - except this it's a good thing!
Come From Away is playing at the Phoenix Theatre in London with performances continuing later this year. For further details and ticket information visit https://comefromawaylondon.co.uk
JENNA BOYD
Training: Guildford School of Acting.
Theatre includes: Love on the Links (Salisbury Playhouse); My Fair Lady (Teatro di San Carlo, Italy); The Wind in the Willows (London Palladium and UK Tour); Alice in Wonderland (Gordon Craig Theatre, Stevenage); Oliver! and Simply Cinderella (Curve, Leicester); A Little Night Music (Palace); How to Succeed in Business Without Really Trying (Royal Festival Hall); I Can't Sing! (London Palladium); Willy Wonka and the Chocolate Factory (DUCTAC, Dubai); Candide (Opéra National de Lorraine); The Pajama Game (Chichester Festival Theatre); Street of Dreams (Manchester Arena); The 25th Annual Putnam County Spelling Bee (Trinity, Tunbridge Wells); The Sound of Music (UK Tour); Austentatious (Landor Space); Stepping Out (Derby Playhouse); Les Misérables (Sondheim); Acorn Antiques: The Musical! (Theatre Royal Haymarket); Cogs in a Well-Oiled Machine (Colourhouse Theatre) and The Beautiful Game (Cambridge Theatre).
Film includes: Les Misérables.
Television includes: Harry Hill's Clubnite, Harry Hill's Alien Fun Capsule, Tracey Ullman's Show, Doctors and Casualty.