North West End have been working with Meighan Youth Theatre Productions (MYT) over the last week in preparation for their latest show, The Addams Family which opens at the Waterside Arts Centre in Sale this coming Thursday (4th August) and runs for just 4 performances.
Meighan Youth Theatre Productions is a theatre group set up by young people, for young people, in the Trafford area. From the company's first production "Disney's Aladdin Jr" in 2010, MYT have quickly established a reputation for excellence, whilst striving to give the best for its community and members. They are proud to also have many previous members training at prestigious drama schools and universities in London and across the UK.
Having not been overly familiar with this musical prior to being asked to work with MYT I did a little research and found the show features an original story, and it's every father's nightmare. Wednesday Addams, the ultimate princess of darkness, has grown up and fallen in love with a sweet, smart young man from a respectable family - a man her parents have never met. And if that weren't upsetting enough, Wednesday confides in her father and begs him not to tell her mother. Now, Gomez Addams must do something he's never done before - keep a secret from his beloved wife, Morticia. Everything will change for the whole family on the fateful night they host a dinner for Wednesday's 'normal' boyfriend and his parents.
This is an extremely well written musical (Andrew Lippa) and has some exceptionally funny comedic moments within its script (Marshall Brickman and Rick Elice). The show played a limited run on Broadway in 2010 starring Nathan Lane and Bebe Neuwirth before embarking on a North American tour in 2011. As yet the professional version of this show is yet to hit the UK but is a popular choice with youth and adult amateur companies.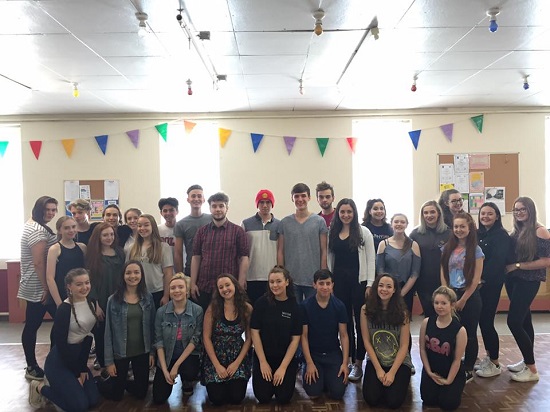 The MYT production features a cast of talented youngsters and features Sam Caine and Sasha Carrillo de Albornoz as Gomez and Morticia Addams. Cain returns to MYT after his successful portrayal of Carl Bruner in last year's production of Ghost The Musical as does Chris Wagstaff who after playing Sam Wheat in 2015 now takes on the role of Uncle Fester. 15 year old Niamh Mulvihill is transformed into 102 year old Grandma Addams with (almost) mute Lurch being played by Jackson Hayes. Daughter of Gomez and Morticia, Wednesday Addams is played by Lara Hancox (watch out for her stunning performance of 'Pulled'). David Beeby is also transformed for this production into Cousin It and completing the family is Zach Atkinson as Pugsley. Zach recently finished playing Michael in the West End Production of Billy Elliot and features on the 2014 Live DVD of the show!
The Beineke family brings Joe Morgan and Jessica Heaps to the Waterside as Mal and Alice with Sam Berrie completing the principle cast as the object of Wednesday's desire, Lucas. There are also 18 ensemble members of the cast who play the Addams ancestors throughout the production. The entire cast between them have performed in a mind blowing 342 productions in their young careers to date. If that doesn't highlight the experience coursing through the veins of this company nothing will!
The production team for this show is also strong with Joseph Meigan once again taking the reigns as Producer / Director, Adam Boardman as Musical Director and Choreographer Faye Etherington.
MYT have an intensive rehearsal period, more intensive than most professional productions. Rehearsing Monday to Saturday in their first week. Week two sees the cast have two more rehearsals before moving to the Waterside to complete a technical run and then arriving at opening night on the Thursday. The energy and passion to perform displayed by this cast is inspirational and can only be admired.
The Addams Family is a must see show. The first day of rehearsals proved that to me, and now with 6 days done the show is looking stunning. Tickets are available via the Waterside Arts Centre in Sale by telephoning 0161 912 5616 or visiting their website https://watersideartscentre.co.uk/whats-on/1791-the-addams-family-a-new-musical/ North West End will have a full review online this Thursday evening but by then tickets may well be sold out. So don't risk missing this superb company perform in their home city.
Preview: Paul Downham
Reviewed: 30th July 2016