The Coliseum's Autumn-Winter 2017-18 season mixes comedy, thrills, history and song in a season guaranteed to beat the winter blues.
The season opens singing in the trenches on Friday 8th September with Joan Littlewood's ground breaking First World War musical, Oh What A Lovely War. First produced in 1963, Oh What A Lovely War challenged attitudes towards the conflict by telling the story of the war from the perspective of the soldiers on the ground.
2017 marks the centenary of the Battle of Passchendaele, which became infamous not only for the scale of casualties, but for the mud which became fatally deep. Oh What a Lovely War is performed as an end-of-pier show by a troupe of Pierrot entertainers, mixing tunes from the First World War including: It's A Long Way To Tipperary and Pack Up Your Troubles In Your Old Kit Bag with dark humour and battle statistics. It won a Tony Award in 1965 in its first Broadway production.
The Coliseum presents a revival of John Godber's hilarious plucky underdog story Up 'N' Under from Friday 6th – Saturday 21st October. The Wheatsheaf Arms amateur rugby league team have never won a match, but when ex-pro Arthur makes a bet that he can train any team to beat the unbeatable Cobblers' Arms side their luck starts to change. Up 'N' Under won the Lawrence Olivier Award for Best New Comedy 1984.
The highlight of the festive season is always the Coliseum's nationally renowned traditional family pantomime, which this year is Dick Whittington. Poor young lad Dick Whittington leaves his home in the country and travels to seek fame and fortune in London with his rat-catching cat as his only friend. Are the city's streets paved with gold? Will his path to happily-ever-after be an easy one?
Packed with laugh-out-loud gags, thigh-slapping songs and a generous helping of "it's behind you's", the annual Christmas spectacular runs from Saturday 11th November 2017 to Saturday 13th January 2018.
In the New Year, the Coliseum presents The Kitchen Sink from Friday 9th – Saturday 24th February. The Kitchen Sink is an irresistibly funny modern family drama about big dreams, small towns and taking care of each other. Martin is a milkman whose milk float is falling apart while his wife, Kath, experiments in the kitchen in between working two jobs. Their son, Billy, is obsessed with Dolly Parton and daughter, Sophie, is fighting for a career in Ju-Jitsu while being pursued by a plumber in a pink van. And there's something wrong with the kitchen sink…
The Kitchen Sink shot writer Tom Wells to stardom, earning him multiple awards for Most Promising Playwright. The Coliseum's production comes from the same team who created the theatre's hit production of Wells' Jumpers For Goalposts in 2016.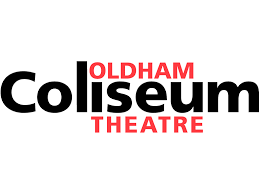 Kevin Shaw, Chief Executive and Artistic Director of Oldham Coliseum Theatre, commented: "We're looking forward to a lot of laughs, singing in the stalls and some great quality drama in our new season. Each of our forthcoming plays has won major awards in London and New York and we're excited to present these incredible stories to our audiences in Oldham, Manchester and the surrounding areas."
Elsewhere in the season the acclaimed English Touring Theatre join forces with Mercury Theatre, Colchester for a tour of Conor McPherson's Olivier Award winning thriller, The Weir, coming to the Coliseum from Tuesday 24th – Saturday 28th October, and Talking Scarlet Productions present Brian Clemens' Murder Weapon from Tuesday 30th January - Saturday 3rd February 2018.
The Coliseum's Studio Theatre programme of new writing continues through the Autumn and Winter months with four touring plays, a Rehearsed Reading and a Work in Progress performance.
Hercules Productions' Prison Game (Saturday 9th September) explores how prison can define a man, REND Productions' Judith: A Parting from the Body (Tuesday 5th October) reimagines the legend of a daring widow that infiltrated the enemy camp to seduce and kill the head of the opposing army, Annie McKenzie's Happiness is a Cup of Tea (Friday 13th October) uses storytelling, puppetry and song in a story about family and Straightforward Theatre's Edward and Eliza and the Smashing of the Van (Saturday 14th October), directed by former Artistic Director of the Library Theatre Company, Manchester, Chris Honer, marks the 150th anniversary of the Fenian Rebellion.
Also in the Coliseum Studio Carole Solazzo presents a Rehearsed Reading of her new comical telling of the history of the Lancashire Cotton Industry, Clogs to Clogs and the Shalwar Kameez, on Wednesday 4th October and following their Rehearsed Reading at 2017's First Break Festival in June, Box Of Tricks Theatre return on Thursday 12th October with a Work in Progress performance of New Tricks.
Last, but certainly not least, the Coliseum also has a fantastic variety of special one night events including: Lemn Sissay's Something Dark (25th January); Manchester's outrageous Queer performance night Mother's Ruin (27th January); the ultimate celebration of Motown in How Sweet It Is (26th January) and a chance to sing along with one of the world's greatest musicals in Sing-a-Long-a Sound of Music (9th March).
The Oldham Coliseum Theatre is a cultural and educational charity that works with over 150,000 individuals per year.
The Coliseum has a rich history in Greater Manchester dating back to 1885. It provides a wide variety of distinctive theatre performances and participatory activities for people from all communities in Oldham, Greater Manchester and beyond. It creates eight original productions each year, of which up to half are newly-commissioned work, which are presented at the Coliseum and on tour. Intrinsic to the town's on-going regeneration, the theatre works with its local communities and young people to develop creative programmes to facilitate learning, engagement and community cohesion.
The Coliseum is actively engaged with Oldham Council and Arts Council England to deliver a new theatre in the town by 2020. http://www.coliseum.org.uk/