Sunday 23rd September saw the launch of Liverpool's newest theatrical space The Hope Street Theatre. Based inside the grade two listed Masonic Hall, the venue will be supporting, local and professional companies based in and around the city and will also produce its own series of in-house productions including dramas, musicals, comedy and cabaret nights.
The launch saw talks from Liverpool celebrity Joe McGann alongside Blood Brothers actor, director, and producer Daniel Taylor, both highlighting the importance of a transitional space such as this as a vehicle to take ideas off the street and onto the stage. This was echoed by Margaret Connell, former Artistic Director of The Lantern Theatre which itself had launched many a theatre company and artiste before the harsh economics of city redevelopment put paid to what was a lifeline for many in a city brimming over with talent. Not without a touch of irony, one hopes the location of this new venture will save it from similar perils.
The Hope Street Theatre's Chief Executive, Nick Rogers, and Artistic Director, Sam Donovan, spoke about their vision for the space. With a long-standing relationship stemming from the school playground, they provide the necessary depth and integrity to achieve that delicate balance between creative expression and cash in the bank which any venture needs - you only need to cast your eye across the road to the Everyman to see what counterparts Deborah Aydon, who attended the launch, and Gemma Bodinetz, achieved in a similar vein.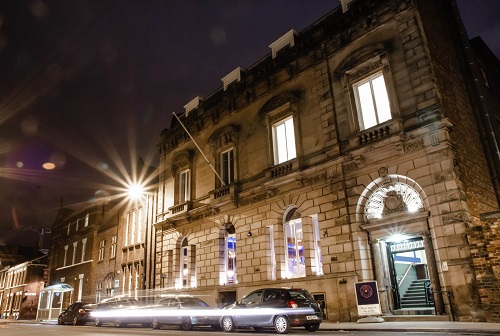 Rogers and Donovan already oversee the Performers Theatre School which provides drama, dance, and singing classes for 2-19 year olds, and a range of acting, directing, and writing classes for adults. With this latest venture representing a natural further evolution in their cycle, it was great to hear from young directors Ellie Hurt and Sarah Van Parys who have been able to use the theatre space to progress from studying in the city to showcasing their ability and which will hopefully serve as a platform to take them onto bigger things in an industry that is renowned for offering few opportunities.
But a launch event can't succeed without live performance and we were presented with an eclectic display of talent to highlight how this space can serve all parts of the wider arts community irrespective of age, gender, orientation, and creed, beginning with an excerpt from Liverpool Arts Society's forthcoming 'Long Joan Silver' before James Lacey's hysterical 'Confessions of a Touring Nun'. Performers Choir led by Adam McCoy treated us to 'Any Dream Will Do' whilst Helen Carter and Emma Bispham from Cast of Light's Aladdin gave us a glimpse of what this year's pantomime has to offer. Ex-Performers student Grace Galloway demonstrated her singing skills before the youthful talent of Rare Choir, of which McGann is a patron, completed the night's official entertainment after which we headed next door to the launch party in the newly named Hope Street Theatre Cocktail Bar (formerly the Masonic Bar).
Forthcoming productions at The Hope Street Theatre include: a revival of Jennifer Haley's crime thriller The Nether presented by Falling Doors Theatre (26 – 29 Sept). The Discordia Exhibition (3 – 6 Oct) will blur the boundaries between art gallery and theatre performance fusing the disciplines of visual art, choreography and music composition.
Amelia Bullmore's tragicomedy Di, Viv and Rose will follow (8 – 11 Oct). Ashley Ali's heart-felt comedy Life After Life will play for just two nights (12 – 13 Oct), James Lacey's cabaret hit Confessions of a Touring Nun makes a welcome return (14 Oct), while Liverpool Arts Society will present the world première of new pirate based musical Long Joan Silver (17 – 23 Oct). Liverpool based Tell Tale will present their latest production At Last (24 – 25 Oct).
The Hope Street Theatre will become home to Impropriety's mammoth improvathon Where There's A Will (27 – 28 Oct) which will be followed by Travis Alabanza's Burgerz (18 Nov) which is presented as part of the 2018 Homotopia Festival. Ellie Hurt directs Henry Naylor's award-winning play The Collector (7 – 10 Nov) before the venue will then present its first in-house production with a revival of Patrick Marber's Olivier Award winning, dark and twisted tale Closer (14 – 17 Nov). Burning Books (19 Nov) is a powerful drama that looks at the daily battle facing teachers today. A new adaptation of Oscar Wilde's The Picture of Dorian Gray, Gray (20 – 24 Nov) will make its mark before Drops of Light CIC round up the year with a month long run of the pantomime Aladdin (1 – 30 Dec).
All productions are on sale via the theatre's website www.hopestreettheatre.com