For the first time since it was written, 40 years ago, Alan Bleasdale's hit play 'Down The Dock Road' comes to Royal Court Liverpool starring Les Dennis and Andrew Schofield.
The show was a sell out when it opened in 1976 and it is a great honour for the Royal Court to be hosting the 40th Anniversary Production in Spring 2016.
The full cast has now been confirmed with Derek Barr (Pride), Paul Duckworth (Reds And Blues), James Duke (Mike Basset: Manager), Oliver Farnworth (Mr Selfridge), Michael Ledwich (Scouse Of The Antarctic), Nathan McMullen (Misfits), Conrad Nelson (Northern Broadsides) and Daniel Taylor (Blood Brothers) are joining Les Dennis and Andrew Schofield.
Oliver Farnworth's first leading television role was as Florian Dupont in Mr Selfridge. He has since become a household name as Andy Carver in Coronation Street where he plays the fake son of Michael Rodwell, Les Dennis' character.
The production will be directed by the talented Hannah Chissick, who was described as one of the most 'inspirational' Artistic Directors of the Harrogate Theatre and who has a string of successes to her name, not least of which was directing Les in the 5 star production of 'Jigsy', which appeared at the Royal Court in 2012.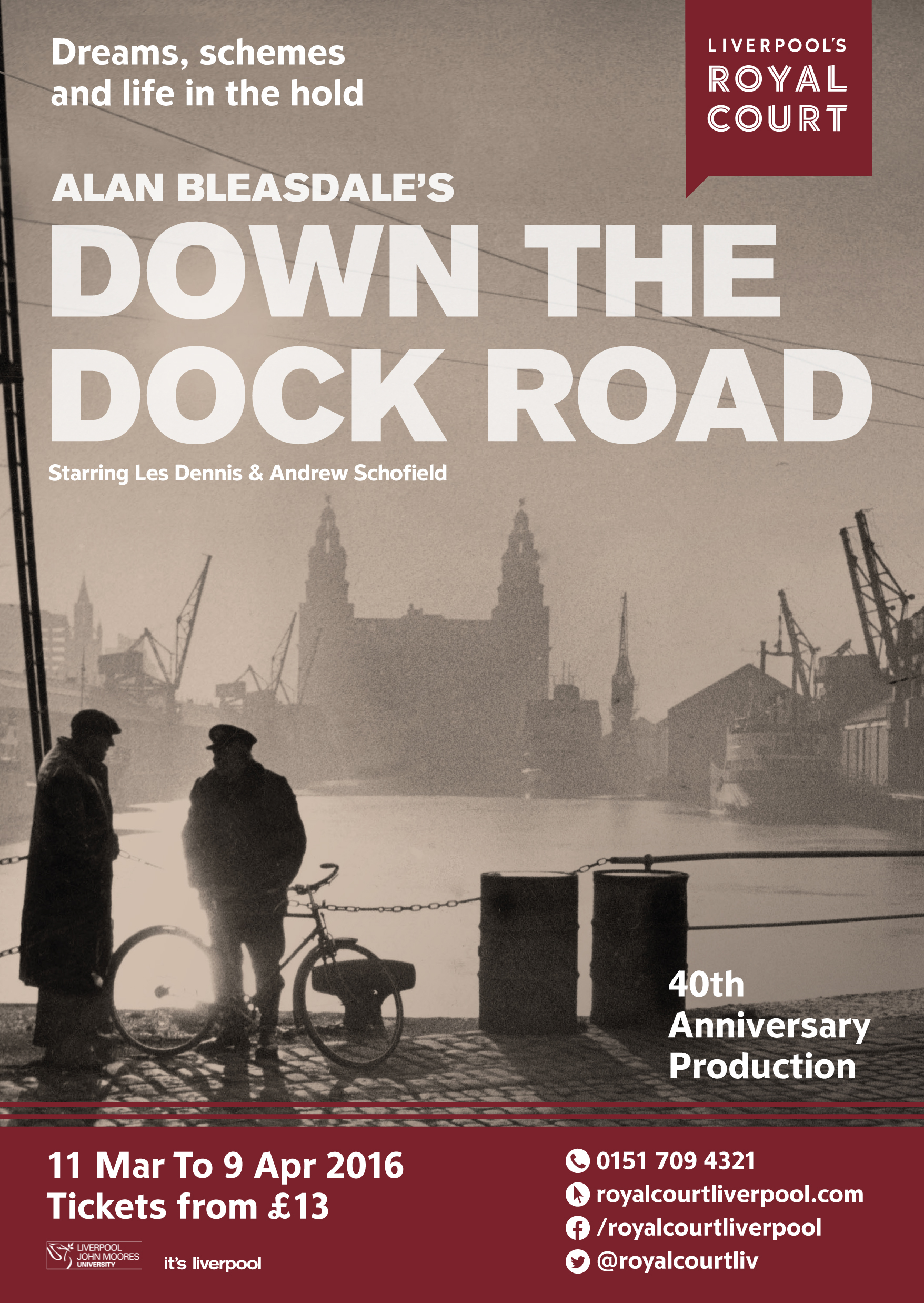 The Court last produced an Alan Bleasdale play in 2008, when 'On The Ledge' received rave reviews as a part of the theatre's programme to celebrate the Capital Of Culture. Bleasdale is one of the country's leading writers having previously penned 'Scully', 'Boys From The Black Stuff 'and 'GBH' for television, amongst many other stage and screen scripts.
It's Grandad's last day as a Docker after 40 years' hard labour. It's the lads that he'll miss the most. Mickey the comedian, Dobbo, the Errol Flynn of Lee Park and Wonderboy, who is a few crates short of a pallet. Then there is Mad McKenna, tough as nails and the undoubted leader of the pack.
Grandad wants to see his last day out in peace but there is no chance of that with this lot around. Dreams, reality, a stolen watch and a case of scotch all come together for a day in the life of the Docks as they used to be.
Set in 1976 this play is a look back at the colourful characters of the Liverpool Dockyards and the tricks and scams that they used to get up to. As funny and relevant now as it was 40 years ago, this is a chance to see Bleasdale at his best.
Les Dennis, who is making his debut as a co-producer alongside the Royal Court, is so excited about the show. "I saw 'Down the Dock Road' when it was first performed 40 years ago and the humour and it's message has stayed with me ever since. When Kevin and I first approached Alan to suggest this revival, I was thrilled by his enthusiasm and his commitment to being closely involved with the production, every step of the way. Having Andrew as 'McKenna' is dream casting and I am confident that we will produce a show that will delight Liverpool audiences with a slice of nostalgia and yet be relevant today. I am delighted that ITV Coronation Street have allowed me a short sabbatical to step away from The Cobbles to play Grandad and pursue one of my all time dreams. We have got a cast that any director would give their right arm for and we all can't wait to get together in rehearsals."
Kevin Fearon, Chief Executive of Royal Court Liverpool, said "Alan Bleasdale has been such an important writer for Liverpool that we are always looking to produce one of his plays. Les Dennis came to me with the idea and together we have put together a really strong cast, I'm delighted to be able to get all of these talented people together on one stage. We can't wait to get started!"
Listing Information
Down The Dock Road runs from Friday 11th March to Saturday 9th April 2016. Tickets and information are available from www.royalcourtliverpool.com or on 0151 709 4321
As with all Royal Court productions, dinner will be available before the show in the stalls, lovingly prepared by our Head Chef, Simon Collard.