The National Theatre's multi award-winning production of The Curious Incident of the Dog in the Night-Time, adapted by Stockport born Simon Stephens from Mark Haddon's best-selling book, returns to The Lowry to complete its year-long tour, which started its life on the road in Salford last Christmas.
The central character of the story is Christopher Boone brilliantly portrayed by Joshua Jenkins. Christopher, a young man has been labelled as he suffers from the controlling condition of Asperger Syndrome. Mark regrets that the phrase Asperger Syndrome ever appeared on the cover of the book, due to its leading to an often misguided debate around whether Christopher is a correct representation of someone with the condition?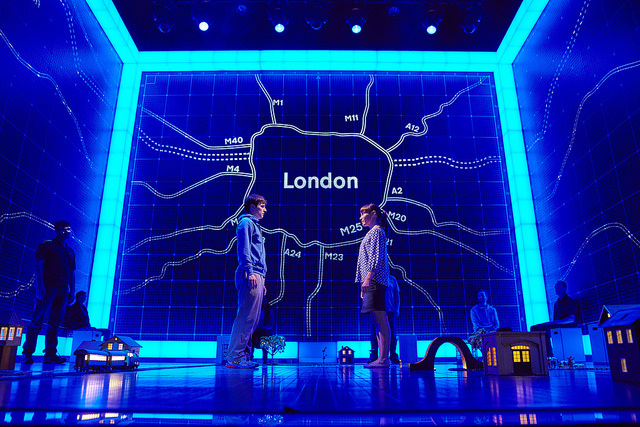 From his wonderful portrayal in this powerful and moving play Jenkins provokes the real question - Does Christopher seem real? Well I can say he certainly does!
From a very startling opening with flashing lights, to a cute little puppy at the end. This play keeps your attention with stunning use of boxes some that light up, and an amazing background with hidden cupboards. Jenkins is ably supported by a fabulous ensemble headed by Geraldine Alexander who plays Siobhan. Siobhan assists with the telling of the story and is Christopher's teacher/support worker.
Some of the language used is not suitable for younger audience members but is fully in context and by no way gratuitous. Stuart Laing provides the supportive father role (Ed) with plenty of emotion.
Watch out for the train journey on the train set cleverly built by Christopher as the story unfolds. Many of the ensemble play multiple roles. The lighting is brilliantly designed by Paule Constable with supporting video design by Finn Ross. Sound is designed by Ian Dickinson for Autograph.
Director Marianne Elliott, who co-directed War Horse, which too played twice at The Lowry, was brought up in Manchester and has created a second epic piece of theatre. This is a definitely must see production and well worth the ticket price. This is your final chance to catch this technological and moving piece of theatre outside London.
Reviewer: Cory Coxon
Reviewed: 17th November 2015