THE BFG
by Roald Dahl, adapted for the stage by David Wood.
What a delightful show! It is very rare that I will laugh loudly in a theatre audience, but last night I was howling with the rest. I have been less than complimentary in my thoughts about previous productions at The Octagon, and so, it's only right and fair that I should be full of praise for this, a play that is designed to delight and entertain both adults and children alike and is the perfect piece of family entertainment.
The story, for those of you who have never heard of Dahl and The Big Friendly Giant, is a very straightforward one: little orphan girl can't sleep in orphanage, goes to window and sees a giant blowing powder through a window in the house opposite. Is she dreaming or is this real?? But before she has time to answer this question the giant sweeps her up and takes her back with him to Giantland. Thus starts her adventure and friendship with the BFG; seemingly the only kind and friendly giant in the whole land. And as the other nasty giants go around the world eating humans, they together come back to England, visit the Queen and persuade her to use her armed forces to capture the children-eating giant monsters.
In this production, John Seaward is the BFG, and is much younger than Dahl's original incarnation, with flaming red-orange hair and pixie-like ears, but don't let that put you off. He is nonetheless likeable with his own nonsense language and Seaward brings a wonderful and simple naivety to the character that is somehow missing from at least the film version of this play.
The main role of Sophie, the young girl who becomes embroiled in this adventure, is played more than ably by Macy Nyman. Partly narrating her story in the third person, partly acting herself, and partly manipulating a doll image of her when she is with The BFG. I have to admit that it took me a little while before I became accustomed to the style of presentation, and I really was not certain about the doll and puppetry; but once I bought into it, I was totally into it! What a simple idea, brilliantly executed.
If you are uncertain what I mean - since I am probably not explaining myself very well - then the BFG was not made to be bigger; it was Sophie who, when she had scenes with him, was a small hand-held knitted version of herself which the actress manipulated herself, talking for the doll and moving her around the stage. I knew I was hooked the moment I started to watch the doll and not the actress! Conversely, when the BFG had scenes with many humans his enlarged face appeared on a screen either on the window or a huge mobile phone; the whole thing being brilliantly thought through.
Seaward and Nyman are supported by a very talented cast who all have to be able to manipulate various puppets throughout the show, but special mention needs to be made of the three young actors taking on, as well as smaller roles, the roles of the three children-eating, nasty giants; Bonecruncher, Fleshlumpeater and Bloodbottler, played by Richard Booth,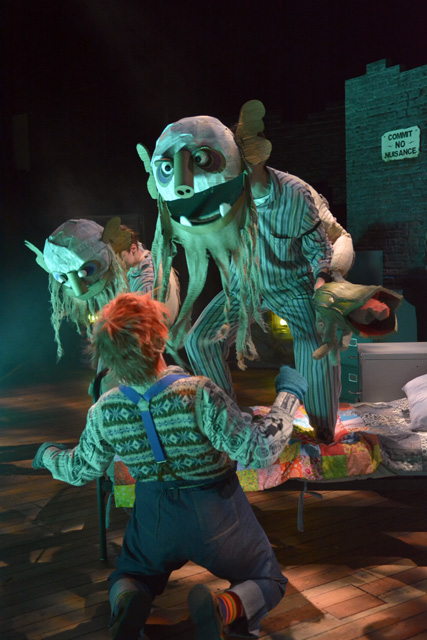 Philip Bosworth and Roddy Peters respectively. They needed to be, and indeed were, brilliant physical performers wearing a large false left arm and hand, a large right foot and the piece-de-resistance, a hand-held ugly head which they held in front of their own heads manipulating the large mouths themselves. Just scary enough for the youngsters, and very cleverly and wonderfully executed by director and cast. Michael Fowkes is credited as being the genius behind these puppets, and so I take my hat off to him!
And what of the set? Again, I have to say that this was brilliant! (I need to find a larger vocabulary of superlatives for this show don't I?!) Janet Bird, the designer created a semi-composite set on two levels, and using such great ideas as double-sided revolving walls, drop-out panels, and other simple yet oh so effective ideas helping to keep the story moving without necessitating long scene changes. I really loved the way the bed in the second act suddenly turned into a dining table full of food and the duvet a chandelier!
Director Sarah Esdaile made a lovely job of combining fantasy with reality, puppet with person, and giant with human; and if that wasn't a difficult enough task in itself, blended them all magically together to form a heart-warming and entertaining family play to delight all ages of child from 5 years to 95!!
If I have to criticise anything; and I wouldn't be me if I didn't, then I do feel a couple of the ideas could have been developed further. The dream-catching scene was certainly underdeveloped, and I would have liked to have seen much more made of the BFG creating his own dream potion. Also, the ending was just a tad disappointing for me; it felt just a little rushed and unfocused. But, enough nitpicking!! I urge young and old alike to go and watch this play. It's not your traditional Christmas fare; pantomime it certainly is not; but I guarantee you won't be disappointed.
Reviewer: Mark Dee
Reviewed: 20th November 2015