It is always nice, even travelling a bit further than usual, to visit and see a new venue at which a real variety of shows are on available for the public to view; and one by the sea is an added bonus! This time I was missioned to venture past Liverpool on to the lovely area of New Brighton for Desperate Scousewives 2 at the Floral Pavilion on the Promenade.
A first for me here, I am welcomed by the staff (I guess volunteers) who don their burgundy pinafores branded proudly with the venue's logo embroided on their breast. As with a particular theatre in Manchester, this place has various performance spaces and we were welcomed into The Blue Lounge (as oppose to the Panoramic one of the main Theatre).
With a café and a bar accessible we enter the room with chairs set out in front of the static stage and set, rather school/holiday-ish but suitable, with a line of four terraced houses on show, decorated with festive additions to follow the show's theme "Pulling A Christmas Cracker". It was a shame in parts that there was not raked seating of a usual theatre, as I was required to sit up occasionally.
Opening the show with a festive tune (The First Noel) setting the time of year - Christmas Eve - we see three 'more mature' ladies (with latex masks covering the upper part of their faces, possibly enhancing their accents) who are waiting at a bus stop discussing all sorts, including the reminiscence of 'Enid' formerly requiring 'something to fill the big empty hole' - setting the level of humour - along with expletives from the start. During their discussions, we are introduced to the almost naked gent who runs through the audience in a G-string having escaped from prison (we later discover that he is 'Jay', husband of 'Vanessa' aka 'Ness' (Charlie Griffiths) who you'll meet shortly if you haven't seen the original show - DS1). Two of the older ladies - 'Elizabeth' and 'Mavis' - exit and we find that Enid has a few fellas on the go!
With the majority of the audience being female, I wondered whether they would empathise with the characters being portrayed or just enjoy a good night out - even without the bareness of Jay (Ronnie Ore)! I wasn't offended per say but was slightly uncomfortable with house Number 1 being referred to as 'the battered wives house', as well as a later reference to a former DJ guilty of various acts, but on we go…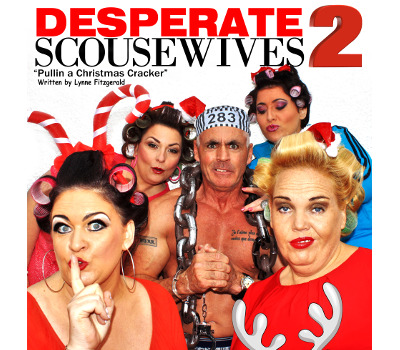 After the older ladies we meet 'Ness', 'Susan' aka 'Sue' (Lynne Fitzgerald) and 'Trish' (Lyndsey Germaine). Ness is pregnant but hates kids, whilst Sue is Ness's best friend. Trish a mutual friend of both and is, since her fella left, living with her two kids at Ness' (Number 4). They are discussing the festive occasion and recalling the local school production they saw mistaking The Nativity for Cinderella before declaring that "whoever invented it should be crucified". Clever humour in some ways but rather close to the bones in others.
Other amusing parts, include Sue's trick of 'Santa's accident' to Trish's daughter, as well as cleverly-adapted renditions of "The Pogues' Fairytale of New York" by Trish and "Santa Claus Is Coming To Town" into "Nobody's Ruining Christmas" by Lily (Lynn Francis), from Number 2 who we find is 'still on tag'. Dresses as a fairy - works at the shop now owned by Mr Singh - she has a nice singing voice and also does a good 'posh' accent, which we hear in the opening of the second half of the show. She is trying to impress 'Jay(ne)' - Ness's husband Jay dresses as supposed cousin to Sue, dressed in a lady's vest and wig to conceal is escapeness from jail and his seeking refuge in Number 1 for the past few hours where we find that Ness has been storing 'knock off' tracksuits and perfume. There are mice in there too and this causes hilarity. Lil's likability and naïve wit is highlighted in a single pun - when 'Jay(ne)' admits his career path is 'dealing drugs', she misinterprets that he/she is a Pharmacist - as well as her well-acted miming through the invisible window of 'Stags 'Ed' (The Stag's Head). Her rendition of "Silent Night" near the end was brilliant, starting with "Jesus Christ…" and ending with "Desperate Scouse-baby is born", as Ness gives birth to a baby of unexpected colour, with Trish and Sue taking childbirth selfies and Jay retuning to prison, ready for a new chapter/episode to begin…
Before this we meet the 'Scally Bois' who I assumed to be the 'three wise men' topped off with gold plastic crowns. They humorous take on the majority of the teen generation is genius with 'lad' being the word at the end of every line and their rap in perfect time (yes, sorry I just tried to rhyme. Hey that did!).
A very good night's entertainment, it was fairly easy to follow with out seeing the first instalment - which I understand to have been funnier than this – because of it's well-written script by Lynne Fitzgerald (who plays Susan). Characters double up and this contributes to the small show but big laughs and abilities of the actresses and chemistry.
Running until Saturday 30th at Floral Pavilion, you only have to wait until July to see the next in the current trilogy as DS 3 shows in July. I believe you can see DS 1 at The Brindley in Runcorn on 5th October.
Reviewer: Christopher Oatway
Reviewed: 28th January 2016