The year is 1962, Baltimore, USA, where overweight teenager Tracey Turnblad dreams of becoming a dancer on popular TV programme - The Corny Colin's Show, a local TV dance program based on the real-life Buddy Deane Show. When Tracy wins a role on the show, she becomes a celebrity overnight, and meets a colourful array of characters. She then launches a campaign to integrate the show. Hairspray is a social commentary on the injustices of parts of American society in the 1960s.
The musical originated from the cult movie by John Walters of the same name in 1988, and the film was turned into a musical in 2002 when it first premiered on Broadway. It later became musical film in 2007, which they adapted and removed a couple of songs ("Big Doll House" and "Mama, I'm a Big Girl Now").
The show first premiered on Broadway in August 2002, and the West End production followed a few years later, opening at the Shaftesbury Theatre on October 11, 2007 for previews before its official opening on October 30. Michael Ball played Edna, with Mel Smith as Wilbur Turnblad, newcomer Leanne Jones as Tracy, Tracie Bennett as Velma. The original creative team of the Broadway production, with director Jack O'Brien and choreographer Jerry Mitchell, reunited for the London production. The show gained a record-setting eleven Olivier Award nominations and won for Best New Musical, as well as acting awards for Best Actress and Actor in a musical (Jones and Ball). I was fortunate to see the show in November 2009, when Phil Jupitus, (playing the role of Edna Turnblad), Belinda Carlisle (as Velma Von Tussle), Chloe Hart (Tracey Turnblad), Sharon D Clarke (as Motormouth) and Verity Rushworth (as Penny Pingleton, took over after the cast change. The production closed on March 28, 2010 after a run of nearly two-and-a-half years and over 1,000 performances.
After the West End production closed, Hairspray began touring the UK and Ireland, in 2010, then again in 2013 and the current touring cast started late summer 2015.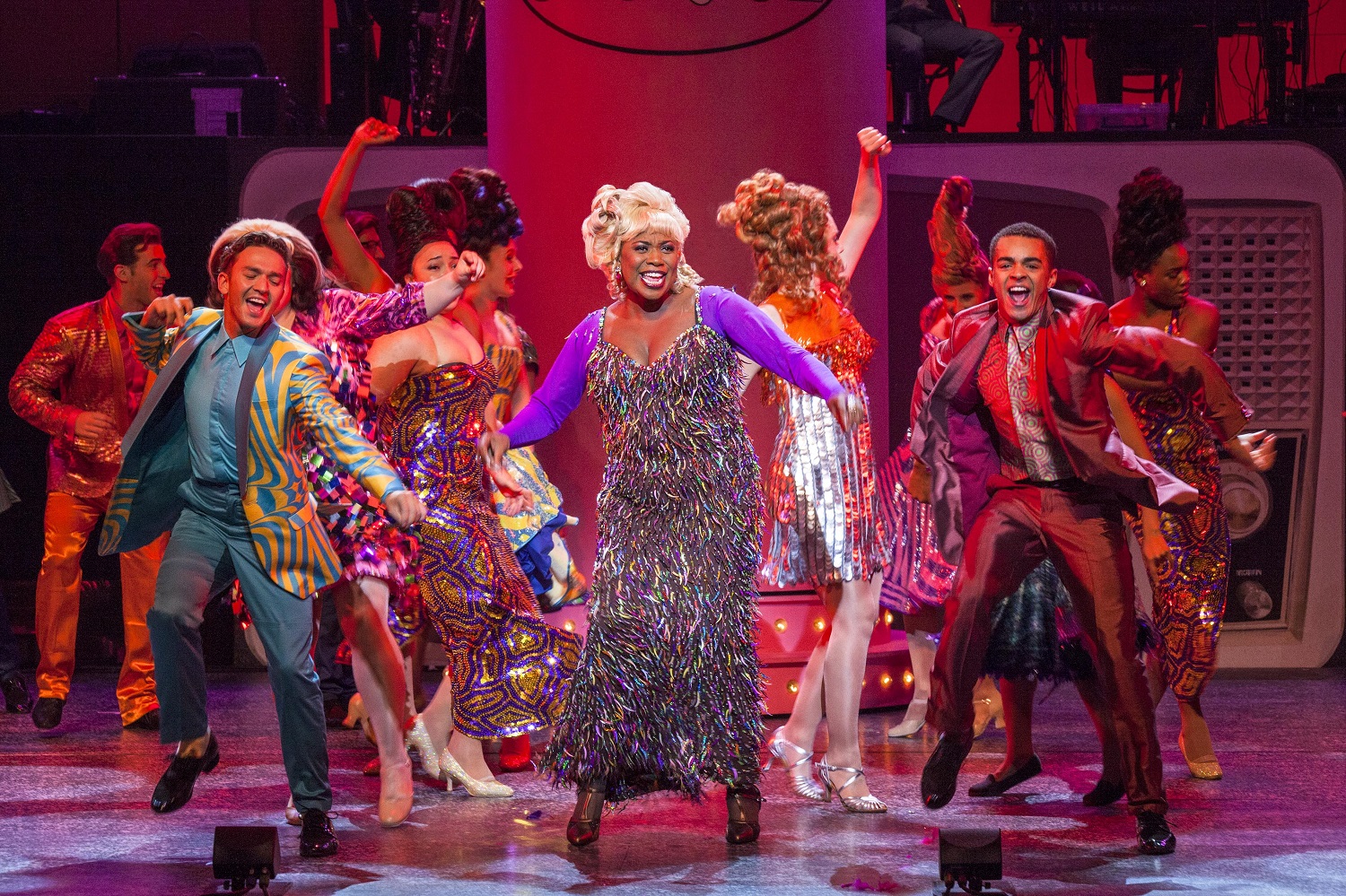 The current cast includes Tony Maudsley as Edna Turnblad (who can be seen styling hair in ITVs "Benidorm" Solana salon), Claire Sweeney as Velma Von Tussle and Freya Sutton as Tracey Turnblad. The set has been stripped back somewhat from the production at London's Shaftesbury Theatre, and some of the costumes are not as elaborate as the West End production, however this is often the case with touring productions. This did not take away the sparkle of this star studded, toe tapping show and I loved every minute of it. The audience were captivated from the moment Freya first opened with "Good Morning Baltimore" and in stitches at Tony's entrance, and even more so after is ad-lib regarding the "earthquake" after the prop television had tipped over as part of the set was coming on stage and he was quick to rectify it but referred to it in his next scene as an earthquake - brilliant save there Tony! Tony and Peter Duncan (of Blue Peter fame in the early 1980s) were the perfect odd couple, Peter looking tiny in comparison to Tony which made it more comical and I adored their fabulous rendition of "You're Timeless to Me".
Although Claire Sweeney really came into character in Act Two, in Act One I really couldn't warm to her as the role of sly and cunning mother to Amber, who would stop at nothing to ensure her daughter wins the Miss Baltimore title. I am unsure if this was her unsuitability to the role, or her terrible American accent, or that I just thought so much of Belinda Carlisle in the role that nobody else could compete. I was slightly warming towards her in role. Claire is a fabulous actress but this role in my opinion is not her finest role in musical theatre. Brenda Edwards on the other hand, as Motormouth Maybelle, was simply stunning! Her voice on "Big Blonde and Beautiful" and "I Know Where I've Been" both were not only roof raising and fabulous, but earned her a standing ovation. Most of you will be able to recognise Brenda as a semi-finalist from The X-Factor in 2005 but was knocked out before the final. Brenda then went onto play Mama Morton in Chicago in the West End in 2006, before taking on further theatre roles.
Hairspray has to be one of the liveliest, funniest feel good family musicals ever created. With catchy tunes that make you want to get up and dance along, to romance, comedy and wonderful 1960s costumes, it is one that will continue to be a firm audience favourite. It's hard to believe that this wonderful musical hailed from the wacky 1980s movie starring Divine and Ricki Lake, and that it is a good fourteen years since it was first turned into a musical yet it feels so fresh and new. I hope this is a show that continues to tour as I for one can't stop the beat!
Full details of the remaining tour dates as well as cast biographies and a whole lot more can be found at http://www.hairsprayuktour.com/
Reviewer: Lottie Davis-Browne
Reviewed: 8th February 2016