Having previously adding his own unique and personal twist to two other fantastic Tchaikovsky ballets; with his dark take on Swan Lake and popular festive favourite The Nutcracker, London born Theatre Director, Choreographer and dancer Matthew Bourne brings his Gothic Romance adaptation of "Sleeping Beauty" to Sheffield's Lyceum for one week only.
I have had the pleasure of seeing several of Bourne's productions live on stage, including the above named ballets; although I found both impressive, I never really warmed to his contemporary style and uber modern twists. One of his more recent pieces of work was a reworking of the cult 1990s movie "Edward Scissorhands", in London Sadlers Wells, but sadly due to ill health I missed out on that production and eagerly await the announcement of revival touring production.
Bourne is the only British Director to have won the Best Direction of a Musical and Best Choreography. In 2008, Bourne co-directed and choreographed Cameron Mackintosh's latest revival of Oliver! which starred Rowan Atkinson as the lovable villain Fagin. Matthew is widely hailed as the UK's most popular and successful choreographer/director. For several decades he has been creating and directing dance for musicals, opera, theatre, film and well as his own highly successful, award winning companies.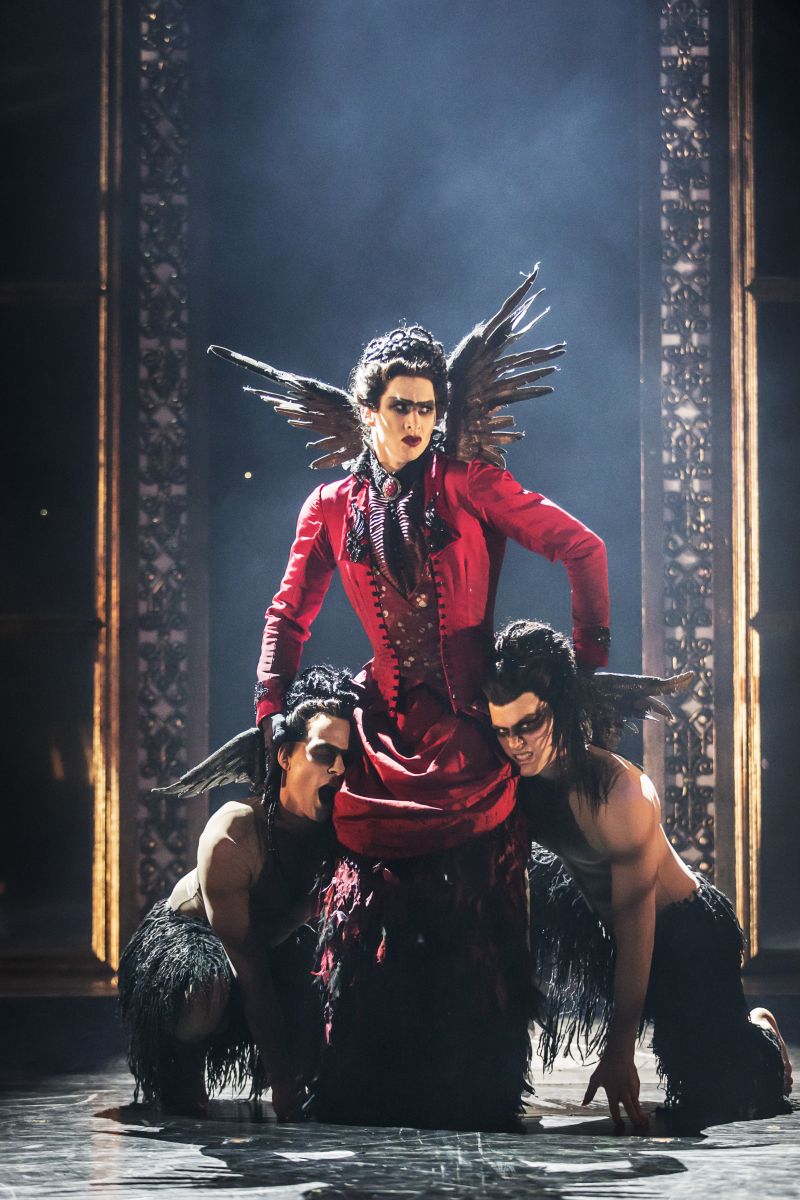 In 2014 Matthew Bourne was awarded the prestigious De Valois Award for Outstanding Achievement at the National Dance Awards and later that year saw the opening of the Matthew Bourne Theatre, named in his honour, at his old school in East London, Sir George Monoux College. In 2015, he became the first dance figure to be given The Stage Award for Outstanding Contribution to British Theatre, presented by the UK Theatre Awards. He was knighted in the Queen's New Year honours 2016 for services to dance. In 2016, New Adventures premiered with his latest piece of work – Sleeping Beauty.
Despite a slightly delayed start time, the performance opened to a packed audience dragging you into a magical world from the very start. We see the birth of baby Aurora, and meet her mother, Queen Eleanor (Daisy May Kemp) and father, King Bendedict, (Will Bozier) a previously childless couple until Carabosse, the Dark Fairy (Adam Maskell) granted their hearts desires. Normally in any production of Sleeping Beauty, the baby Aurora is quickly forgotten and we are somewhat fast forwarded far too soon to the coming of age Aurora. However in this adaptation baby Aurora is pretty much a star in her own right. At first glance baby Aurora looked uncannily identical to that of a toddler baby crawling around the Palace floor, when in fact, Aurora is a wonderfully captivatingly a realistic puppet. Baby Aurora has Miss Maddox, the Nanny (Katy Lowenhoff) and Flossie, her Maid (Nicole Kabera) running after her as she runs amok in the Palace causing chaos and grins with sheer delight at the fairies who bring her gifts. The fairies costumes are simply stunning – gothic and eerie but beautiful at the same time, with skirts made of rags of multi-coloured fabrics that catch the light and appear to look like feathers at points, with dark hair and dark eyes they are hauntingly beautiful. We soon meet Carabosse, the Dark Fairy a vision in a red and black velvet Gothic dress, who soon places a cursed black rose upon Aurora's bed. Without spoiling the rest of this production too much, all I will say is that there are various twists and turns to the story with a strong Gothic feel, stunning costumes and breath taking dancing. Liam Mower, who played the role of Billy in the original cast of Billy Elliot the Musical, was instantly recognisable, and gave a fantastic performance as Count Lilac, King of the Fairies. Adam Maskell had the hardest task of the cast performing in two very different roles, as Carabosse, the Dark Fairy and Caradoc, her son. My favourite performer of the evening however was Chris Trenfield as Leo, the Royal Gamekeeper, not only did he play a wonderfully lovable character, but as a dancer it was so hard not to concentrate solely on his footwork throughout the evening.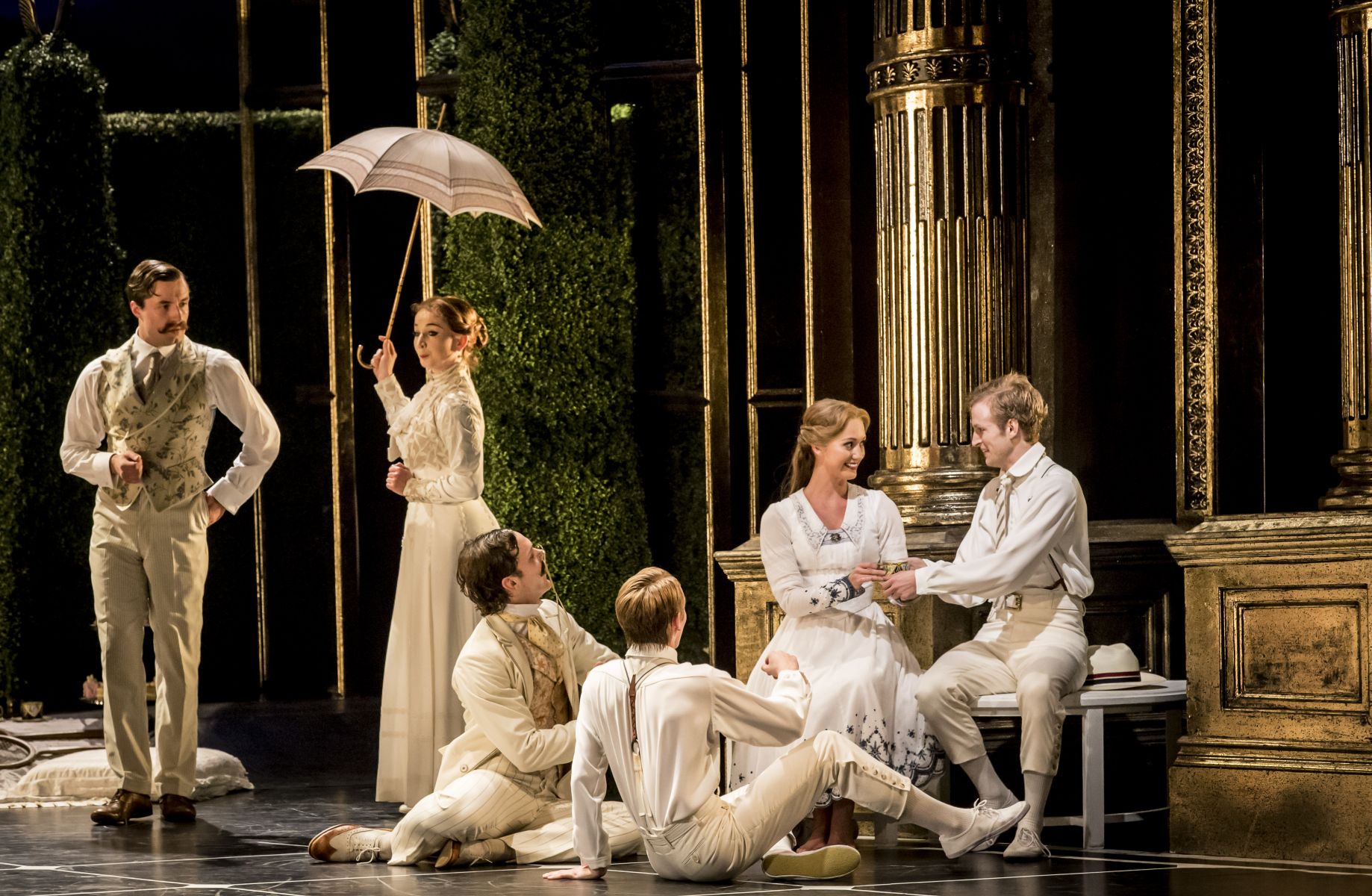 This has to be the most magical and mesmerising ballets I have seen in all my years of Theatre trips. Having seen numerous different productions of The Nutcracker and Swan Lake, plus a few productions of Romeo and Juliet from not only Matthew Bourne but English National Ballet, Russian National Ballet and Birmingham Royal Ballet to name but a few. Although I have thoroughly enjoyed each one and loved comparing the style and interpretations of different Dance Companies, none has wowed me as much as tonight's production. From the Gothic music, lighting, sound effects and stunning costumes, to the wonderful stage set (my favourite being the Palace Gardens) and of course high quality dancing, the show transformed me into a magical realm and for those couple of hours I was transported into a wonderful and magical world that I yearned to never end. No previous production by Matthew Bourne, from his ballets to opera "The Car Man" have left such a lasting impression and burning desire to return until this evening.
One member of this evening's performance loves the show so much that this was her 150th time seeing it, having followed this tour since opening, sitting mostly in the front row of the stalls whenever possible! On hearing this during the interval, I was unsure how somebody could see a performance so much and not tire of it (although I cannot really comment after the amount of times I have seen Les Misérables in the West End), but by the end of the performance I could see why the magic would never end and wished that I could squeeze as many further performances in as possible before this truly magical piece closes.
I cannot express in words just how truly magical this production is, you really do have to see it for yourself to believe it.
Reviewer: Lottie Davis-Browne
Reviewed: 17th May 2016