Sleeping Beauty? comes to the Cecil Sharp House but not as you know it. Founded at The Central School of Speech and Drama, Wonky Table are a theatre company that pride themselves in telling 'wonky tales" through the reconfiguration of conventional narratives in a playful way; and that is exactly what they succeed in doing. This production follows a young Billie (Amy Ann Kemp) in her retelling of the story, with her featuring as Princess Rose.
Throughout this adaptation of 'Sleeping Beauty' we are taught about consent, social gender norms and the pressures of adulthood.
Walking into the space you are instantly catapulted into a nostalgic throwback of your childhood summers. The stage is littered with giant playing cards, boxes, a laundry basket, colourful sheets pegged onto a clothesline and teddies all on Astroturf. Paper party hats become castle turrets, books become mini villages and a purple elasticated sheet becomes a very unusual dress. To compliment the innocence and simplicity of the set, the gentle and twangy sounds of a ukulele fill the space which further enhances the childlike essence.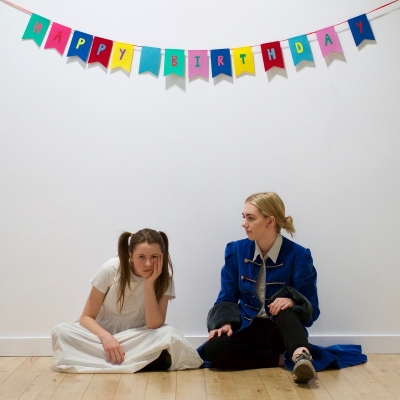 Kemp's performance as Billie is believable and consistent throughout. She's cute, convincingly youthful and funny. Kemp never dips in energy and explores her ability to convey a child with clarity. Furthermore, Kemp's portrayal of Princess Rose is bold, sassy and confident; she's successful in her contrasting physicalization of both characters (and the amount of cake she consumes. Narrator and ukulele player Amelia Mehra maintains rhythm and pace for the entirety of the production occasionally adding the odd sound effect and external character voice. Mehra's comedic timing and dry sense of humour adds a flare to her role and it is enjoyable to watch such a heavily involved and appreciated narrator.
Prince Dennis is an awkward and slightly dopey character played by Catherine Manwaring. Manwaring plays the role with over the top bravado and her mockery of the traditional "fairytale Prince" is humorous on the most part. Double act ditsy sidekick Fairy Ruby (Sally Fellows) and uptight, busy body Fairy Sapphire (Savithaa Markandu) play these to contrasting roles with ease and do well in complementing each other's qualities.
Ella Becker's direction proves inventive, creative and fun throughout and the cast do well in utilising the space and props they have. Becker's direction ensures every role has equal stage time and there are no "small parts". The unconventional retelling of such a classic like Sleeping Beauty' is an assumed success given by the audiences reactions, and the gentle but firm discussions about consent and self-awareness are made light-hearted yet still very relevant and educational. The end comes a bit sudden, but with more time this could be easily lengthened or rounded off slightly better.
Every school, community centre, youth group and even elderly home should be able to experience Sleeping Beauty? in the way we are able to witness it. In order to take it further and to bigger venues, there are definitely parts that need neatening to professional standards. However, Sleeping Beauty? is realistic, honest and refreshing and should be seen by all ages looking for a bit of rebellion outside the "norm".
Reviewer: Tamara Smith
Reviewed: 23rd August 2018
North West End Rating: ★★★