Theatr Clwyd and Guild of Misrule bring the classic The Great Gatsby to the Dolphin Hotel in Mold, prior to refurbishment.
The Great Gatsby is an immersive experience and it really does have to be experienced to be believed. You are not just an audience, you are involved and included and become part of the story.
Stepping into the 1920s, you enter a speakeasy during a time of prohibition and partying. You are invited to Jay Gatsby's party full of bootleg liquor, flapper dresses, whispering secrets and of course lots of dancing.
Unlike most theatre experiences, this is a type of show where you don't just sit and watch, you are involved and as with most "parties" you move from room to room to witness new stories unfold.
Michael Lambourne brings Nick Carraway to life and you are carried through the story cleverly narrated by Lambourne. Carraway is the first and last character you see and is integral to the story. Lambourne really is wonderful in the role, really connecting with the audience, making you feel at ease while delivering this wonderfully emotional story with passion and professionalism.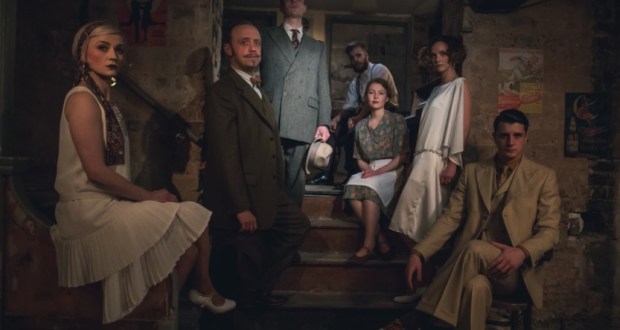 What struck me as extremely clever with this experience is the timing and the way multiple scenes were choreographed to all link together so it flows fully which each group joining together at the correct time, so the full story becomes a whole piece again.
Gatsby is a very powerful, strong character and Oliver Towse portrays this with confidence and emotion, taking us on a rollercoaster throughout. Towse can create a character with just a look and stance and has you believing you are actually at his party, he is that believable in the role.
Daisy is a sweet, innocent character and is beautifully delivered by Amie Burns Walker. What draws you to Walker is the emotion she portrays on her face and through her eyes. She can tell a story through her eyes and touches your soul. Jake Ferretti as Daisy's husband Tom Buchanan is controlling and what he wants he gets. Deceiving and callous, Buchanan wants to unravel the truth and will do whatever he can to get this. Ferretti is extremely believable in this role creating almost the villain character of the show.
Jordan Baker is a beautiful character, always trying to bring people together and calm situations down and Zoe Hakin just makes her so wonderful to experience. So confident and believable in the role.
George Wilson is the barman and with his wife Myrtle, they go through their own emotional journey. Bethan Rose makes a wonderful Myrtle, really throwing herself into the role in more ways than one and Matthew Churcher as George is perfect. Always there when needed even when he has his own issues. Churcher plays piano a few times and it is wonderful to experience and he even delivers a heartfelt song later in the play that really lets you in to the characters heart.
You will experience so many emotions throughout this journey, I know I did, from smiling and laughing to almost crying from the heartache you feel from some characters.
Director Alexander Wright really has worked magic adapting this wonderful story and bringing it to life with this perfect cast.
Costumes are just exquisite and perfect for the era, extremely good quality and especially so as you are so close to these characters.
When you first enter the Dolphin, you do wonder what you have walked in to but the way they have transformed the space for this story along with lighting and sound is unbelievable.
The community cast used during this run are integral and really add to the experience, greeting you, serving at the bar and showing you where to go. Well done all.
The escape and freedom provided by this wonderful group of seven extremely talented actors is a perfect way to spend an evening. These actors are some of the nicest, generous people I have met, taking time at the end of each show to mingle with the audience and appreciate you spending your evening joining them on this journey.
Try something different, get involved and experience the Great Gatsby and one of Jay Gatsby's parties, you will not be disappointed. If you've already been and are lucky enough to get chance to go again, grab that chance and follow a new path, you'll experience a whole new show. "Tomorrow we will run faster, stretch our arms out further"
Reviewer: Damian Riverol
Reviewed: 14th March 2018
North West End Rating: ★★★★★