As a theatre goer of over forty five years and a theatre critic I have seen many professional no expense spared productions but I love nothing better than getting back to the roots where it all begins.
As the doors opened on a brisk cold evening at Runcorn's stunning Brindley Theatre for the CODYS production of Andrew Lloyd Webber and Tim Rice's iconic musical Joseph and the Amazing Technicolor Dreamcoat the story which is based on the Bible's Book of Genesis 'coat of many colours', I was faced by a sea of proud family members all eagerly excited to see their talented youngsters perform on stage. The whole atmosphere oozed community spirit from the volunteers, staff, the children in the audience right up to the elderly population from the area all waiting to be seated in the auditorium.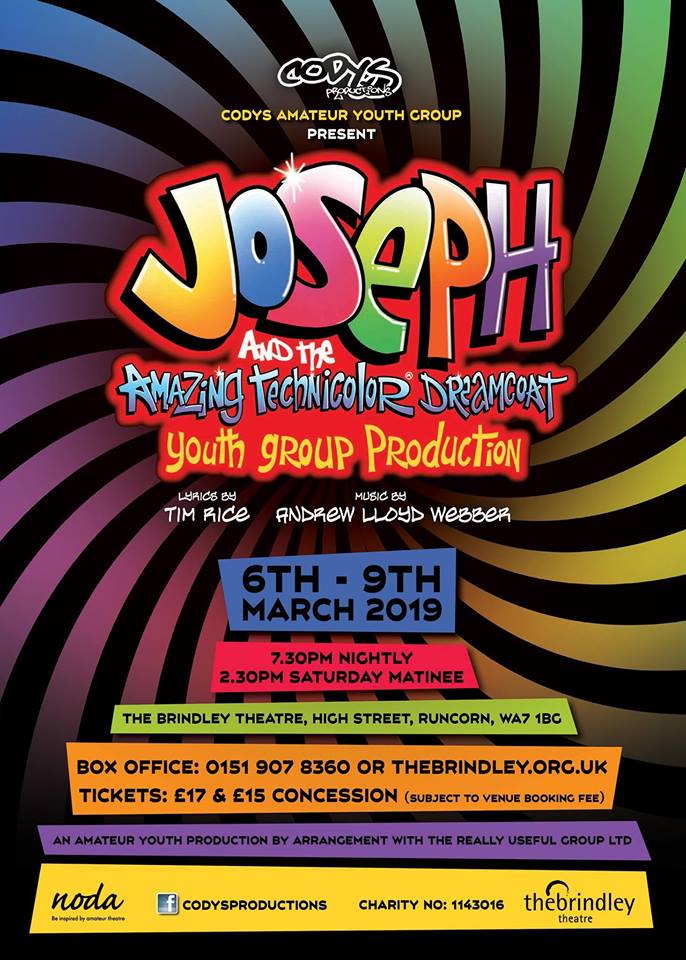 I have seen many amateur productions over the years but this was my first time with this particular amateur company: Directed by Nick Cupit, Choreography by Laura Cupit and Musically Directed by Simon Pickup I had no expectations on what calibre to expect, however I was eager to see a new cohort of young talented actors and actresses from CODYS youth group.
Joseph and the Amazing Technicolor Dreamcoat hit the West End in 1973 and have had a successful run for over four decades and have been performed by over 20,000 amateur groups so I can't imagine there is anyone who does not know this infamous story of Joseph and his brothers.
CODYS however did something that I have not witnessed previously they had not one but six narrators, which was an absolutely genius move as many amateur groups fail at this point by casting an individual actress and because of the magnitude of this role it can make or break a performance as they are pinnacle to the story telling throughout. All six ladies complimented each other and were casted perfectly to showcase their vocal strengths. However one young lady absolutely stopped me in my tracks Erin Smith stood out from the crowd and reminded me of a young Elaine Paige this actress had the most amazing stage presence including silky soft tones but equally powerful and effortless vocals which had me captivated throughout as she never once faltered from her role, this is a lady that would give Sheridan Smith a run for her money and one to watch out in the future.
The creative team paid attention to every detail from imaginative choreography, impressive lighting to spectacular vocal instruction making it a visual and auditory sensation. The set design was perfect for this production as it moved easily without distraction from the cast and proved extremely versatile for the scenes. Also the Lighting was outstanding with its technicolour's and vibrancy which completely enhanced the evening during each part of the show. Finally the costumes were exquisite full of colour and authenticity for the production again intensifying the pleasure of this magnificent creation from this particular theatre group.
Ollie White portrayed the role of Joseph a hard task to deliver at such a young age but he had great confidence and sang pitch perfect, I am sure this young man will grow over the years to become a man fit for a lead role in any big production out there, his voice matched perfectly as Joseph and he delivered a humbling and gentle performance as the leading man.
The team were cast perfectly and the majority of them mastered their characters superbly in particular (George Gibbons) Reuben, (Ryan Coxon) Judah and (Colby Fisher) Naphtali these talented trio brought high energy and much needed humour into the musical.
With an equally energetic and talented ensemble, the show gave the audience everything they came for with their excellent choreography and dedication, during the evening the Junior Choir sat beautifully and sang angelically throughout the performance making it a must see show not only for the feel good factor but to watch our potential stars of the future.
Well done to all involved and I hope we are invited again to review future productions.
Reviewer: Katie Leicester
Reviewed: 6th March 2019
North West End Rating: ★★★★