Mischief Theatre Productions are back in Chester with another instalment of their laugh out loud comedies, Peter Pan Goes Wrong. Written by Henry Lewis, Jonathan Sayer and Henry Shields, they have once again created a fantastically brilliant piece of theatre.
From the minute you enter the theatre you are being entertained by the cast as they wonder around the auditorium looking for various items or sending an electric cable across the audiences' heads, engaging the audience ready for what is to come.
Peter Pan Goes Wrong follows the same format as the Play That Goes Wrong in the fact that it is a play within a play. We are watching Cornley Polytechnic Drama Society putting on their Christmas show.
The cast members play many characters throughout the play and it can get a little confusing, especially trying to remember that the actual actors are playing Cornley Polytechnic characters who are then playing the characters of Peter Pan. This adds to the humour and craziness of the production.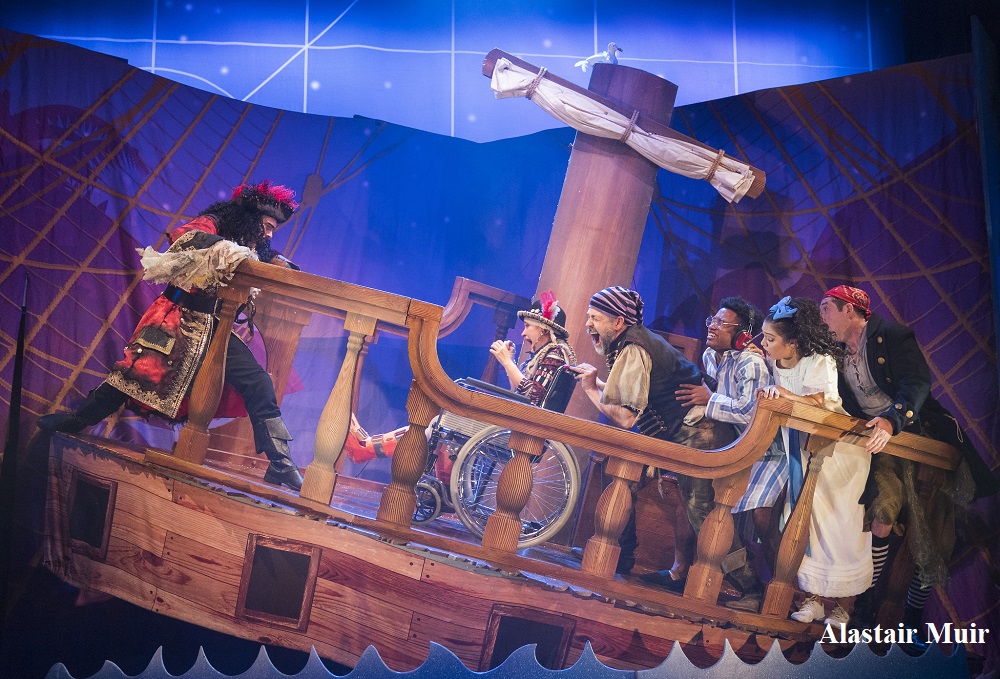 The laughs start before the show begins and continue right through to even after the show as you are leaving the theatre and hear 'audition recordings' being played.
Although the set at the beginning looks simplistic, it is in fact the complete opposite and it has to be seen to be believed. Simon Scullion has done an incredible job creating such a fantastic set, creating such chaos while remaining safe to work on. Stage manager Katie Thackeray and team work incredibly hard to keep this fast paced play ticking along.
Lighting by Matt Haskins and sound by Ella Wahlström work hand in hand with each other and compliment each other to bring the show to life.
Adam Meggido has such an eye for detail when directing this piece to have everything covered to make it a spectacle for the eye.
We had three covers this evening, Christian James as Jonathan (playing Peter Pan), Fred Gray as Max (playing Michael, Mermaid and The Crocodile) and Tom Babbage as Chris (playing Mr Darling and Hook). The cast work together so well, every move choreographed so well that you would never guess who was a cover and who wasn't.
Phoebe Ellabani makes her professional debut and absolutely steals the show playing many roles including Mrs Darling, Lisa, Tinkerbell and Tiger Lilly. The costume changes were incredible, sometimes happening within a few seconds, adding to the humour and sometimes mishaps of the show.
Christian James played Peter Pan exceptionally well, a difficult part to play when you spend half the time on a wire and not knowing where and when you will be flying away. Tom Babbage was brilliant playing his characters, especially as Hook where he almost has a break down trying to convince the audiences that 'This is not a panto.'
Katy Daghorn puts everything into playing Wendy Darling, over the top and very energetic and Romayne Andrews is incredibly funny as John Darling and Mr Smee, getting lines and characters confused and being fed lines in any way possible. Another cast member making his professional debut is Ethan Moore as Trevor the stage manager who is so much more than the stage manager. Extremely funny and always around, even when he is not meant to be seen.
Costumes are fantastic and ran extremely well by Wardrobe team Jennifer Clarke and Rohanna Coulthard. Costumes are an integral part to this production and were managed extremely well, especially so in quick change instances.
Peter Pan Goes Wrong is a fast paced, over the top, fantastic gem of a show which is choreographed to within an inch of its life to bring an hilarious, entertaining piece of theatre to their audiences.
You really do need to see this production to believe it. Mischief Theatre Productions have done it again and created a piece of magic.
Reviewer: Damian Riverol
Reviewed: 21st January 2020
North West End UK Rating: ★★★★★