American writer Ken Ludwig has two Tony Awards and two Olivier Awards to his credit. He has had six shows on Broadway and seven in London's West End and can turn his hand to both comedy and musicals. His latest play comes from closer to home as he is the younger son of the characters Jack and Louise. 'Dear Jack, Dear Louise' is a play about how his parents met during World War II, using letters to get to know each other. As his plays have been performed in over 30 countries, I am sure this will also be a success.
Once again, MADS have constructed a wonderful set which functions as dressing room/living room and the design has been well thought out. The set plays a key role in this play, as its many doors constantly opening and closing (let's hope they have good hinges), allows the cast to exaggerate a key message from this play - when one door closes, another one opens.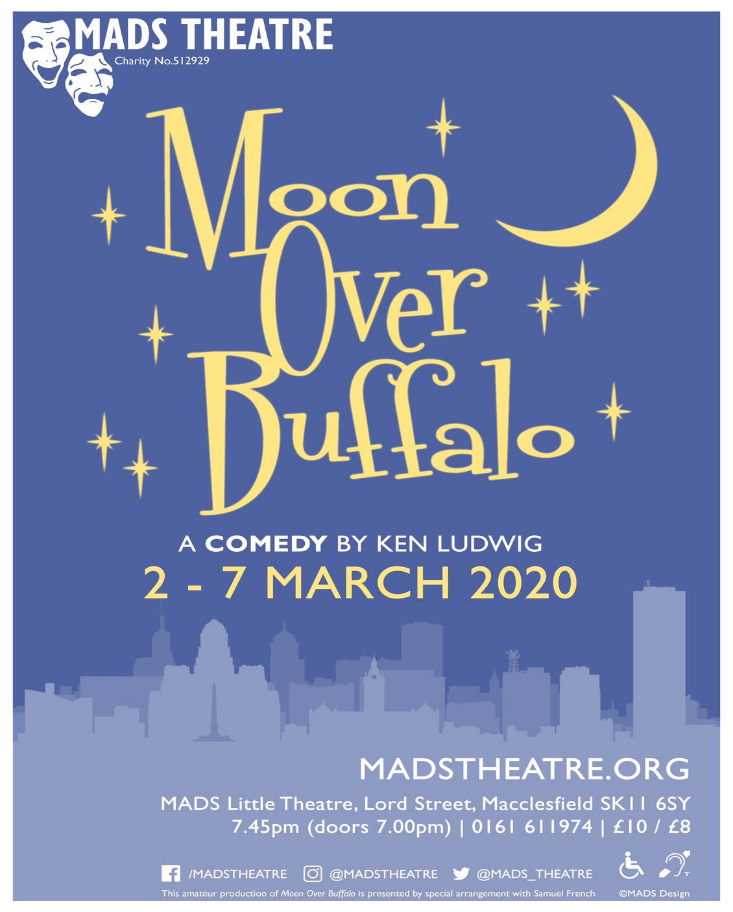 'Moon Over Buffalo' follows George and Charlotte Hay who are a married couple touring with their acting company but finding life is tough now that theatre is in competition with television for its audience. It is 1953, and the company are performing two repertory pieces, 'Private Lives' and 'Cyrano de Bergerac'. The private lives of the husband and wife team add some spice to their tour and this wonderfully written play opens the opportunity to explore to comedy moments to their full extent, with such one liners as 'George is a walking ham – they should stick cloves in him and serve him with pineapple'.
It is clear from the beginning, that the cast are revelling in the humour within the script. Rob Copeland (George Hay) excels as the 'hammy' leading man who feels that he has been overlooked for Hollywood roles, but still feels that his heart belongs in theatre. Lucia Wilde's (Charlotte Hay) as his wife and leading lady, turns in a wonderful performance.
Having watched several MADS productions, I find that I am always impressed by Suzanne Copeland, who is versatile and plays a glorious mother-in-law role in this play, it could easily have been taken too far, but Suzanne plays Ethel perfectly.
With a comedy play, timing is everything and there is a particular scene (which I alluded to earlier), where the cast have to go in and out of doors multiple times and this could have very easily gone wrong, if one person didn't enter or leave at the correct time. This scene, and the whole play was a credit to the whole team, as it must have taken a lot of work to produce this very professional offering. The energy is infectious, especially from Andy Cantillon (Howard), who vaults the settee on numerous occasions.
The director Lucy Taylor-Hill can be very pleased with how she has directed this play, as it is hilariously funny, and the audience certainly seemed to enjoy themselves.
This wonderful comedy runs at MADS Theatre until 7th March 2020. Please book tickets at https://www.ticketsource.co.uk/madstheatre/events
Reviewer: Caroline Worswick
Reviewed: 2nd March 2020
North West End UK Rating: ★★★★