We are aware of many of the terrible things that happened during the Second World War, but did you know that ten thousand Jewish children were evacuated from Nazi-occupied Germany just before the war broke out? The children were sent unaccompanied to the UK and fostered by families around the country. On the surface, this seems like a blessing; a huge number of children escaping the atrocities of war and a future in concentration camps, or worse. However, the decision to send a child away has long-term repercussions for more than just the child.
'Kindertransport' – or Child Transport in English – follows nine-year-old Eva as she says goodbye to her mother and boards a train from Hamburg, eventually arriving in Manchester where she meets her English family, the Millers. Despite a rocky start and a significant language barrier, Eva and her foster mother Lil become close, and Eva eventually settles in the UK becoming a naturalised citizen and changing her name to the more English-sounding Evelyn.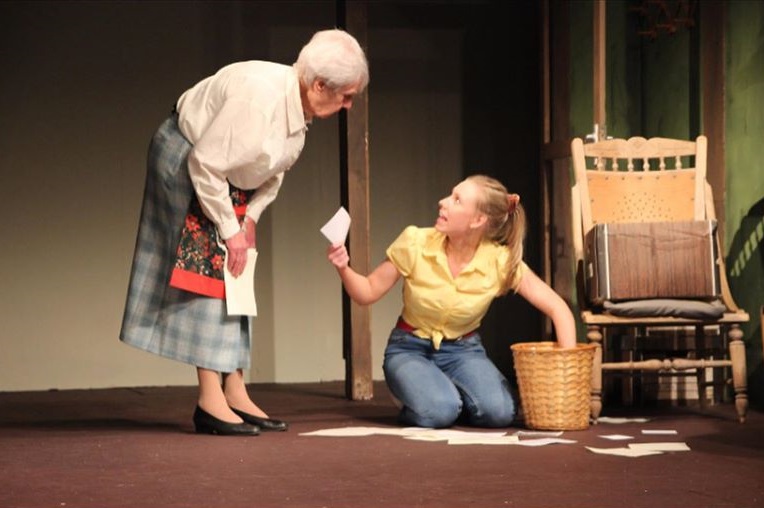 The cleverness of Diane Samuels' script though, is in the parallel storytelling of Lil's granddaughter Faith discovering a box of old photographs and papers in the attic. As Faith picks at the threads of her history, her relationship with her mother and her mother's identity begin to unravel. Frustratingly, there almost seemed to be too much material to try and fit into two acts, which did leave me with several unanswered questions about Eva's story. Having said that, I was glad that 'Kindertransport' did not shy away from the challenging aspects of the story, particularly in revealing the fate of Eva's parents in Germany; though please don't let this put you off going to see it!
The Cheadle Players' production uses actual footage from the period to enhance their telling of Eva's story, and both lighting and projections were used very effectively. I was particularly struck by the projection of the tale of the rat-catcher, and I can imagine how a story like that would grow and fester in a person's memories. Besides that, the set was simple but used well to set scenes in Evelyn's attic, Eva's childhood home, and the railway station.
However good the design was, this play was not going to be at all powerful without a strong cast, and that is exactly what it has. Eva/Evelyn's internal struggle to define her own identity is a real challenge, and Nemone Wolfendale as young Eva stood out from among the talented group. She showed a great range as an actor and an impressive level of emotional maturity for such a young actress, and she's definitely one to watch. Margaret Williams should also be applauded for navigating her scenes in both time periods, which meant she was almost constantly on the go.
This play has so much to teach us about an often-forgotten side of the holocaust, but it also raises real questions about identity. What does it mean to Eva to be uprooted and grow up somewhere with a completely different language and culture? To what degree does a person adapt or assimilate in that situation? Years later, how do you explain your past to the people around you? How can you begin to process the trauma of being "abandoned" as a child? And, how much of our own family past do we use to form our own identity, in the second or even third generation?
This is a powerful, and yet accessible, play with many lessons to teach. It was nice to see an amateur theatre company tackling such an important piece of writing. It's on at the Players Theatre in Cheadle Hulme until Saturday 14th March and I encourage you to go and see it. It's definitely worth braving the weather for! I believe it is also a set text for certain GCSE/A-level exam boards, so check with your teens as well. You can get tickets from www.playersdramatic.co.uk or call 0161 485 7704.
Reviewer: Jo Tillotson
Reviewed: 9th March 2020
North West End UK Rating: ★★★★
Can we review your production? Contact us at iThis email address is being protected from spambots. You need JavaScript enabled to view it. with your show details including date and venue and we will check our availability. Review slots book up fast so the earlier the request the better.