This is the second Drama festival of its kind. Hosted this year by Macclesfield Amateur Dramatic Society (MADS), it is staged over three days with nine plays in contention for a place in the AETF Northern Semi-Final which takes place on 9th and 10th May 2020. The winner of the Northern final will progress onto the AETF Grand Final due to take place on 13th June 2020.
Sunday 15th March
Definition Not Found by Jodie Sale - Davenham Players
Set in a future world where the Government has banned any study of the arts because of a lack of funding, students may only study STEM subjects in the hope that these budding scientists can save the planet. All 7 to 21-year olds must board at school and are slowly having their identities taken from them. Some art students have gone into hiding and the NHS is struggling.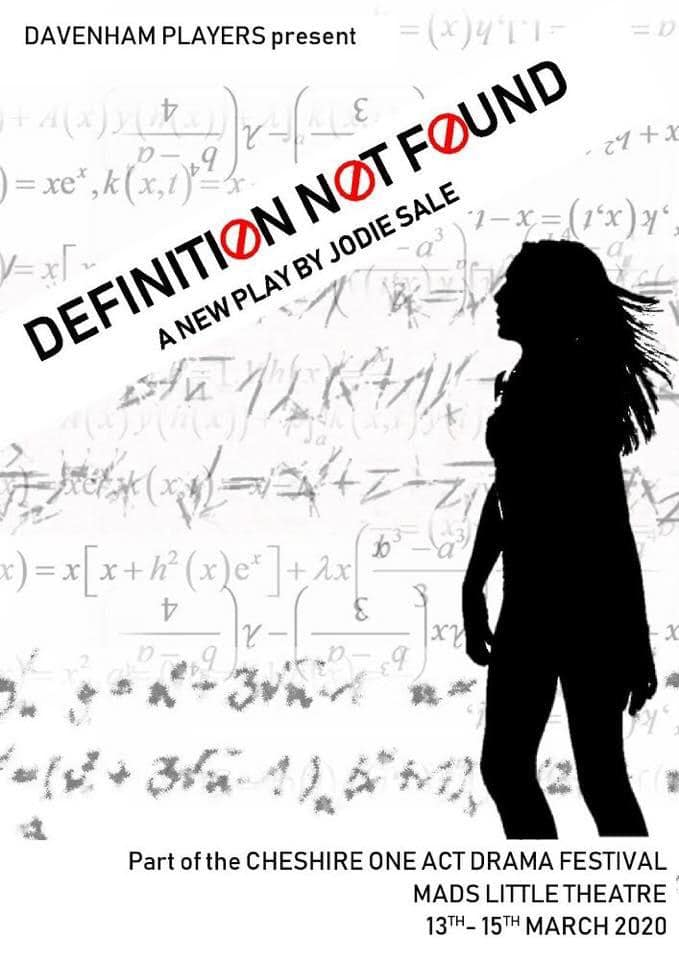 L4 (Emily Pinches), wants to be a writer and L2 (Holly Lines) a musician, but in this environment, they are not supposed to think creatively; only facts are permitted.
On a stage that has only three beds, the young team wearing ripped red dungarees and white shirts communicate their feeling of despair. L4 had been hiding in a theatre, but when it was raided, she was brought to the school for re-programming.
One side effect of the mind control drugs is that their ability to say controversial words or react against the regime has been taken away. L2 and M8's sister (Becky Seymour), recite the definition of a word in a monotone in perfect unison. This piece has been very well rehearsed and it's a credit to the theatre company, how seamless the performance was.
This is a topical subject, as our education system faces daily struggles to utilise resources, the arts are very often the victim and lose the battle against the more academic subjects.
The standout performances came from Emily Pinches, Holly Lines and Jack Furlong whose ability to move between their character's normal behaviour and their post-treatment behaviour was a credit to their acting skills.
From the Ashes by Jack Morrison - MADS Theatre
An asteroid is hurtling towards Earth and there will be no escape. A budding poet Jay enters poetry competitions but always seems to come second to his rival Sam. He can't believe it and arranges to meet Sam to find out why.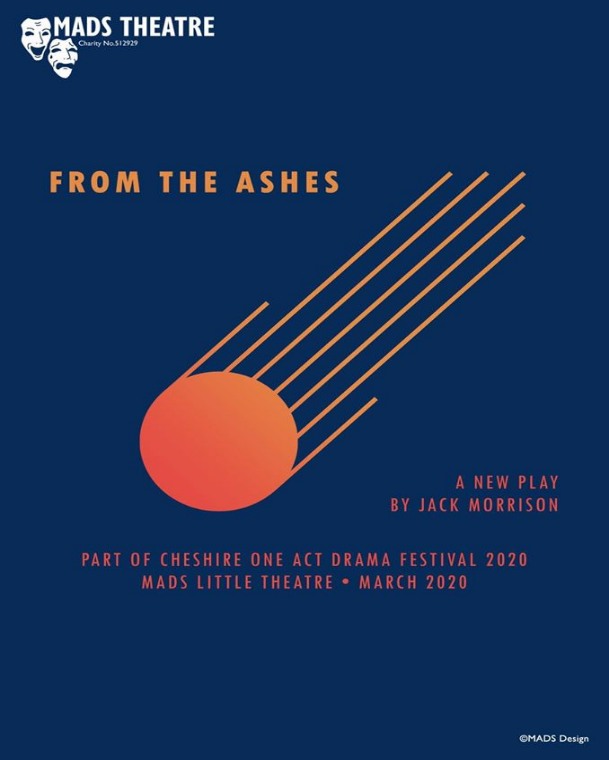 In this hugely funny play, we follow Jay (Eddie Melling) and Sam (Chelsey Sayward) to find out how they are going to cope with the news that not only are they poetry rivals, but they are about to become extinct. Will they be one of the chosen ones (in true Noah's Ark style), to be invited down to the underground bunkers?
The interplay between Jay and Sam is sometimes confrontational, as they are rivals, but also tender in the more intimate scenes. The two actors use minimal props with only a bench, blocks at the rear of the stage for a bed, a throw and backpack.
The play flowed easily with the dark humour showing off the well written script. The writer Jack Morrison multi-tasked as Director and even appeared as 'Man' on stage, which was a small role, but he performed it with perfect comedic timing, which shows his versatility.
The poetry readings helped to change the rhythm of the play and served as a reminder, that poetry is the reason Jay and Sam met.
Cliff's Edge by Paul Beard - Nantwich Players
Using humour to tackle the subject of suicide, this play is set on the edge of a cliff at Beachy Head. Suicidal actor Gary (Jonathan Everitt), has no work and has depression due to his prolonged unemployment. Whilst trying to write his suicide note he encounters Cliff (Riddell Graham), who, in his own way, is trying to persuade Gary not to jump. Cliff runs the pub imaginatively called 'The Beachy Head' and explains that he often tries to talk people out of jumping off the Cliff as they often visit his pub first for a drink of dutch courage.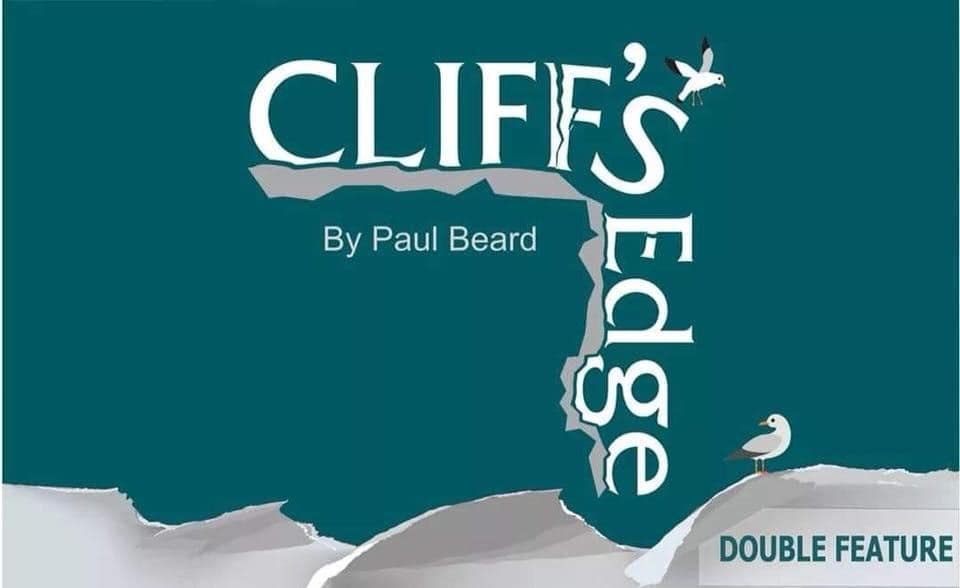 Gary also meets Sue (Elaine Caulfield), who is manically depressed and rather than trying to persuade Gary not to jump, she tries to give him ideas of how to do it. This is an open invitation for gallows humour, and it is delivered in spade fulls here.
The staging is limited to two boxes and a wire taped to the floor of the stage denoting the cliff edge, but its enough to give the actors a reason to move about the stage and creates some dramatic tension, as when the suicidal jumper decides they may jump they climb onto one of the boxes.
I loved the way the costumes matched the personality of the wearer with Gary in grey which matched his John Major like personality, a flowery vivid dress for the permanently wired Sue and the typically British holiday resort pub landlord Cliff, wearing a Hawaiian shirt, shorts, socks and sandals.
This team directed play did offer an amusing glimpse into the subject of depression with black comedy making this a melting pot for dark jokes and should come with a health warning 'Please do not try this at home'. Just kidding!
Awards
Best Actress:
Nominations: Emily Redwood – MADS
Bethany Froud – Nantwich Players
Emma Griffiths – Neston Players
Chelsey Sayward – MADS
Winner: Bethany Froud – Nantwich Players
Best Actor:
Nominations: Luke Oldham - MADS
Toby Cordwell - MADS
Colin Johnston – Nantwich Players
Eddie Melling - MADS
Winner: Colin Johnston – Nantwich Players
Most Promising Actor/Actress:
Nominations: Duncan Munro – MADS
Holly Lines – Davenham Players
Emily Pinches – Davenham Players
Jack Furlong – Davenham Players
Winner: Emily Pinches – Davenham Players
Best Director:
Nominations: Luke Oldham – MADS
Jeremy Acklam – Nantwich Players
Jack Morrison – MADS
Jodie Sale – Davenham Players
Winner: Jeremy Acklam – Nantwich Players
Best Original Play:
Nominations: Dave – A Cautionary Tale – DTAT
From Little Acorns Grow – Electric Fables
The Changing Room – Neston Players
From the Ashes – MADS
Winner: From the Ashes – MADS
Adjudicators Award:
Winner: Duncan Munro – MADS
Best Cheshire Production:
Winner: The Girl in the Machine – Nantwich Players
AETF Trophy:
Winner: The Girl in the Machine – Nantwich Players