The original horror movie came back to haunt a new audience at Appleby Public Hall as Bristol-based four-piece, Minima accompanied the classic 1922 cult movie Nosferatu, writes Karen Morley-Chesworth.
The contemporary live music highlights just how important the movie script is, and how you can forget there is no voice-track to the film that flickers and mesmerises a 21st-century audience, used to high definition pictures, surround sound audio and colour.
It is a testament to the German director FW Murnau that this early film still has the ability to capture the imagination of an audience today. It is an influential masterpiece of cinema, and you can see the inspiration for countless other horror movie makes from these 94 minutes of silent drama.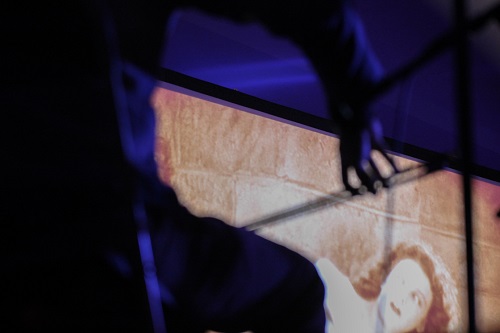 The Gothic tale is an unauthorised adaptation of Bram Stoker's Dracula - as the Stoker Estate refused permission. This may explain why it diverts from the book, with the boat arriving into a German port rather than our own Whitby harbour, the vampires still maintaining their image in the looking glass, and rats in place of bats - though the image of the rodents scuttling around the boat and town had a greater impact than flapping bats, personally.
The Stoker heirs sued over copyright and the courts ordered all copies of this film to be destroyed - thankfully a few survived and this digitally enhanced copy was a treat to see on a big screen, in a community hall with live musicians interpreting the actions and building up the tension.
It felt so right to be sharing this experience with friends and neighbours - the Public Hall was almost full. It was how my grandmother saw the film originally in 1922 - a village hall rather than a cinema. Yet it felt like the film was a carefully crafted animation to enhance the brilliant, contemporary composition from Minima.
If it wasn't for the silent films Minima accompany being such classics, you could be forgiven for thinking a modern director had created a video to fit the music. The score and the screen action together create a holistic piece of dramatic art.
The music more than fills the void of spoken word - and it made me think of Pink Floyd and their movie The Wall. No words are needed to create emotion and tensions.
This performance in Appley was a collaboration between Highlights Rural Touring Scheme and Lights, Camera, Appleby (the town's remote cinema scheme).
This was a masterpiece of emotive, spine-tingling music which created an atmosphere that gripped the audience and gave new lifeblood to the onscreen drama - engaging and unique with a beat that raised the blood pressure.
Minima are touring with several silent movies in 2020 around the country - and its one not to be missed. http://www.minimamusic.co.uk/
Reviewer: Karen Morley-Chesworth
Reviewed: 1st November 2019
North West End UK Rating: ★★★★
11th January 2020, 7:00pm Nottingham Contemporary (The Cabinet of Dr. Caligari)
14th February 2020, 7:30pm Spring Bank Arts Centre, New Mills (The Cabinet of Dr. Caligari)
15th February 2020, 7:30pm Great Longstone Village Hall (The Cabinet of Dr. Caligari)
26th February 2020, time tbc Bedales School (The Cabinet of Dr. Caligari)
8th May 2020, 8:00pm Northwick Arms Hall, Ketton (The Cabinet of Dr. Caligari)
9th May 2020, 7:30pm Twyford Village Hall (The Cabinet of Dr. Caligari)
29th June 2020, time tbc Deal Festival of Music and the Arts (The Cabinet of Dr. Caligari)
30th June 2020, time tbc Deal Festival of Music and the Arts (The Adventures of Prince Achmed – Education Event)