The travel of peoples across the globe is rich with dramatic and emotional stories, especially when set against backdrops of – or amidst – huge events that result in re-drawn boundaries, new countries and forced migration. For those displaced by such upheavals the subject of 'identity' assumes more importance: 'Who am I… I certainly didn't start here?'
Indian Independence and its Partition in 1947 was one such event and in two productions recently staged in Edinburgh's Traverse 2 the search for identity, or 'home', has taken their creators back to their Grandparents; Umar Butt's 'Alex & Eliza' to his Grandmother, this show by Annie George to her Grandfather in Kerala, the poet and writer PM John, or Paduthutto Mathen John. George draws parallels to his life under British rule with her experiences arriving in London in 1969. Both endured the impact of colonialism, since the attitudes George and her parents encountered in the UK had their roots in the behaviour of an 'empire' that wouldn't even teach pupils in Keralan schools their own history or Malayalam language.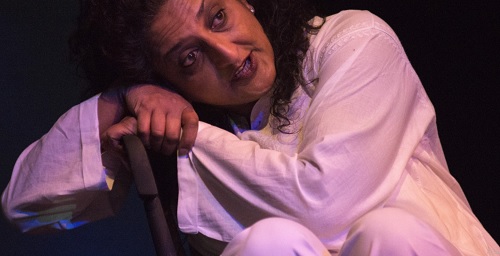 The assertion that 'Home' is not the - or a – place becomes clearer as the show progresses and the theme of physical absence is touched upon. PM John was absent from Kerala a good deal in the last quarter of his life. In pursuance of his writing he went to Kolkata to study, witnessed the Japanese bombing in World War 2, but, passing away in 1945 at the age of 40, missed the day of his country's independence. George's own parents were absent for two years, 'invited' to the UK in 1967, promised jobs, only to find their qualifications gained in Kerala were not recognized. Though their faces were every time they tried to secure somewhere to live…
Despite walking straight past her parents when they turned up to meet her at Heathrow, family life gelled and George's family, surviving the playground and workplace taunts, grew to call the UK home. However, they'd leave home (the UK) to visit home (Kerala) so if home isn't one place, what is it?
The set – a stepladder beneath a sculpture and a lectern/school desk and high chair - was sparse but effective and the music (Niroshini Thambar) lent an atmospheric ambience. It was well written and performed; not for nothing does Annie George have a long list of awards and credits to her name. But there was some missing grist to the story; most of her Grandfather's writings were destroyed in a fire two years after his death, so we'll never know exactly what he was thinking – or writing - during this turbulent period of history. The most dramatic incidents (the fire and a subsequent storm that blew away their temporary bamboo lodgings) happened after his death. And though present was humour, of tension and suspense there was little. It felt less a piece of theatre, more a lecture, the conclusion of which was; Home Is Not The Place, but family is. Debatable; you can't choose your family, but some places do possess resonance.
Reviewer: Roger Jacobs
Reviewed: 21st February 2020
North West End UK Rating: ★★★