Hotter, is a show about the body, specifically the female one. Though the title is also a combination of the names of the two writer/performers, Mary Higgins & Ell Potter, it also covers different facets of the relationship with the body, not just in a "hot and bothered" sexual sense but also self-image and the relationship with the world around us: temperature, the gaze of others, etc. The performers asked women and trans people aged 11 to 97 "what makes them flush, rub and gush" and their recorded answers become the core of the show, with the actors either mouthing along in character or providing contrasting imagery with their bodies and props.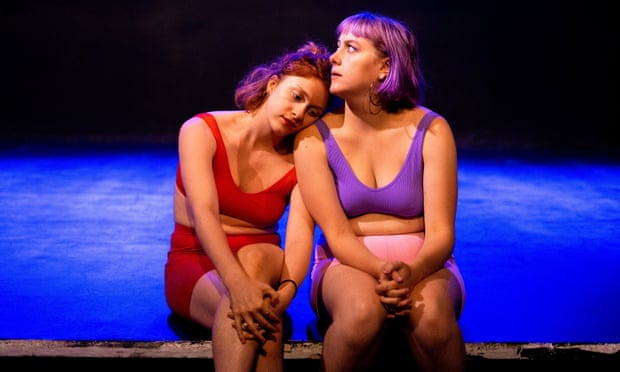 The show has seemingly evolved quite a bit in its three years of development and staging, and now stands as a lean mean fighting machine, partly one assumes thanks to the more recent input from director Jessica Edwards. The comedic timing is on point, the actors are confident and the movement and lip synching are effortless, culminating in a dance party which would have ended with the entire audience joining them on stage, if it hadn't been for the health risk due to the Corona virus, causing us to all dance in our respective rows instead.
Beginning as an Edinburgh Fringe show (it will return as such this August), Hotter already has a good track-record with audiences thanks to its heart, thought and humour, and seems only to have matured with time, taking on the performers' changing relationship (a relationship which began and grew with this show) as well as gaining reflection and thought. Though it may strike an extra chord with LGBTQ+ audience members and women in general, this is a show with universal appeal thanks to its themes, inspiration and the delivery of its creative team, and is well worth catching if you get the chance.
Reviewer: Oliver Giggins
Reviewed: 12th March 2020
North West End UK Rating: ★★★★