On the hottest day of the summer so far, the last thing anyone would want to do is head on over to the theatre, right? Well, not when it comes to James Schofield's sold out take on the brilliant and totally original play All The Bens. Despite the scorching heat, All The Bens delivers a fast-paced, gritty and moving exploration of loneliness and sexuality that sticks with you long after the conclusion. This production is destined for success and is one which all avid theatre-goers should not miss.
The play, written by Ian Townsend, provides a contrast of laugh-out-loud humour and powerful realism that keeps audiences on the edge of their seats. Told from the intertwining perspective of Ben, Al and Henry, All The Bens presents a captivating story of longing as Ben pursues Al, whom rebuts Ben and instead befriends Henry. All The Bens provides an in-depth look into these three flawed characters as they wrestle with their demons, identities and sexuality, mixed in with an occasional visit to A&E and monsters in the park. The narrative seamlessly transitions from scene to scene and delivers on the drama with authenticity and emotion.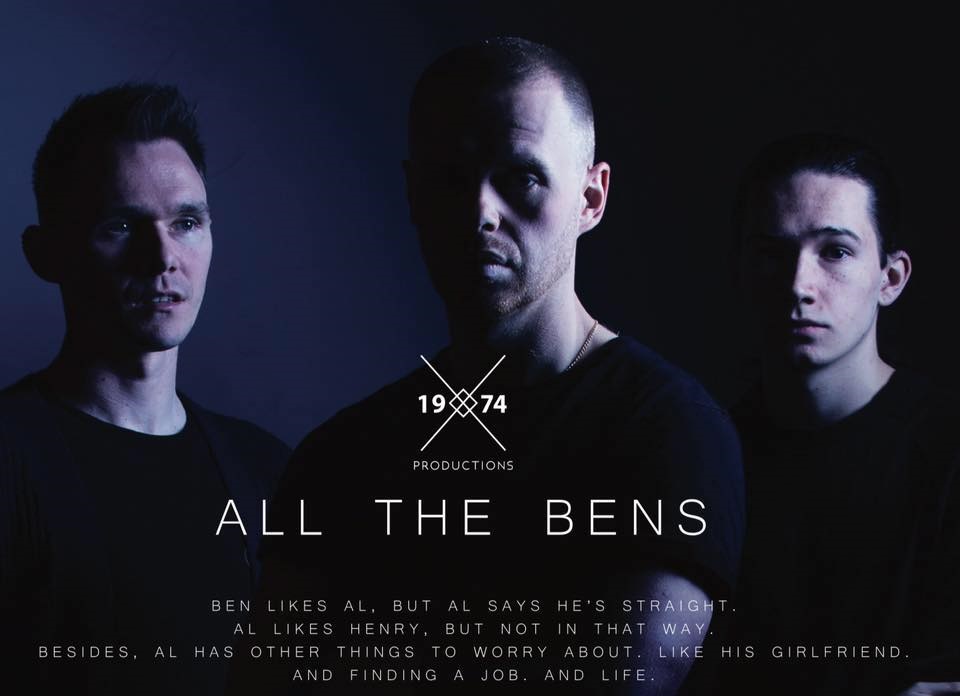 Ian Townsend's dialogue isn't afraid to be brutally real or bleak, and as a result presents a raw and memorable vision of the troubled world of its characters. The hour and a half runtime flies by, leaving you craving more.
The minimalism of the production offers an honest and passionate performance which allows its actors to fully express their talent and engage the audience on a deeper level. There is nowhere to hide, and all three actors take this in their stride. Adam Jowett shines as Ben, delivering a powerful, sensitive and empathetic insight into a man battling his loneliness alongside moments of brilliant comedic timing. Tom Sidney and Deane Dixon-Foster similarly excel as Al and Henry, offering consistent moments of emotional poignancy which carry the production. As a trio, their chemistry is unshakeable, and the dedication brought by each actor despite the sweltering heat is apparent. The sweat dripping down each of their faces by the end of the show is a clear enough indicator of the passion and commitment which they put into their respective characters.
All The Bens is a credit not only to its talented cast and creator, but also to James Schofield for his compelling direction. The show is worthy of its numerus accolades, and certainly is destined to achieve even more in the near future. Its themes are more relevant than ever and are delivered with poignant humour and drama which will resonate with audiences. I cannot recommend All The Bens more highly.
All The Bens will play again at Salford's King's Arms on the 26th of July before moving on to Hope Mill Theatre on the 31st of July and 1st of August. Check out @All_The_Bens on Twitter and www.Allthebens.co.uk for all the details.
Reviewer: Cariad Hughes
Reviewed: 25th July 2019
North West End Rating: ★★★★★