Adapted by David Wood and directed by Max Webster, Leicester Curve and Rose Kingston present Roald Dahl's The Twits - an interactive family-focused feast of fun!
The theatre was buzzing with anticipation as I took my seat, the audience consisting mostly of young families, their children chattering, eating and drinking. Into the audience came Jack Horner, Liz Jadav, Luke Johnson, Alex Chang and Charlotte Workman. Their focus was on the children, welcoming them and encouraging them to join in with the shouts and songs in the show.
Throughout the show, this talented, flexible and merry band of performers, acted as narrators, musicians, singers and they took on the acrobatic roles of the Muggle-Wump family of monkeys and the Roly-Poly bird. I have to commend them all, their performance level remained high throughout and they were incredibly engaging for all ages. They seamlessly linked the various parts of the show together and created the perfect backdrop for the story.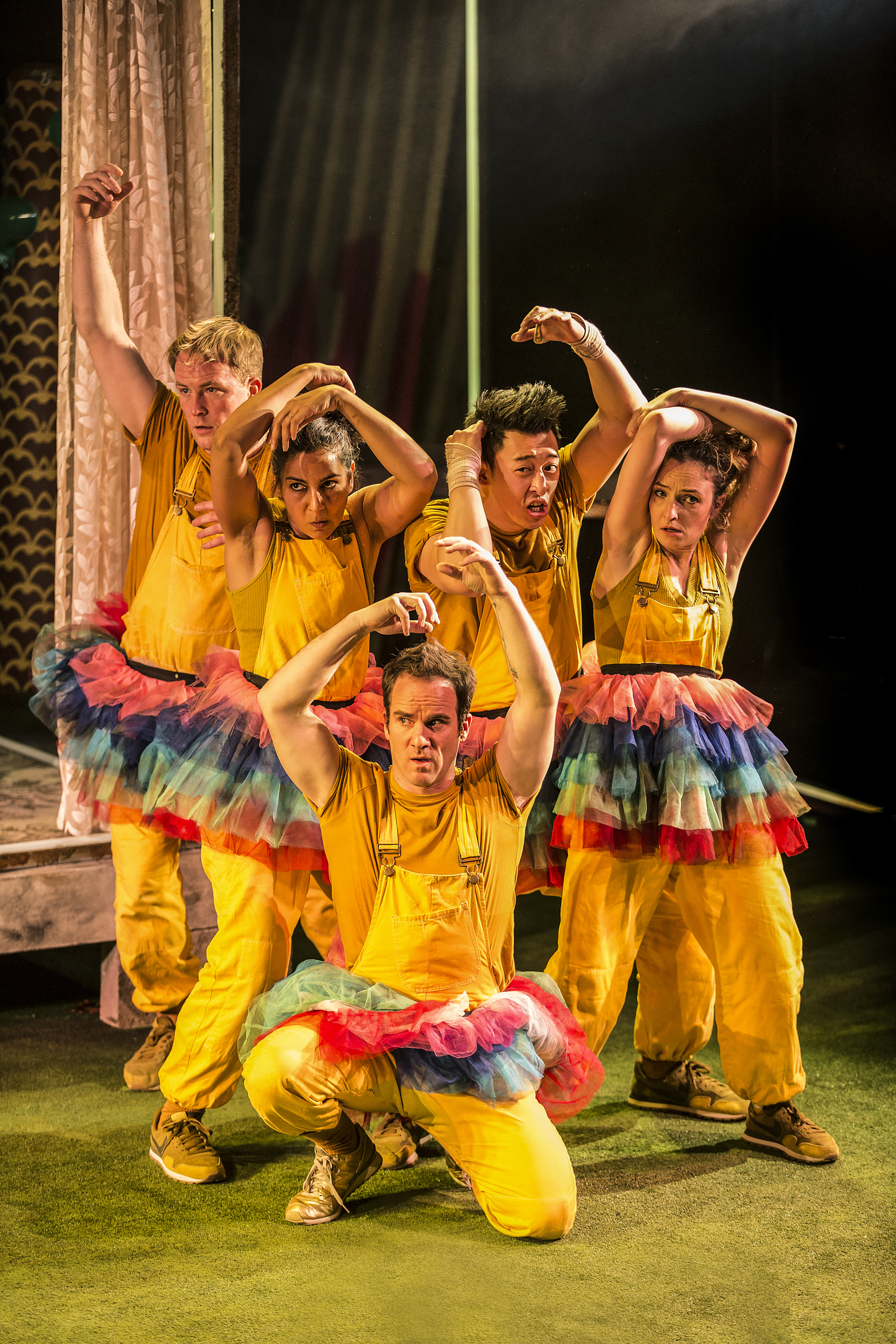 With a little nod to Dahl's dislike of beards - beware all bearded men in the audience; we were introduced to The Twits, brilliantly played by Robert Pickavance and Jo Mousley. They were living in a caravan, the ultimate 'trailer trash', a phrase Dahl wouldn't have known but I sure he would have approved of, including the small changes to his original narrative. The Twits were particularly revolting and Mr Twits underpants were a sight I choose not to describe! Robert and Jo had great chemistry, comic timing and although they didn't look like the Quentin Blake illustrations, they embodied the heart of the characters perfectly.
As with many adaptations this would delight any readers of Dahl or it could be a gateway to new readers - it had everything you'd want from the Dahl's story with the addition of songs and audience participation. The music and songs, composed by Dougal Irvine, I feel, were just right for the family audience and many of the lyrics used Dahl's own words.
Another aspect I really liked was the set, designed by Georgia Lowe. I particularly liked the use the fluorescent tubing to frame The Twits caravan, the Muggle-Wumps cage and the stage itself - the 'boxes within boxes' effect reminded me of Lego blocks, reinforcing the playfulness of the story and the characterisation.
This 90 minute show was a lot of fun and I would highly recommend it to families with children, although it was fun for this big kid in his 40s too!
Reviewer: Alan Harbottle
Reviewed: 21st February 2017
North West End Rating: ★★★★
Photo: Pamela Raith Photography