Writing and Performance at their Very Best
Cyrano de Bergerac is a swordsman and soldier but more importantly a poet and wordsmith and we certainly get to delight in these latter two amidst drama and intrigue, comedy and humour, love and romance, pathos and tragedy, in Deborah McAndrew's masterly and magnificent adaptation of Edmond Rostand's classic romantic comedy, which continues her impressive run of foreign language adaptations.
The play is set during the Thirty Years War (1618 – 48) between France and Spain with most of the action taking place in 1640 as the action starts off in Paris before moving to the Siege of Arras, although in true Broadsides fashion solid regional accents are reflected with a strong Yorkshire twang just to underline the provincial roots of our Cyrano (Christian Edwards) who – I have to say this very quietly – also happens to have the biggest nose in all of France.
Cyrano's main contender for the affection of cousin Roxanne (Sharon Singh) appears to be the Count de Guiche (Andy Cryer), powerfully married to Cardinal Richelieu's niece and who plans to set Roxanne up with an obliging spineless stooge, Viscount Valvert (Perry Moore), who mistakenly draws attention to Cyrano's nose, causing not only a rush of blood to the head but also at Cyrano's sword. The drunken Ligniere (Michael Hugo) is also in trouble for reciting rude songs which affords Cyrano the chance to get further revenge in by single-handedly humiliating de Guiche's troops.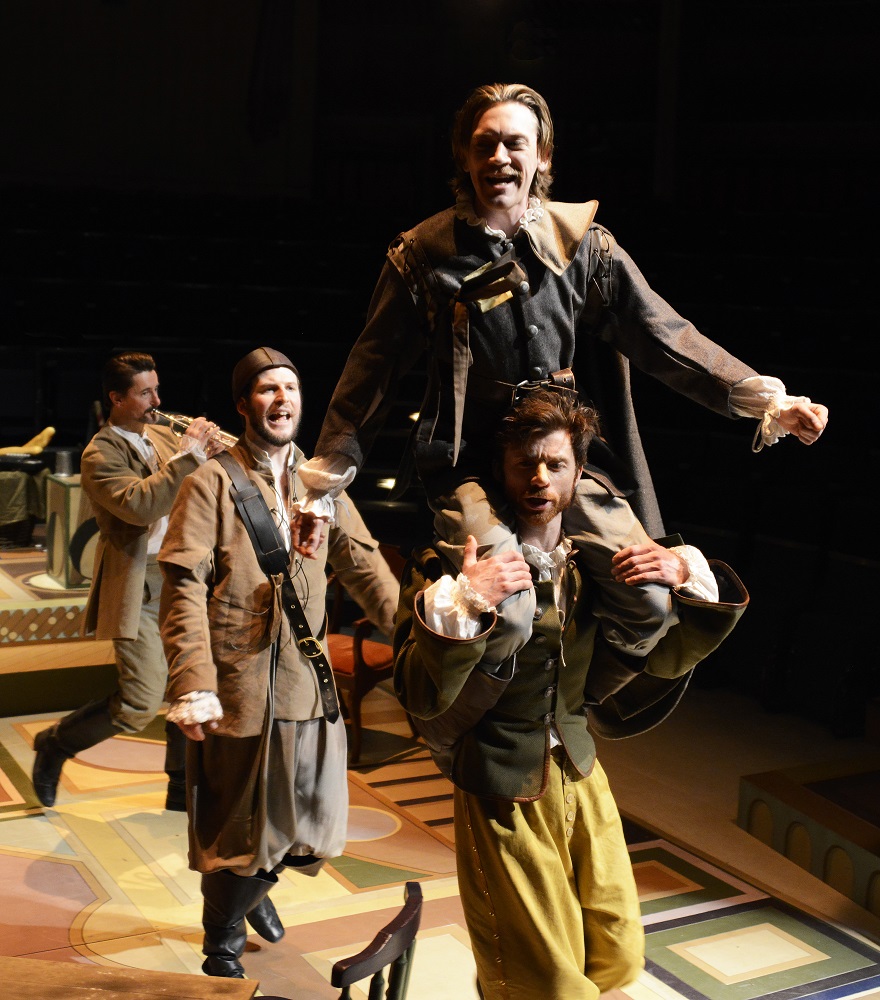 But, despite his talents, Cyrano's youthful anxieties hinder his pursuit of true love whereas in contrast, the pretty but vacant Christian (Adam Barlow), a new member of his Cadets, has no such qualms in his alliterative pursuit of Roxanne. And so, with only a faithful friend and confidant, Le Bret (Andrew Whitehead), and a poetic pâtissier, Ragueneau (Paul Barnhill), to fall back on, this tale of integrity unfolds. As the play concludes some 14 years on in a convent garden in Paris, we are delightfully led through the full rollercoaster of emotions until cupid's arrow finally strikes at the heart.
The impressive supporting cast members (Angela Bain; Jessica Dyas; Francesca Mills; Anthony Hunt; Robert Wade) superbly take on a variety of roles throughout as well as appearing as part of the overall ensemble with the other cast members, all of whom combine regularly to deliver Director and Composer Conrad Nelson's delightful musical score – it is truly something to have actors playing instruments live and singing with such aplomb as part of Beverly Norris-Edmunds wonderfully choreographed routines.
All the cast were fantastic so it would be remiss of me to single any one out. My ultimate praise must be reserved for McAndrew whose adaptation delights with every rhyming couplet and, dare I say it, broken metaphor. This year is the 25th anniversary of Northern Broadsides and I can't think of a better way to celebrate it.
The Playhouse began life as the Star Music Hall in 1866 and became a theatre in 1911. In 2000 the Playhouse joined forces with the Everyman to become Liverpool and Merseyside Theatres Trust (LMTT) with Gemma Bodinetz (Artistic Director) and Deborah Aydon (Executive Director) appointed as joint Chief Executives in 2003. As well as the main theatre, there is a small studio space seating up to 80. Further details http://www.everymanplayhouse.com/
Cyrano is a touring co-production between Northern Broadsides and New Vic Theatre, Newcastle-under-Lyme. It performs at the Playhouse through to Saturday 18th March. Tickets available via https://www.everymanplayhouse.com/whats-on/cyrano or the Box Office on 0151 709 4776.
Details of other venues and booking information can be found at http://www.northern-broadsides.co.uk/
Reviewer: Mark Davoren
Reviewed: 14th March 2017
North West End Rating: ★★★★★
Picture: Nobby Clark