Aida is a four-act opera by Italian composer Giuseppe Verdi. Set in Egypt during the time of the Pharaohs, it was first performed at Cairo's Opera House on 24 December 1871. Today the work holds a central place in the operatic canon, receiving performances every year around the world.
In the Royal Palace, Captain of the Guard, Radames (Tenor Giorgio Meladze), longs to lead the Egyptian forces in their war with neighbouring Ethiopia, his desire for glory inspired by his love for an Ethiopian slave girl, Aida (Soprano Olga Perrier). The King's daughter, Amneris (Mezzo-Soprano Zarui Vardanean), loves Radames and is suspicious of Aida. The King (Bass-Baritone Oleksandr Forkushak) arrives and, learning of Ethiopian advances from a messenger (Gicu Barbanoi), appoints Radames as commander-in-chief and he is sworn in by the High Priest, Ramfis (Bass Vadym Chernihovskiy), and High Priestess (Olga Rusnac). Aida is left distraught between her feelings for him and her country.
Amneris is keen to test her suspicions and falsely announces that Radames has been killed in battle. Aida's response reveals her true feelings and Amneris is bent on revenge. A fire spinner (Ben Chew) heralds Radames triumphant return on horseback and with prisoners in tow including Aida's father, Amonasro (Baritone Iurie Gisca), who pleads for mercy for his people whilst others call for their death. The Egyptian King offers Radames any prize he chooses and he asks for the prisoners to be freed. The King agrees and gives him Amneris' hand in marriage.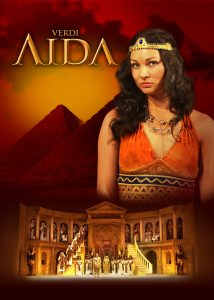 On the eve of her wedding, Ramfis takes Amneris to a sacred temple. Aida arrives for a secret meeting with Radames, still expressing her fears. Her father, who it transpires is the King of Ethiopia, appears and dupes her into getting Radames to reveal his military plans upon which he is confronted by Amonasro, who attempts to murder Amneris before fleeing with Aida. Radames surrenders himself to Ramfis.
Amneris is determined to save Radames from being found guilty of treason and tells him Amonasro has been killed and Aida has disappeared, but he declares his enduring love for Aida. Amneris is distraught as the trial begins. Will Radames be found guilty, and if so what will his punishment be? Will Aida return and their love be reconciled? Or will Radames make excuses and marry Amneris and become the future king? Only one thing is certain and that is a dramatic ending!
This was an excellent production by the celebrated producer Ellen Kent who also directs and with Vasyl Vasylenko conducting, the powerful score, along with the rich detail of the classical set, captured the mood perfectly.
All the cast performed strongly with lead roles clearly to the fore: Meladze captured the intensity of Radames, caught between his love for Aida and his duty. Forkushak's King demonstrated imperial majesty whilst Gisca's Amonasro was strong and unbowed. Chernihovskiy's Ramfis was appropriately solemn; Vardanean embraced the frustration of Amneris' unrequited love. The standout performance was Perrier who beautifully reflected Aida's anguish and raw emotion throughout and especially in her powerful solos.
There were some wonderfully choreographed routines and support roles for the tour were provided by Stagecoach Theatre Arts Alwoodley, Pontefract, Halifax, and Chesterfield, and Northern Ballet School. Special mention to ABFilmHorses for providing Houdini, the Andalusian stallion.
Aida is touring throughout the UK and Ireland with full details available at www.ellenkent.com
Liverpool Empire Theatre dates from 1925 and has the largest two-tier auditorium in Britain which can seat 2,350 people and has the largest stage outside of Covent Garden.
Reviewer: Mark Davoren
Reviewed: 25th March 2017
North West End Rating: ★★★★★