Wow!
In the week that marks the 401st anniversary of Shakespeare's death, this is The Epstein Theatre's first Shakespearean production and with the outstanding performances on show tonight, I hope it will be the first of many in collaboration with Daniel Taylor Productions.
A Midsummer Night's Dream is one of Shakespeare's most popular comedies and is widely performed worldwide, so much so that it is easy to become tired of it, particularly when most choose to ignore its darker side and play it purely for laughs. There was no risk of that however with this superb production, directed by Daniel Taylor, which fully engages with the magical and mysterious as the four stories at the heart of the play unfold.
We are greeted by the mischievous Puck (James Templeton), who accompanies us throughout, before we meet the Duke, Theseus (John Schumacher), and his newly conquered betrothed, Hippolyta (Sharon Byatt), whose animosity crackled across the stage. Egeus (Nick Wymer) interrupts proceedings to complain about his daughter, Hermia (Sophie Coward), who loves Lysander (Sam Donovan) despite her father's preferred match of Demetrius (Simon Willmont), who in turn is unwelcomingly pursued by Helena (Chloe Taylor). Hermia's choice is clear: follow your father's wishes or face either death or life as a nun. Unsurprisingly she chooses to steal away with Lysander in the night through the forest, rapidly pursued by Demetrius and Helena.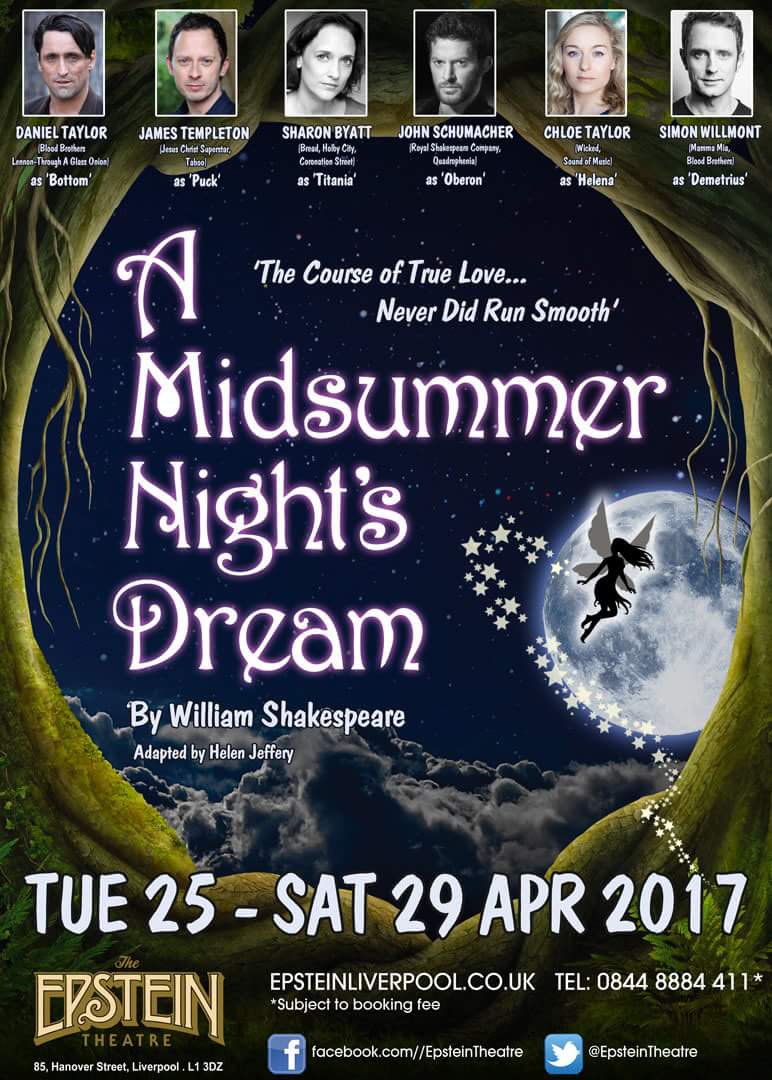 Also preparing to set out for the forest are the mechanicals (craftsmen turned amateur actors) - Bottom (Daniel Taylor), Flute (Timothy Lucas), Snout (Thomas Casson), Starveling (Neville Cann), and Snug (Fra Gunn) - who, under the direction of Quince (Wymer), are preparing a play for the Duke's wedding.
But in the forest Puck's master is Oberon (Schumacher), King of the Fairies, whilst his Queen, Titania (Byatt), is served by Peasblossom (Faye Griffiths), Mustardseed (Emma Sellars), Cobweb (Emily Chesterton), and Moth (Georgia Pye). A little domestic disagreement ensues and as the paths of lovers, workmen, and fairies cross, dark mischief is in the air, despite the well-meaning intentions of Oberon, as lovers become opposed and fairy magic provokes merriment and fear in equal measure.
After the amusement has unravelled, Puck's challenge becomes to right his wrongs and as lovers are reconciled, new found relationships proven true and accepted, there is not one but three weddings. As the earlier nightmares are dismissed as bad dreams, we are deservingly treated to the mechanicals hilarious performance of 'Pyramus and Thisbe'.
All the cast were excellent, capturing the mood and passion of their characters perfectly in well-choreographed routines that danced along to the dangerous ride of our 'good fellow' Puck and the accompanying mesmerising background music provided by cast members. Nothing could get too dark though with the slapstick merriment of the mechanicals rehearsal and interpretation of an ancient tale. I must note the tremendous energy of Templeton throughout, more so considering he completed the London Marathon on Sunday!
Daniel Taylor Productions is a Liverpool based theatre company currently producing 'The Tommy Cooper Show' and 'A Midsummer Night's Dream' which performs at The Epstein Theatre through to Saturday 29th April with performances at 11am, 1.30pm and 7.30pm. Tickets are available via http://epstein.ticketline.co.uk/
The Epstein Theatre is located in the heart of Liverpool and showcases a wide-range of theatre and musical productions as well as collaborating with local colleges for drama students to put on their own productions. Further details at www.epsteinliverpool.co.uk
The Tommy Cooper Show will be performing at The Epstein Theatre from Monday 26th June - Saturday 1st July, 2017 Monday 26th June - Saturday 1st July, 2017 Monday 26th June - Saturday 1st July, 2017 │ 2.30pm and 7.30pmMonday 26th June through to Saturday 1st July 2017 with performances at 2.30pm and 7.30pm. Further details at http://epstein.ticketline.co.uk/
Reviewer: Mark Davoren
Reviewed: 25th April 2017
North West End Rating: ★★★★★