Published in 1873 by Jules Verne 'Around the World in 80 Days' is a well known and well loved story, adapted for stage by Laura Eason. The production from the New Vic Theatre was directed by Theresa Heskins and designed by Lis Evans; together they have distilled 125 characters, eight countries, six trains, five boats, four fights, a circus and an elephant into a cast of eight superb actors, a Victorian world map, chairs, tables, railings, suitcases and packing crates.
The key factor in the success of this play is imagination and the imagination of play - there was no shortage of this in the cast and thankfully the Liverpool audience engaged their inner child too.
Initially we were kept at a distance as the brilliantly choreographed opening scene demonstrated the stiff, regimented routine that Phileas Fogg (Andrew Pollard) went through every day. Andrew was an imposing figure, personifying perfectly the Victorian gentleman and his journey physically and emotionally; a very accomplished performance throughout.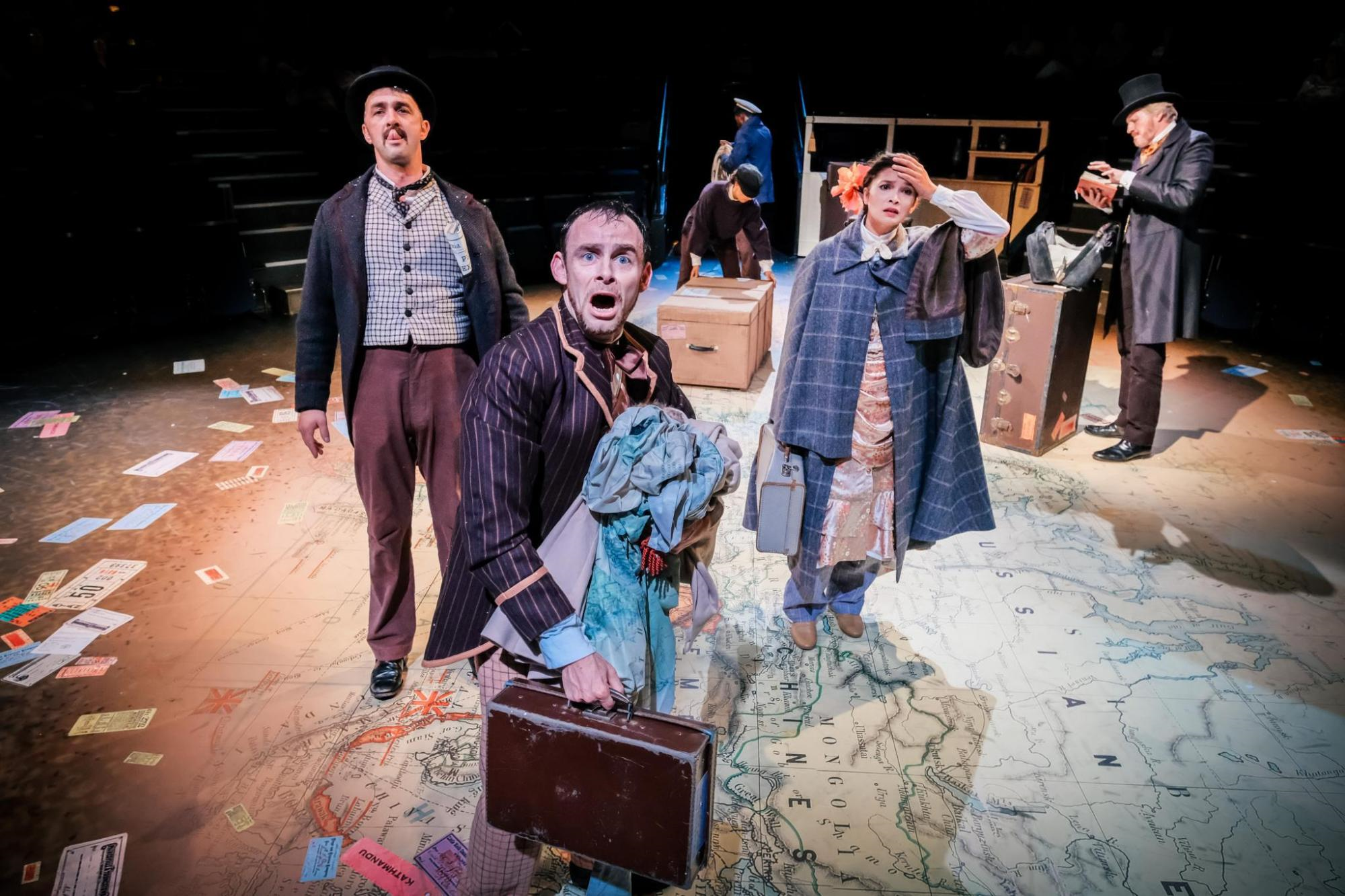 The opening highlighted another two key components of the production: movement and music. Beverley Norris Edmunds as Movement Director enabled this very talented cast to enhance characters but also change scenes in a flow of movement that was seamless. James Atherton composed a soundtrack that you would expect to hear in a film, including sound effects that the cast matched with perfect timing.
The opening scene also heralded the arrival of Passepartout (Michael Hugo) and the start of the journey around the world. Michael's character was, I felt, the most significant in this production. He brought the physical energy and childlike vitality that marked the change from Fogg's humdrum routine into the journey around the world. Michael also initiated the audience interaction, drawing us into the imaginative play, and demonstrating what a very talented performer he is - at times he reminded me of the comedian and actor Lee Evans. There were moments when audience members were pulled on stage to assist the action and other times Michael came down into the audience to interact with us. I felt this drew the audience into the play and created a change of atmosphere; the audience were now encouraged to join in, no longer being just observers, and they did.
The rest of the cast: Pushpinder Chani, Kirsten Foster, Matthew Ganley, Dennis Herdman, Joey Parsad and Stefan Ruiz; many of whom created multiple characters, were exceptional too in their commitment to the physicality and personality of this play. It was wonderful to see a cast working in such harmony and genuinely having fun together in telling the story of Phileas Fogg's journey 'Around the World in 80 Days'.
This is a fast-paced show: 80 days and 8 countries in 2 and half hours; but it was 150 minutes of pure childlike entertainment that I encourage you to see, definitely one that all the family could enjoy. For more information go to www.80dayslive.com
Reviewer: Alan Harbottle
Reviewed: 28th October 2017
North West End Rating: ★★★★★