This Northern Broadsides' adaptation of Charles Dickens Hard Times has been travelling throughout the UK and opened at the Playhouse Theatre Liverpool this evening. It has been adapted by Deborah McAndrew who has created an exciting and witty piece of theatre from Dickens original text.
Hard Times is set in 1854 in the Northern Powerhouse where imagination is forbidden and father's like Thomas Gradgrind (Price) stop their children from corrupting influences such as the circus when it comes to town. Conrad Nelson directs this piece wonderfully to create a poignant and joyful adaptation of repression and a desire for fun.
The piece is set in an industrial town called Coketown which is led by two businessmen, Thomas Gradgrind (Price) and Josiah Bounderby (Chadwick). Bounderby is one of Dickens overly exaggerated characters who believes himself to be important and above the inhabitants of the town. Gradgrind believes the importance of education is above any form of enjoyment and when one of the circus girls, Sissy Jane (Ahmet) joins the Gradgrind household she is subjected to a lack of compassion or fun.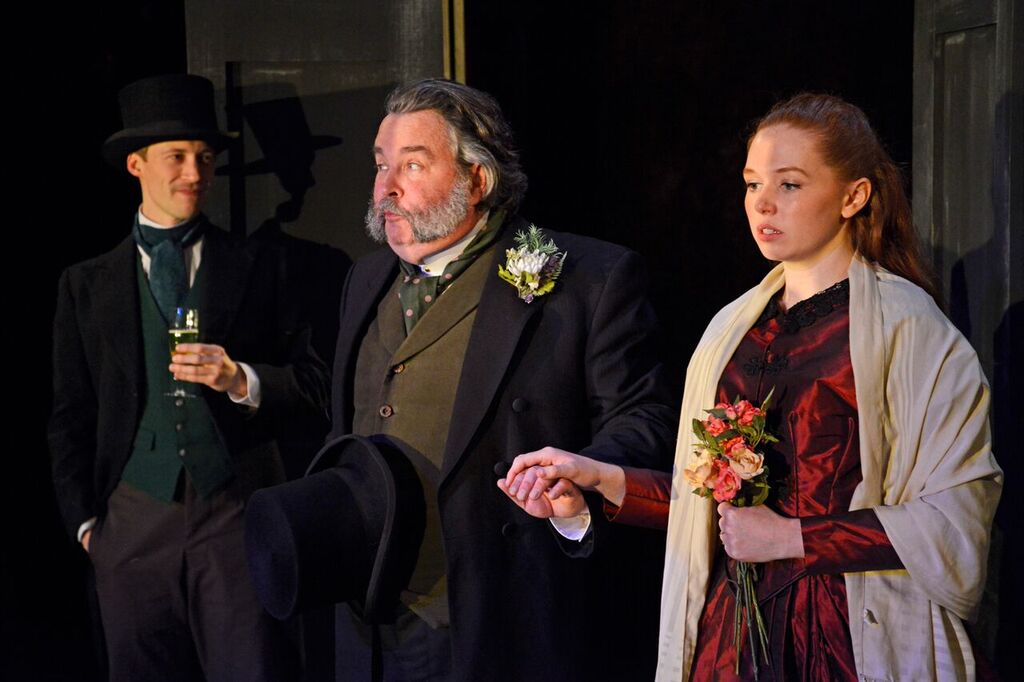 Being from outside Coketown though, Sissy Jane (Ahmet) informs Gradgrind's daughter, Louise (Schofield) that there is love and fun out in the world alongside the education she knows. It has a striking message to us all to ensure that we seek out and enjoy the exciting and fun parts of life.
The set stood out as the dark satanic mills were mixed with the vibrant colours of Sleary's circus. The costumes linked with this as the circus folk had striped tights and bold, bright colours in contrast to the other characters bleak clothes. This element stood out and it brought the production to life. The lighting follows this same theme and the circus takes over the stage with its brass band and harmonious singing. The songs within the piece embellish it and allow the sometime melancholy themes to become more poignant and moving for the audience. The circus is a central focus of this piece and each of the actors has a part alongside their main one as a circus performer. This highlights their multi-faceted talents of playing instruments and singing alongside acting.
As ever with Dickens there are themes which allow the audience to reflect on social issues and millhand Stephen Blackpool (Hunt) highlights the difficulties mill workers faced from businessmen like Bounderby. There are some excellent pieces of character work within this piece and a highlight is Bounderby's (Chadwick) comic take on the gloomy businessman. Alongside this Mrs. Sparsit (Brazier) is so convincing that the audience is transported to fully believe her malicious nature. The three children are created well with clear character work being undertaken from the actors to ensure that they are not overly exaggerated but believable.
Overall this is a witty and exhilarating piece of theatre that brings alive Dickens work in an exciting and thrilling way. Ensure you go and see it.
Reviewer: Beth Easton
Reviewed: 27th March 2018
North West End Rating: ★★★★