The Global Financial Crash of 2008 was a pivotal moment in modern day history. The negligent behaviour of bankers led to several government bailouts which, in turn had a devastating impact on the living standards of the working majority. Dario Fo used the crash as the nucleus to redraft his 1974 play 'Can't Pay? Won't Pay?' thus seeing the birth of 'They Don't Pay? We Don't Pay.' The title says it all really; those who caused the crash have never really been held to account so neither should the rest of us if we were to act as recklessly as the financial elite.
Deborah McAndrew's adaptation of Fo's rewrite is tailored towards modern day Britain with an emphasis on foodbanks, stagnant wages, rising living costs and of course…Brexit. On entering the theatre the cast were already on stage and treating the incoming audience to songs including 'Bring Me Sunshine,' '500 Miles,' and 'Dirty Old Town.' Steve Huison, who plays the law-abiding Union rep Jack, announced that all the cast had been looking forward to coming to Liverpool having been in Hull last week.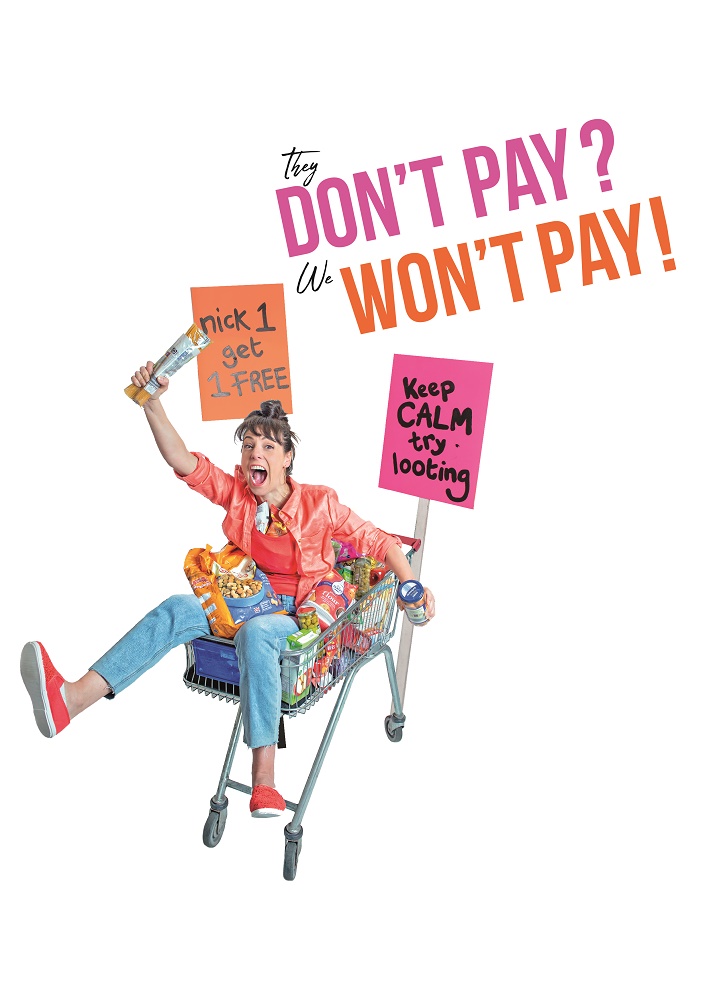 This adaptation is set in a working class northern town and focuses on the struggles of two couples; Jack and his wife Anthea (Lisa Howard) and their friends Maggie (Suzanne Ahmet) who is a ditzy call centre agent and her husband Lewis (Matt Connor) who works at the same factory as Jack. The context of the play is a local supermarket has been ransacked by the majority of the town and Anthea and Maggie have helped themselves to whatever they could get their hands on.
The pair carry out an amusing and well-choreographed routine whilst trying to hide their stolen goods, before Jack returns home to tell of his disapproval of the looting. 'I'd rather starve than steal,' he announces, which leads to a long drawn out series of ludicrous tales told in an imaginative style by Anthea in order to cover up her and Maggie's part in the chaos. Steve Huison is brilliant in portraying the straight laced factory worker and Lisa Howard demonstrates superb comedy timing throughout. The cast members regularly break the fourth wall to narrate parts of the story and also acknowledge the many bad puns in the script that can often be predictable but funny.
The plot centres on the police raid of the block of flats for the stolen goods whilst taking in a multitude of socio-economic issues told through an absurd yet very well written narrative. Writer Deborah McAndrew and Director Conrad Nelson must be commended for the manner in which they strike a fine balance between comedy and tragedy with this production. There's everything from the not-so-subtle digs towards the South Yorkshire Police, which inevitably strikes a chord with the Liverpool crowd for obvious reasons, to clever turns of phrase and word play about some of Britain's current and past leading politicians such as Liam Fox and George Osbourne.
Michael Hugo is fantastic, first as the 'anti-capitalist commie constable,' then as the 'anti-commie capitalist sergeant' and then as a Scottish Undertaker and finally Jack's dad Pops. The fact he plays an array of characters is regularly acknowledged and makes for hilarious moments in the script. Suzanne Ahmet wonderfully portrays the easily-led and naïve Maggie and Matt Connor completes a very hard working cast. Jessica Worrall and her design team provide a fantastic set, which accurately represents the living space of many working class homes in Britain down to the magazine rack, landline phone and the copy of the Mirror – the more affordable of left leaning newspapers.
This is a play that gives a firm two fingers up to those in power and would be appreciated by left leaning liberals who empathise with the deterioration of living standards of the working class in Britain today. However, it risks being lost in an echo chamber if only those with the same political beliefs as those conveyed in the play are in the audience. This is the type of show that ought to be sprung on those in positions of power as an uncomfortable truth as to the degradation many feel when accessing foodbanks, are unable to provide for their families and inevitably make drastic and perhaps ill-advised decisions which could further impact on their conditions.
Whatever your political beliefs, this is a superb production which is well written and brilliantly delivered. It continues at Liverpool Playhouse until Saturday 3rd November before moving on to Newcastle-under-Lyme next week. Take this opportunity to see this contemporary glimpse of a nation divided.
Reviewer: Matt Houghton
Reviewer: 30th October 2018
North West End Rating: ★★★★