After the Royal Court's hit Christmas production, The Scouse Cinderella, they have put their own twist on The Wizard of Oz in an equally Scouse play called Yellow Breck Road. Dot, teenaged girl with low level anxiety disorder, is set to go on a retreat with her therapy group to Ibiza until her mum accidentally books a holiday for her and her husband to go to Benidorm.
Cue to the dodgy landlord putting the house at risk and we find Dot being whisked off to the moon to meet some strangely familiar characters.
Gerry Linford returns to the Royal Court to write this production after last summer's The Miracle of Great Homer Street. His writing is witty and truly hilarious, not to mention very Scouse! There are lots of clever references to popular culture throughout which work brilliantly. It would have been good for there to be more of a plot however. The show doesn't really go anywhere but nevertheless it is still very entertaining. Olivia du Monceau's set is seriously impressive! The production makes great use of the theatre's revolve to make for a very slick location shift and the detail in the set, particularly that of the family's house, is wonderful.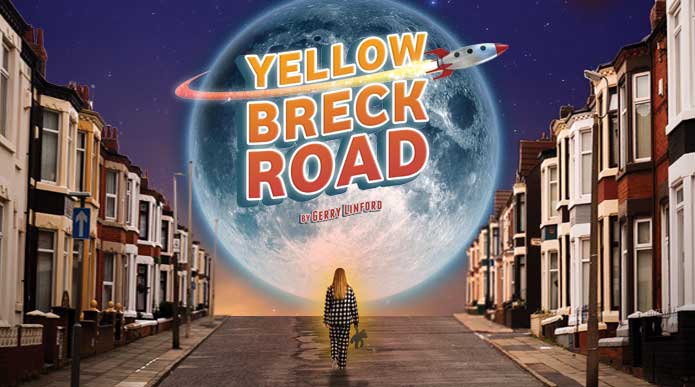 Gemma Brodrick leads the cast as Dot and she is a wonderful performer. She portrays the shift in character brilliantly, although a more gradual change may have been more effective and believable. She plays a very believable teenager whilst also showing a more maternal quality at times. Jake Abraham gets plenty of laughs as Barry and he brings a great energy to the production. Jamie Greer is perfectly horrid as landlord Harry and he does a great job at playing the character both as a child and an adult.
Eithne Browne as Nora is one of the highlights of this show. She is very funny throughout the show yet manages to keep the more heartfelt moments that way. Paul Duckworth is fantastic to watch as Billy. He is very funny, particularly playing his younger self, and he has a great chemistry with his on-stage wife and childhood lover Lynn Francis as Carol. Francis definitely gives one of the strongest performances in this production. Her performance is full of motherly warmth, whilst demonstrating some great skills in comic acting. She does a fantastic job playing her younger self – you found yourself forgetting that it wasn't a child on stage.
Uniquely, the Royal Court serves food in the Stalls before the show starts and I was lucky enough to get to dine before the show. I had the butter chicken and it was delicious! Very flavoursome and very filling! The catering team do a very impressive job to get everyone fed and everything cleared away before the show starts.
Going into Yellow Breck Road with no prior expectations at all, I was seriously impressed by this brilliant production. With an amazing set, outstanding cast and fantastic script this really is a must see. http://www.royalcourtliverpool.co.uk/whats-on/yellow-breck-road/
Reviewer: Jacob Bush
Reviewed: 6th February 2019
North West End Rating: ★★★★