I suspect most people over the age of 30 have seen the movie Ghost and I doubt there's anyone who hasn't seen a parody of the pottery scene with Demi Moore's Molly begin caressed by the ghost of her dead partner Sam, played in the film by Patrick Swayze. It's such an iconic scene and display of love and loss etched into the faces of the two main characters that I did wonder how or if that could translate onto the stage.
The setting was wonderful – the backdrop of the New York skyline, the new apartment in Brooklyn, the office, the tube – all unique but fit seamlessly like an additional cast member.
When two music giants, Dave Stewart and Glen Ballard are involved in the songs and compositions you can expect greatness but anyone who has heard a bad cover version of a favourite song knows that it's not guaranteed! The orchestra (I adore a live orchestra) were faultless, never missing a bit, adding tension and emotion with every note.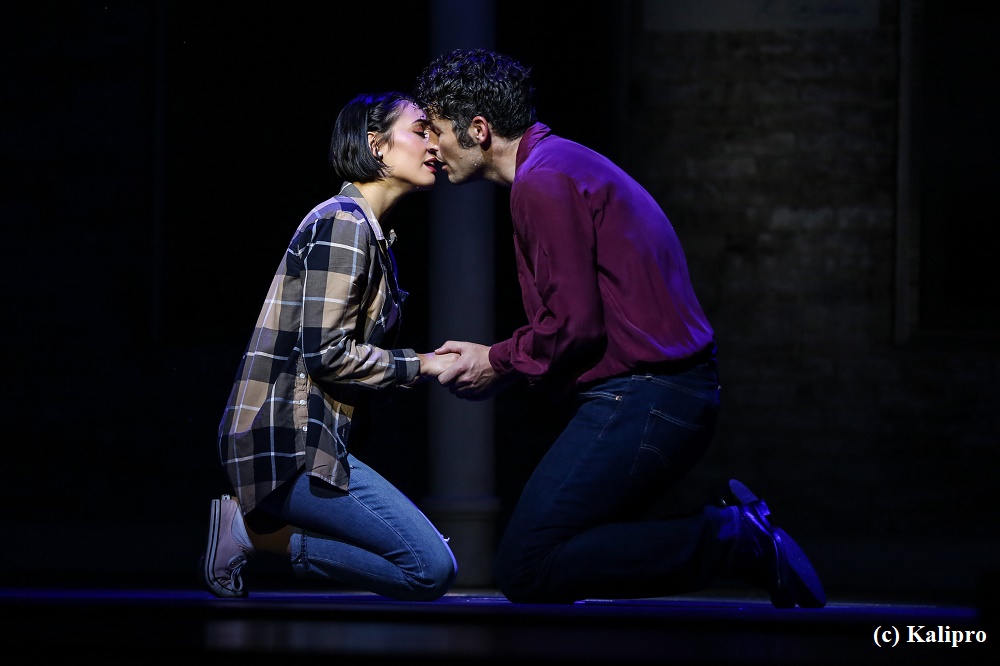 It was the cast though that expertly transformed this iconic screen classic to life on the stage. It was different enough from the film to not make you miss Whoopi Goldbergs' Oda Mae, but similar enough that you instantly connect and route for the familiar characters.
As with the film, Oda Mae, played by Jacqui Dubois, stole the show. Funny, effervescent and compassionate, she sparkled on the stage and added a much-needed lightness to such an emotional tale.
Niall Sheehys' Sam was adorable, lovable and had you routing for as happy an ending as possible for the boy next door. That's not an easy task. His voice was as warm as his character and his relationships with best friend and scoundrel Carl (Sergio Pasquariello), Oda Mae and love of his life Molly (Rebekah Lowings) reflected a realism that connected to the audience and dragged you through the good, bad and ugly of his life and death.
Pasquariello managed to take the audience through a host of emotions in his portrayal of Carl. As the best friend you could relate and route for him, as the support to grieving Molly you hoped they could both find happiness again but when his true colours came out Pasquariello made it difficult to hate Carl in the way you wanted. He gave Carl, who did the unthinkable, a desperation that made you feel pity rather than revulsion.
One of the greatest skills an actor can have is to have over 2,000 people feel every emotion your character feels. Lowings did exactly that with heartbroken Molly. Every laugh, every sob, every heart wrenching moment of anguish was echoed by the entire audience. By the end of the show, I doubt there was a dry eye in the house and a great deal of that was down to Lowings mesmerising yet understated portrayal of Molly. She was extraordinary.
Overall, I didn't know what to expect from Ghost the Musical. What I didn't expect was an emotional rollercoaster of epic proportions, music and performances that rung me out emotionally yet left me feeling hopeful. If you get the chance to see this, go with an open mind and a huge box of tissues!
Reviewer: Helen Kerr
Reviewed: 23rd April 2019
North West End Rating: ★★★★★