The Royal Court Liverpool presents a new play 'Masquerade' written by Laura Lees and performed in the basement studio of this pleasant city centre theatre. The story has been based on real life experiences of young men growing up in 1980's Liverpool when society did not welcome openness from the LGBT community. This is a story of love, loss, acceptance and pride, in every sense of the word.
We meet Mike and Tony, best friends who are searching for something more what their jobs at the local movie house can offer. 'Masquerade' is their first experience of the gay scene and a place where these young men can finally feel themselves. Mike gets a taste of the life he should be living and finally starts to feel a little free in the safe house that is 'Masquerade'. When Mike finds love, he is forced to address the demons in his closet and his friendship with Tony appears to become more difficult. However an emotive twist see's Mike face tragedy and prompts him to tackle his fears, even if this means losing his family and his home. This new drama is funny, emotive and gives the audience a great insight into real life experiences from over 30 years.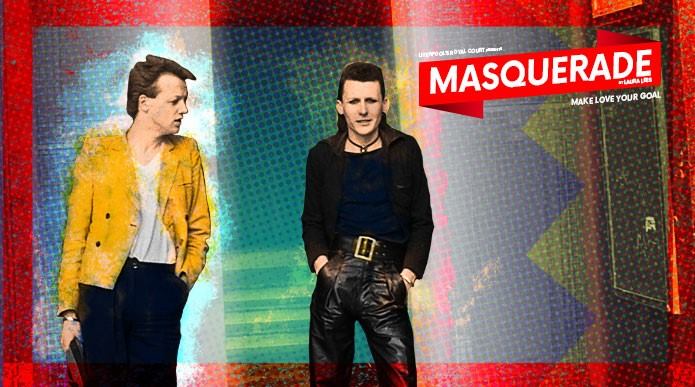 This original club was very obviously well known by much of the audience members who howled laughing when Frank (Roy Brandon), Masquerade's owner, sent round an endless supply of stale sandwiches. Similarly, his partner in crime, Norma (Eithne Browne), brought comedy with her lovable and unreliable ways of managing the bar. It was quite obvious that these characters were the heart of the club and created the ethos and homely feel that everyone got at 'Masquerade'. It was an honour to get an insight into this secret hub of love that brought entertainment, joy and security to so many people when they much needed it.
The play is well written, and I liked the monologue moments from Mike which brought his feelings and worries to life. The second act brought depth and passion from all of the cast and the audience were gripped by both Mike and Tony's stories. I think this show would be particularly enjoyable to the people who actually experienced 'Masquerade' or other similar gay bars in the 1980s however it is also important for younger audiences to get a true insight into the heartbreaking history of the LGBT community.
The actors played their roles effortlessly with particular credit to Jamie Peacock (Mike) and Adam McCoy (Tony) who played the perfect duo and demonstrated an undeniable chemistry that made the suffering they faced very poignant to watch. The cast were well supported by a confident production team with sound and lighting perfectly executed to enhance the performance.
Masquerade is a moving piece that deserved its standing ovation tonight. A real story made very believable by confident performers and clever production. This piece is simple but has layers of complexity that grows as we follow the journey and become totally immersed in everything that is 'Masquerade'. This show continues at Royal Court Liverpool until Saturday 10th of August, tickets available at https://liverpoolsroyalcourt.com/whats-on/masquerade/
Reviewer: Bláthíne Maguire
Reviewed: 24th July 2019
North West End Rating: ★★★★