Advertised as a comical, immersive promenade performance based on Liverpool's 800-year horrible, hidden history, Theatre On Foot's latest venture had certainly picked the perfect venue with the red brick St Dunstan's Liverpool, dating from 1889, whose, in the words of Pevsner, 'interior impresses with gloomy atmosphere' combining wonderfully with its more recent overhaul to improve colour, drama, light, and movement.
We were greeted and congregated near the entrance before being hurried to the first scene by the altar where a Judge (Fiona Bathie) and four prison guards (Melina Mendez; Carolyn Townley; Jo Swinburne; Eve Bathie) served up an 18thC courtroom and charges of witchcraft.
No sooner had we got off the hook (!) than we were back near the entrance to hear the tale of the black widow sisters (Nina Himmelreich; Victoria Seddon) who had lured two male lodgers (Gary Patterson and Kyle Jensen) into marrying them before literally seeing them off. The discovery of earlier murders with an accompanying scream was enough to make me jump.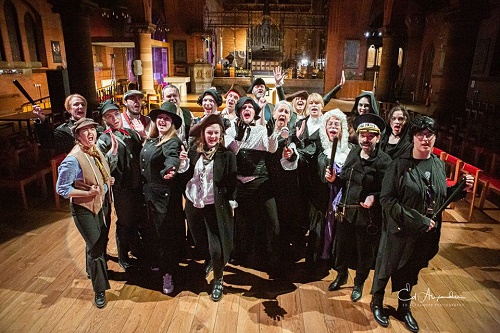 Chased towards the choir we met the body snatchers (Carmel Ragal; Briony Laker; Patrick Shellien; Stephen Higgins) as we learnt of the 19thC penchant of Dr William Gill for reusing recently dead bodies from the cemetery for medical experiments. But when nobody is dying, well then fresh ones will do meaning we couldn't get out of there quickly enough!
A side chapel was our final stop to meet smugglers (Catherine Van Saarloos; Sarah Gilbert; Terry Zeverona; John Barnwell) whose advice on where to hide your treasures was enough to make your eyes water but even they hadn't considered the dangers of the Old Woman (Cathie Blackwell) which was enough to make us all flee and look for a stiff drink to get our (Dutch) courage back.
This was an entertaining albeit brief encounter with Liverpool's history that was cleverly pitched to appeal to its eclectic audience of very young to those of us slightly older, with the right balance of scare and humour, double entendre and trips down memory lane: Pugwash anyone?
The character immersion was impressive as well as the switch between characters in each scene to drive the narrative along with perfect timing to the fore. The costumes and make-up completed the billing with the cast immaculately turned out and all the scarier for it.
It's great to see a community coming together – even more prescient now – to entertain and support each other, and a delight to watch Theatre On Foot, led by Kane Murray and Caitlin Clough, demonstrating clearly that their excellent production of 'Bite Me!' last December was most certainly not a one-off, with this another thoroughly enjoyable evening with a brilliant cast and skilled production team, and I look forward to seeing future shows.
St Dunstan's is a progressive catholic Anglican church in inner-city Liverpool, part of the Team Parish of St Luke in the City. Further details https://stdunstansliverpool.org.uk/
Theatre On Foot has been running high quality, low pressure acting classes for children for some time now with the emphasis on having fun, and the opportunity to take part in interesting, modern original shows with full sets, props and costumes. This was the second production from the recently formed adult group which follows a similar formula to the children with a lot of game playing, work shopping basic skills and bonding, and then 'auditions' for the show itself.
Reviewer: Mark Davoren
Reviewed: 14th March 2020
North West End UK Rating: ★★★