At the Trafalgar Studios this autumn, plays the UK premier of Ken Urban's 'A Guide for The Homesick'. Staged in Studio 2, Urban's beautifully written two- hander is well placed in the intimate 100-seater. Set in 2011, during the Obama administration, this profound piece touches on issues of LGBTQ rights, mental health and loneliness.
The story follows the meeting of two lone American travellers in an Amsterdam airport hotel. Teddy is on a final jaunt with soon-to-be-married best mate Eddie whom he's managed to lose in the process. Jeremy, an international aid worker recently placed in Uganda, keeps missing his flight back home. Teddy wastes no time in propositioning Jeremy who is determined to leave but never quite manages to.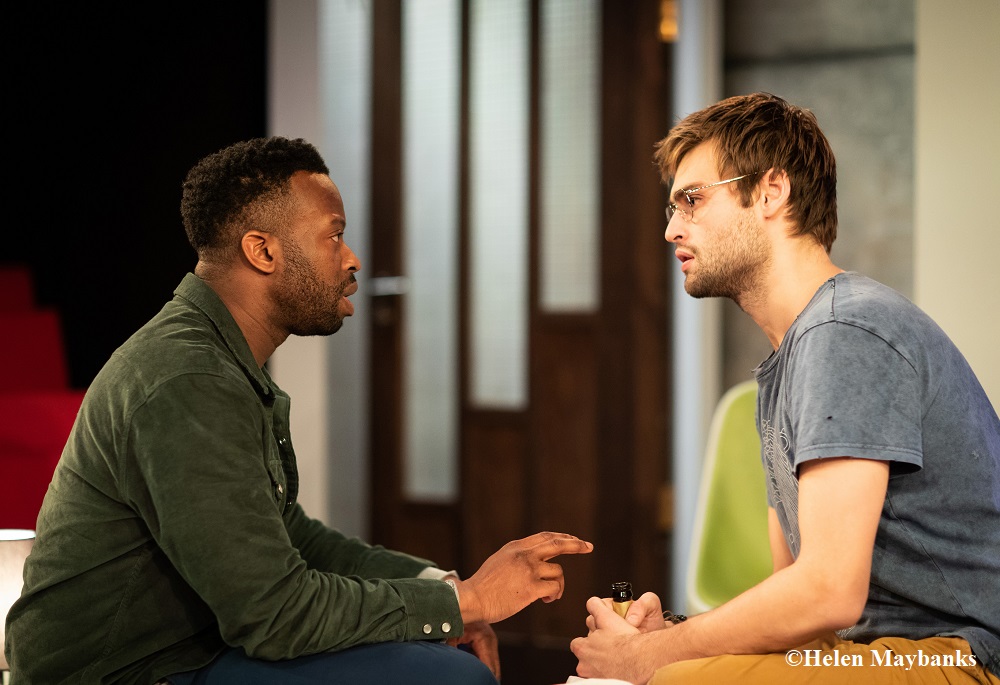 A moving play about two troubled strangers who instinctively connect but are both ridden with guilt. Urban's gripping writing is incredibly natural and wonderfully witty. Douglas Booth, as the endearing Jeremy, swiftly wins the audience's affection whilst Clifford Samuel has an incredible presence as Teddy and is engaging throughout. Immediately, the audience are completely absorbed by their clear chemistry. Spectators listen intently as they provoke one another to unravel the lies they've told. We are left questioning whether they will embrace one another in their brokenness.
Jonathan O'Boyle's clear direction flows naturally. At times Urban's writing switches to flashbacks surrounding the origins of their regrets. O'Boyle has chosen subtle shifts in accent and energy to display a change of character. Transitions are also effectively aided by slight lighting changes and the switching of a TV channel.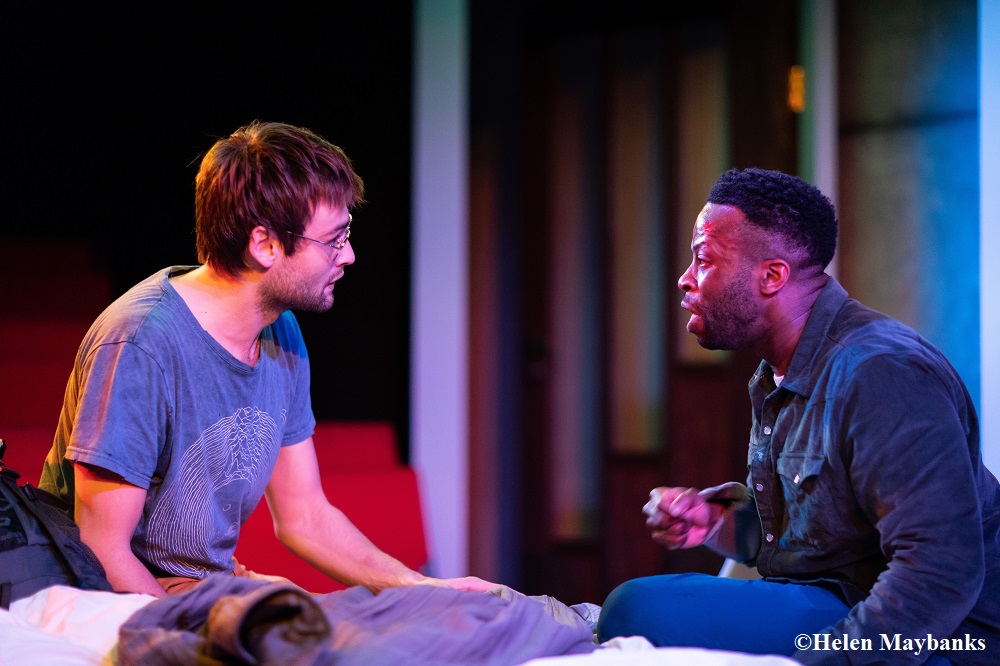 Seamlessly, Samuel transforms into gay Ugandan patient Nicolas who entreats Jeremy about the surge in horrific acts against gays, recently accelerated by a psychotic American pastor. At one point Samuel, as Nicolas, expresses gut-wrenching agony at his situation which is deeply affecting.
Jason Denvir's fine stage design accurately represents a comfortable and messy hotel room. The intimate nature of the studio inevitably makes spectators feel part of the set. Max Perryment's sound design of constant rain intensifies the claustrophobia of the situation.
A powerful and fascinating production which kept me transfixed throughout. Urban's writing is both entertaining and moving. A phenomenal play which leaves one questioning social injustices and the responsibilities of international interventions. Gripping and profound. A must see.
Reviewer: Isla Robinson
Reviewed: 18th October 2018
North West End Rating: ★★★★★