From the dramatic opening scene of last night's performance of An Inspector Calls at the New Wimbledon Theatre, I knew I was in for an absolute treat of a performance. Combining surreal with traditional, testing the line between the audience and the actors and with absolutely sublime performances, I was captivated from start to finish and still running through different interpretations of the action when I woke up this morning.
The staging is ingenious and the set beautifully constructed, with an opulent living room suspended above a grim and grimy street. The warmth and the light, and the chatter and laughter from the inside are a stark contrast to the surroundings, and initially closed off to the audience and the action outside. This neatly sets the scene for the ensuing conversation, with the Birling family and soon-to-be son-in-law George Croft viewing themselves as a 'nice-well behaved family' – well to do, superior and set apart from the poverty and problems just beyond their front door.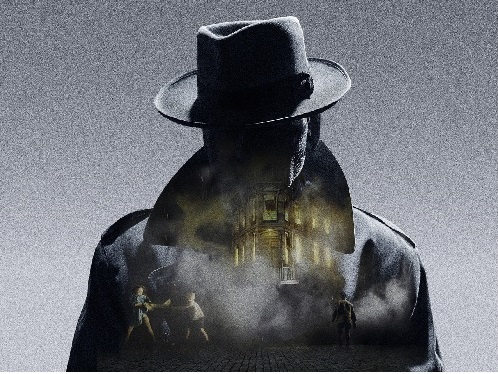 The jubilant atmosphere is soon interrupted by the arrival of an Inspector Goole, bearing tragic news that forces the family to re-examine themselves, their values and their relationships. Much like the man himself, the Inspector's arrival is mysterious, suddenly appearing and swiftly changing the light-hearted mood. Liam Brennan as Inspector Goole is masterful, playing with the family, reeling them in and building a rapport with them while delivering blow after blow as the story moves towards its conclusion. The ingenuity of the set really comes into its own in the latter part of the play, providing some shocking changes and really hammering home the destruction and devastation of the evening. The play runs straight through with no interval, which really helps to build the tension and far from missing the break, I was absolutely hanging on the actors' every word.
The cast in general is excellent, with strong performances across the board. Chloe Orrock as Sheila Birling is perfectly oblivious, selfish and irritating which makes her character's arc all the more rewarding, and Cristine Kavanagh and Jeffrey Harmer are excellently cast as the entitled and arrogant Mr and Mrs Birling. Ryan Saunders and Alasdair Buchanan as Eric Birling and Gerald Croft respectively offer both light relief and some powerful and moving scenes, and the action moves easily between tension and high drama and thoughtful reflection.
The play, written by J B Priestly, is set in 1912 and was first performed in 1945, yet the themes and messages explored are still relevant today and have endured through years of adaptations. At one point, some clever use of staging and lighting during a particular poignant scene confronts both the cast and the audience, encouraging us all to consider our own actions and the importance of kindness and empathy. A spellbinding evening with some superb acting and some powerful messages for modern life – a definite go-see!
Reviewer: Zoë Meeres
Reviewed: 26th November 2019
North West End UK Rating: ★★★★★