On a beautiful May evening the Palace Theatre hosted the stunning musical written by Alan Jones – 'Buddy' with an amazingly talented cast.
I think it's safe to say that everyone aged 40 and above has heard of Buddy Holly the unique iconic Rock and Roll singer of the late 1950's who rose to stardom at the age of 19 years old and influenced the musical genre beyond his wildest dreams transforming the face of contemporary music.
Buddy Holley (the e dropped off because of a record company typo) born 7th September 1936 in Lubbock, Texas built up his musical skills as a child, was at the right place at the right time when a radio station KDAV launched on his doorstep - Offering 15 minute live spots Buddy took the opportunity to break tradition of Country Music and broke into Rock and Roll leading to the start of his short but successful musical career.
The show features two hours of some of the greatest songs ever written, including 'That'll Be The Day', 'Everyday', 'Shout', 'Peggy Sue', 'Oh Boy', 'True Love Ways', 'Chantilly Lace', 'La Bamba', 'Johnny B. Goode' and many many more.
The cast of talented actors and musicians tell Buddy Holly's story, from his meteoric rise to fame, to his final legendary performance on 3rd February 1959 at The Surf Ballroom in Clear Lake, Iowa where he boards a flight to Minnesota to continue his tour but the plane crashes killing him at the young age of 22 with J P Richardson (aka the Big Bopper) and co-star Ritchie Valens.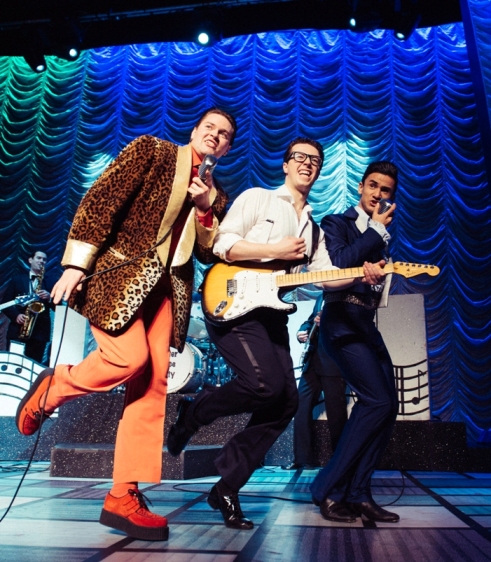 The cast all play an instrument and most of them double as the show's band, as well the music, dance and drama, there's also great humour - Matthew Quinn as MC at Clear Lake showed off his comic timing as he interacted with the crowd.
There did seem to be some sound issues with microphones fading and working intermittently but this did not distract from the fabulous production of glitz and glamour. The scenery, lightening, costumes and choreography were outstanding enhancing the show to its finest glory. The overall production seemed very camp than previous productions (not sure that this was intentional) but certainly added to my delight as I saw the Apollo crew (Miguel Angel and Tom Sowinski) strut their stuff in sequined glittery blue waistcoats, Ritchie Valance (Jordan Cunningham) gyrate and thrust his pelvis in his skin tight Latin American costume and even the Big Bopper (Thomas Mitchells) camped it up as he sang 'Chantilly Lace' in his leopard skin jacket.
Alex Fobbester brilliantly portrayed a very polite, funny and fiercely determined young Buddy Holly as he moved from his hometown to the chart-topping legend. This gentleman shone like the star he is as he eased his way through the evening singing and acting and made a very convincing Buddy Holly.
Josh Haberfield however was my favourite as he played Jerry Allison the drummer in The Crickets Band, this young man is an extremely talented musician and actor.
The show is a huge credit to Alan Janes – Writer and Producer and Matt Salisbury the Director as it is a real crowd pleaser and an absolute pleasure to watch leaving many in the audience very happy and reminiscent of their youth and of course a musical like this has the audience up on their feet clapping and dancing to the finale and encore. A brilliant encore of 'Oh Boy' had the crowd up and dancing in their seats as only a fabulous production could - followed by a well-deserved standing ovation.
Absolutely well done to all involved in this exquisite show - I would highly recommend this dazzling production of Buddy as it continues its tour of 2017.
The show continues at The Palace Theatre until Saturday 3rd June and then continues to Brighton.
Reviewer: Katie Leicester
Reviewed: 30th May 2017
North West End Rating: ★★★★