In a clearing of an old England forest, a scene of debauchery and indulgence unravels throughout St. George's Day – the day of the annual Flintock fair. A rusty grey caravan is surrounded by broken furniture, hoards of empty bottles and homemade flags and banners. This is the single set of Jez Butterworth's play Jerusalem, staged brilliantly this week at the Altrincham Garrick Playhouse.
The Wiltshire woodland becomes a Shakespearean liminal space governed by its own laws and ruled by mischief. But rather than a place of danger, it is a bizarre haven of acceptance, sanctuary, and folklore, a place that welcomes misfits and oddballs; it is the final frontier against development and bureaucracy.
This three-hour performance takes us from a rave in the early hours rave to a bloody altercation in the evening with drama, betrayal and confessions scattered between glorious revelry. Under John Cunningham's direction, this production remains faithful to the fierce English dastardly spirit of Jez Butterworth's original. The set, sound and costumes all come together to create a powerful sense of time and place – reproducing this brazenly English dark comedy to great effect.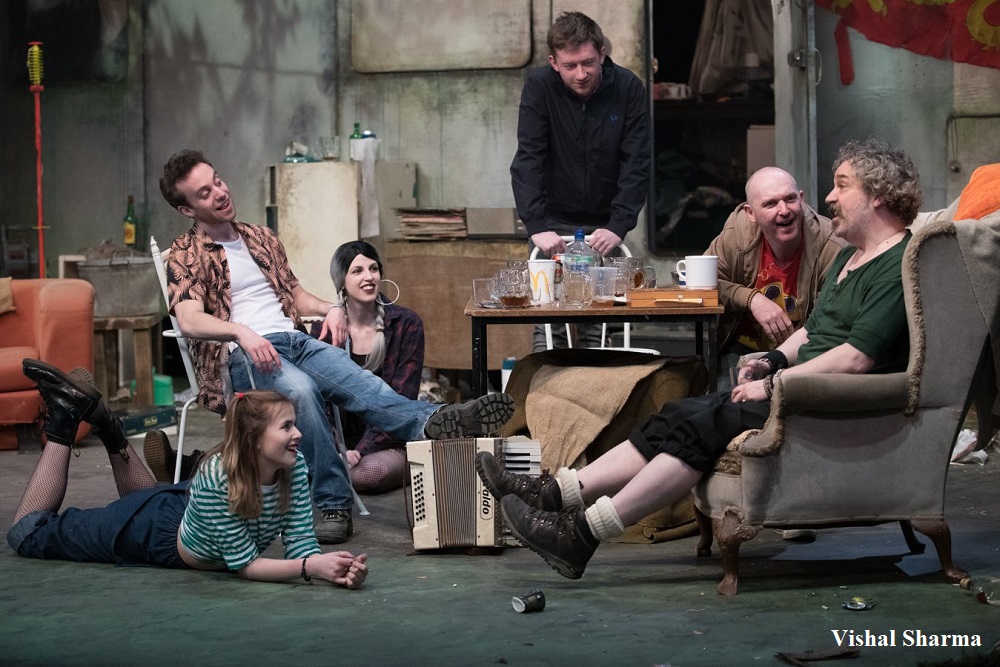 Scott Ransome embraces Jerusalem's larger-than-life antihero Johnny "Rooster" Byron, the unapologetically depraved yet fatherly leader. Bringing surprising depth to this fully rounded Falstaff-esque character, Ransome embodies the fantastical heritage, pride and defiance of a man who exists so far outside the respected norms of a superficially quaint English community. We first see Byron rampaging drunkenly round his woodland squat, the morning after the night before, before downing a pint of milk, raw egg and apparently more spirits to the audience's horror.
Lead ferociously by Ransome, Flintock's motley crew of outcasts performs raucously in the English woodland – drunk, high and full of abandon. There are admittedly a couple of weak links, but overall the cast is convincing and professional. Characterisation is strong and accents are consistent, as the West Country rural twang is punctuated with copious free-flowing expletives. Standout performances from Byron's crew include Mark Butt as the likeable, slightly feeble Ginger and Adam Rogers as whizzhead Lee.
John Cunningham's bold production certainly does Butterworth's script justice, capturing the wit, the companionship and the village politics with great direction and empathy. In Act Two especially, deeper revelations emerge naturally as characters confine in and confront each other without ceremony. Lee and Davey's scene is brutally honest, while Troy's clash with Byron is menacing and a little too real. Simultaneously hilarious and disturbing, this production balances the characters' honesty with their hypocrisies and deceptions beautifully.
Occasional fumbling with props and problems with voice projection aside, this was a well-produced and fully absorbing performance, delivering surprising believability with its portrait of outcast England, warts 'n' all. Although the performance loses a little pace before the climax, Ransome's final monologue is grotesquely enchanting, whacking the dial back up to full blast as he recalls his Romany bloodline and curses the Rennet and Avon Council. It's a finale that cannot be rivalled.
Jerusalem continues at the Altricham Garrick Playhouse until Saturday 24th March. http://www.altrinchamgarrick.co.uk/
Reviewer: Eve Ryan
Reviewed: 20th March 2018
North West End Rating: ★★★★