Having originally seen a snippet of this play at the Kings Arms in Salford as part of Stigma, performance for mental health week it was more than enticing enough to make a return to see Ann Brown perform this one woman play at 53Two.
This time it's as part of an initiative called NEWvember when writers can show case their works in progress, keeping prices low and audiences excited. This month explores a fantastic array of hard-hitting themes. Tonight is one of them.
Ann bravely gives the audience a look inside her heartbreak and love and loss with a starkly honest approach that isn't sugar coated. She depicts the human frailty of us all and how when holding things together things often fall apart in disastrous ways.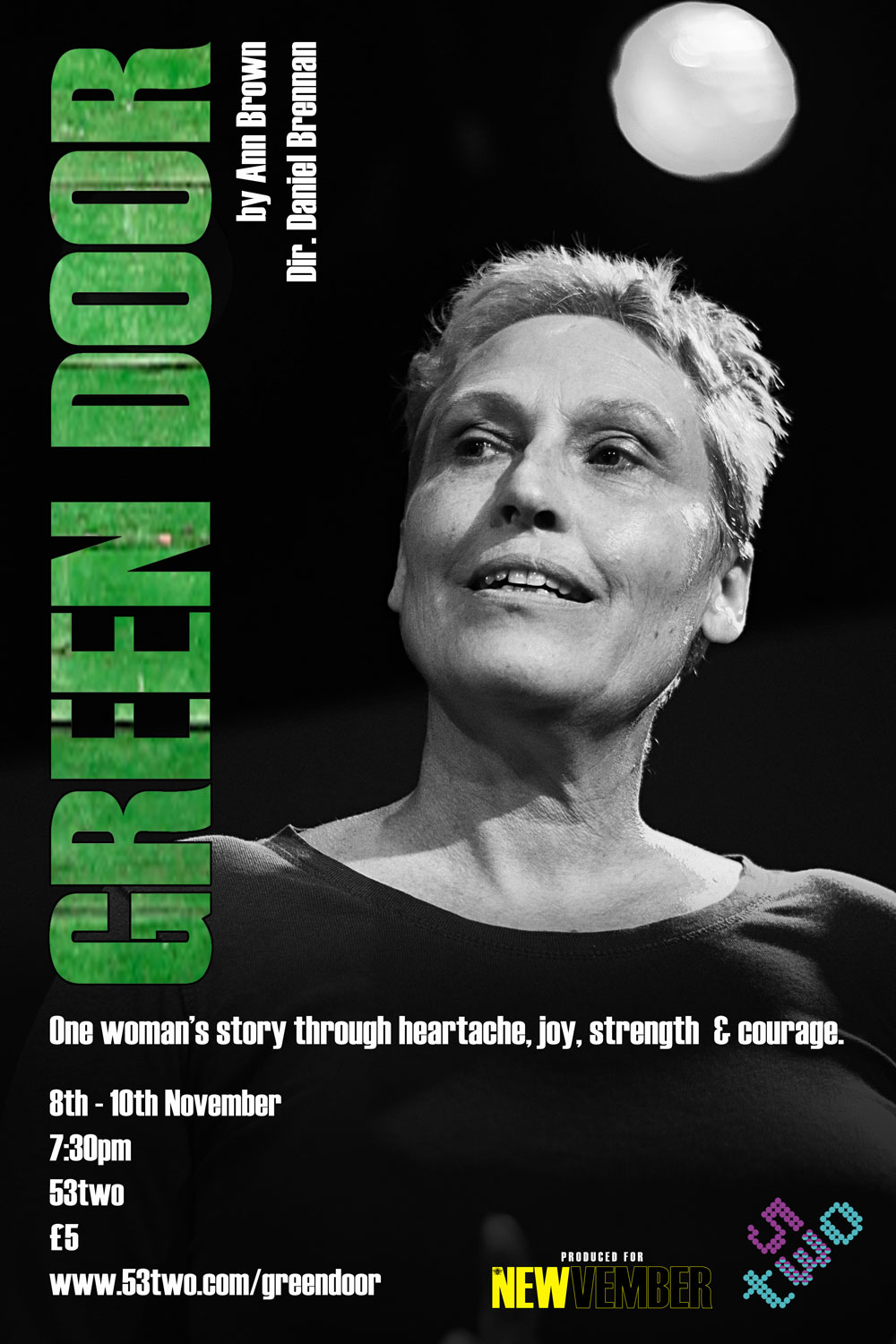 Centre stage she informs that her life was to change forever on a summer holiday back in 1996, when she is lumbered with elderly parents and her kids to a Haven Park after a 'shitty divorce.' She presents this in a warm yet real way, making you feel like you know her well.
She falls for the 'love of her life,' Danny an Elvis loving, tight black pants and shiny shoes wearing man who works in the bar. She tells us all this with great self-depreciating humour, poking fun at her parents, her liking for rock n roll and her naivety of falling for the 'wrong one.' It's a whirlwind romance that unravels as quickly as it heats up. She uses her various holidays to Ibiza, Minehead and Haven to track the relationships downfall. Alongside music which so often brings folk together. Underneath the entire dance, drink and joviality cracks start to show.
Brown soul searching earnestness lets us into her vulnerability when her father who suffers from Alzheimer's dies. The poignant moment when she slowly confesses that the romance so many crave for slowly crumbles and was all an illusion.
Every inch of the play is captivating, Ann illustrates classic signs of 'domestic abuse,' the manipulation techniques, the lack of empathy towards her by Danny. A powerful scene subtly depicts the inevitable physical violence and then the outcome on her mental wellbeing, all with perfect timing and a dynamic fast paced script. The space was used very well. I'm always a little hesitant about one person show's but this had everything, subtle yet commanding attention but not over the top.
There's a powerful important message though. She bravely tackles the painful issue of domestic violence and how many people it effects in this country on a weekly basis – statistics are read at the finale. It's jaw dropping stuff. However she's lived through it and come out the other side, conquering her fears and taking to the stage is all part of her recovery.
A gritty northern tale of heartbreak, survival and one woman's fight, to find herself a new version of herself after almost losing everything.
Reviewer: Rachel Foster
Reviewed: 8th November 2018
North West End Rating: ★★★★