Alan Bennett: the self-deprecating Yorkshire playwright who's actually written a lot more than I realised. His style is dark humour based very much in reality and with a very large portion of cynicism. The film of "Lady In The Van" brought him to a new audience, myself included.
"People" debuted at the National Theatre in 2012 and is a rather odd tale of some eccentric characters: Dorothy (Dottie) who resides in the ancestral family home which is decaying and in dire need of restoration; Iris, her companion; June, her Archdeacon sister and then a whole host of other characters who cross her path during this strange little journey.
June wants the house to be sold to The National Trust, which Dottie is opposed to as it will mean an endless stream of people constantly parading through the house. Although to be honest, I'm not sure exactly what Dottie wants, other than to be left alone to decay with the house...or does she?
When an old friend and blast from the past turns up and uses the house as a film set for the adult film he is producing, Dottie realises – somewhat ironically – that she actually has enjoyed the company of people and doesn't want them to leave.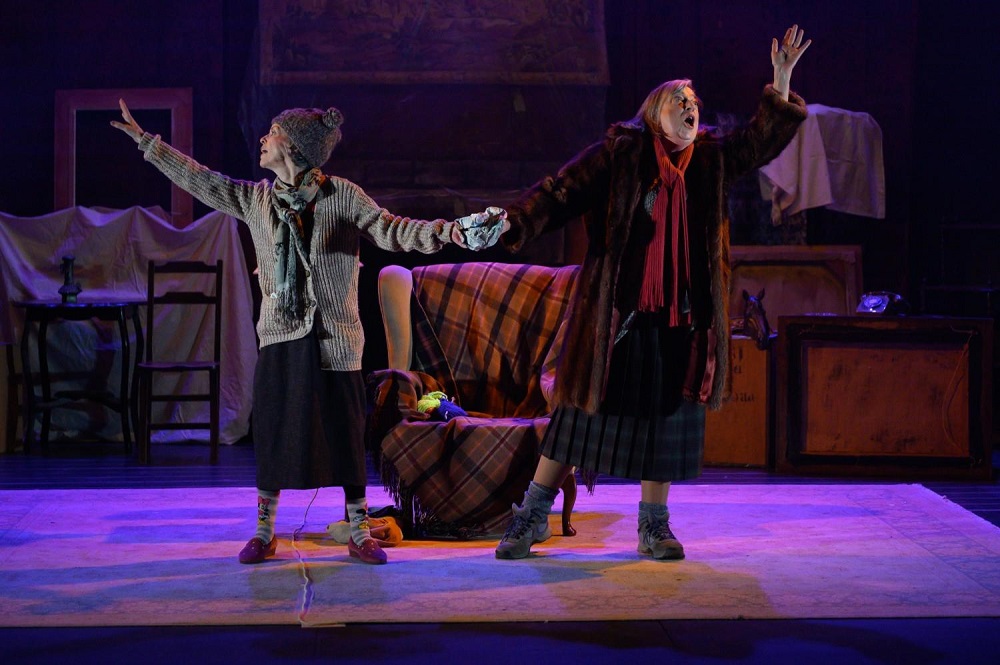 The standard of acting in this production is extremely high. Everyone gave an outstanding performance. I found all the characters very credible indeed and I loved the eccentricity. There were some surreal moments when Dottie (Celia Bonner) and Iris (Janet Slade) would break into song - miming whilst also dancing (great moves, ladies and fabulous timing!) I loved this – it was surreal and out of place but at the same time it wasn't and it slotted in so well and you just accepted the quirkiness.
I thought the relationship between the sisters, Dottie and June (Melanie Davy) was very believable and I loved June's outraged incredulity.
I also liked the suavely suggestive Mr Theodore (Richard Sails) who put me in mind of Roger Moore: debonair with an air of flippant devilishness.
The whole adult film production team (Nick Lowe, Lindsey Barker, Sam Evans and Edward Beesley) were funny and totally convincing. I can only imagine how much fun everyone had in rehearsals...!
It has to be said – you need to be quite broadminded for the second half...! I take my hat off (they took more off) to Ben Hanley and Lara Hancox (Colin and Brit) who had very revealing roles to play which left nothing to the imagination whatsoever, but they managed this very courageously and without any hint of self-consciousness. It is done with a lot of humour, but it is quite graphic (there are notices in the theatre regarding language, nudity and sex so don't say you haven't been forewarned!) and a lot of the audience were open-mouthed (no pun intended). That said, I didn't find it offensive, but it was quite unexpected and rather eye opening. It has been done very imaginatively and there is enough humour to take the edge off the raciness.
The set is absolutely wonderful! Congratulations to all those involved in creating it, you have done a fantastic job. The transformation at the end is also very good and authentic.
It was a nice change that no microphones were used by the cast: this meant there were no annoying sound issues and everyone projected very well without overdoing it.
All the characters are very lively and keep the energy going, it didn't flag at any point...there's a pun in there somewhere – if you go to see it you'll know what I mean...!
The direction was excellent and congratulations should go to Joseph Meighan (Director) for the slickness of the production. There were no delays between scenes, everything was spot on.
I had a slight problem with the length of the play: although the second half was hilarious, it did seem to go on just a bit too long towards the end and I'm still not sure exactly what the message was it was trying to get across and how I should feel at the end of it. It is clear that Alan Bennett took a large cynical swipe at the National Trust when writing this which gave it an interesting dimension. There are also allusions to a life wasted while waiting for something to happen and a yearning for what has been lost – plus undertones of cynicism and misery which are common Bennett themes.
What I do know is that I'm really glad I've seen it, it seems important to have seen this quirky, funny, slightly weird piece of writing by one of Britain's celebrated and much-loved playwrights and I'm glad I've had the experience. I certainly won't forget it for a long time...!
In the cheeky spirit of this production, I have to say that they have pulled it off magnificently!
Reviewer: Nicky Lambert
Reviewed: 18th February 2019
North West End Rating: ★★★★