The spiritual home of PADOS (Prestwich Amateur Dramatic & Operatic Society), plays host to ghosts, ghouls and kooks of all types this week, with the arrival of the company's youth production of 'The Addams Family' musical. Derby Hall is a stunning Victorian venue, and as we enter the theatre, atmospheric lighting creates a mood of creepy expectation in the opening night audience.
The musical version of the 1940's cartoon series created by Charles Addams was a hit on Broadway in 2007 and has quickly become a firm favourite amongst theatre societies, with its engaging score and creepy characterisations. Tonight, we meet Gomez (Sam Bate) and Morticia Addams (Madeline Jones) facing a familiar dilemma to parents of teenagers; daughter Wednesday (Eve Reynolds) has fallen in love with a totally unsuitable boy. Lucas Beineke (Joshua Ord), is American, handsome and clean cut, not at all the type that Gomez and Morticia had in mind for their oldest girl. They hatch a plan to invite the Beineke family over for dinner, which predictably does not go the way they expect, with plotting younger brother Pugsley (Alfie Leech) and incontinent Grandma (Georgina Godley) throwing a spanner in the works.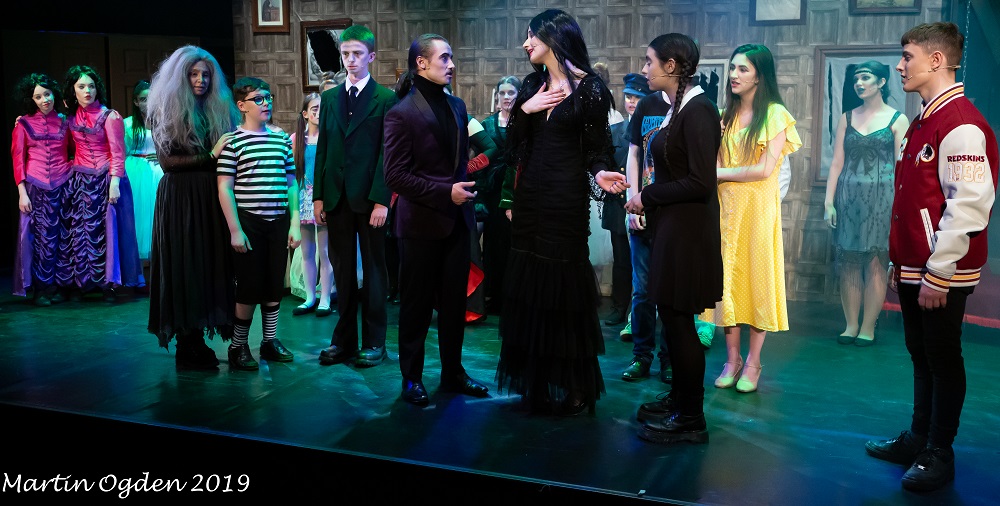 Both Bate and Jones lead this young cast with confidence and conviction, the comedic rapport between them is evident from the opening song 'When You're an Addams'. Bate manages to convey the oddball danger of Gomez well, but it is his tender portrayal of love for his daughter (Happy Sad) which was most touching. Having seen him play strong, physical roles previously, it is encouraging to see the development of this facet in a fine young actor. Jones is tall and languid on stage, bringing ice with a hint of fire to her portrayal of Morticia. The piercing direct engagement with the audience during 'Just around the Corner' was well executed and she delivered the brittle comedy with excellent timing, deserving many more laughs than the largely passive audience offered.
The award for 'Scene stealer of the evening' undoubtedly goes to Sean Baker as Uncle Fester, imbuing his character with a twitchy strangeness that was perfectly judged, and when allied with a surprisingly powerful voice (The Moon and Me), made for a compelling, rounded performance. Strongest support to these impressive leads was offered by Kyanna Cronshaw as Alice Beineke, throwing off the shackles of a meek mother and wife, asserting her independence and displaying her vocal range during 'Waiting'.
Director Paul Downham brings his wealth of theatrical experience to the chair for the first time, succeeding in invoking an ethereal mood and delivering a well paced production that allows the musicality and the humour to flow. His decision to involve the audience throughout the show created an immersive and fun atmosphere in the auditorium, with one little girl from the audience (Violet) had an evening she will remember for a long time!
Aided by a superb lighting design (Rob Armstrong), we moved seamlessly between large numbers and intimate duets. I would have hoped that an ensemble of this size (approximately 20) would have created a more impressive sound during some of the set piece songs, and the individual characterisation and engagement necessary in strong support was often missing. However, it is a young cast and they will develop this attribute with more experience. I found it a shame that the audience was curiously passive, especially in the first Act, with much of the subtle humour meeting with little response. By the end, they were roused and were dancing and clapping as we clicked our fingers to the 'Addams Family Theme' into the rainy Bury evening.
Creepy, kooky and full of great tunes. Full Disclosure.
Reviewer: Paul Wilcox
Reviewed: 7th March 2019
North West End Rating: ★★★★