When a man walks into a barber shop and sits down in the chair, amidst the banal banter about football and women, he will often unload his worldly worries and confide in the bloke standing next to him with the clippers. The barber shop as a secular confessional was noticed by writer Inua Ellams on the streets of his native Peckham in South London, and he uses the device to explore the attitudes and opinions of black men in the early 21st Century.
It is advisable to take your seats early for the performance, allowing you to witness the full cast of twelve already onstage, dancing to Grime and World Music whilst pulling audience members up and placing them in the chair for a trim and a chat. This lengthy introduction moves seamlessly into the story which takes place over the course of a single day in six separate barber shops in Nigeria, Ghana, Uganda, South Africa, Zimbabwe and Britain. It interweaves separate, seemingly unconnected, narratives into the conversation, gradually revealing the connections across the continents to be one cohesive story. The strongest of these strands involves angry young Londoner Samuel (Mohammed Mansaray), who believes his father was betrayed by his Nigerian business partner Emmanuel (Anthony Ofoegbu) and sent to prison wrongly.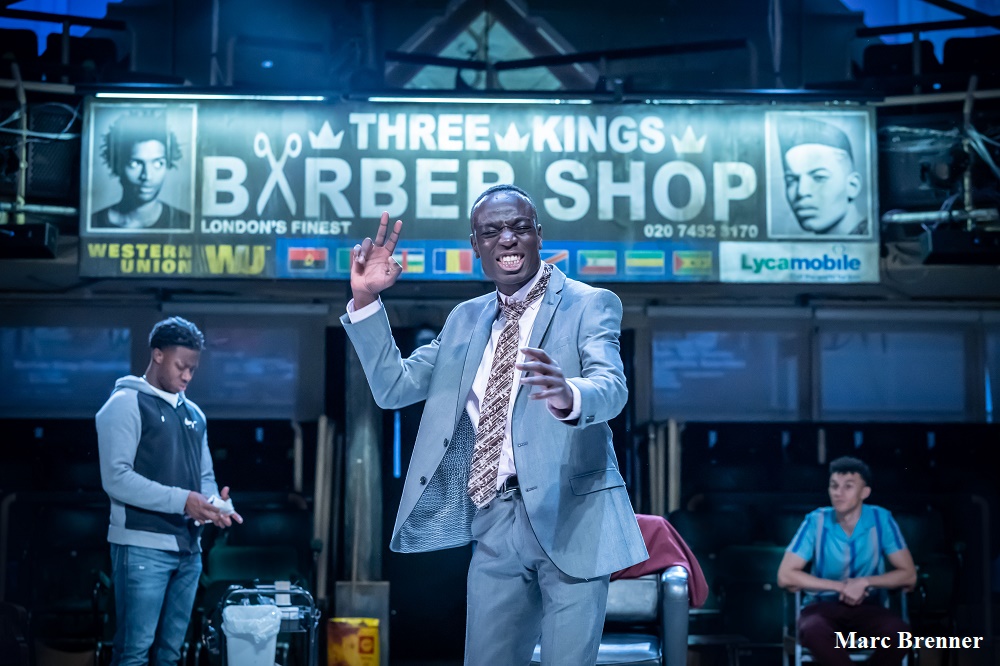 The truthful revelation he is confronted with at the conclusion brings the piece to a powerful and thoughtful resolution, in a way that is reminiscent of both Miller and Ibsen.
The rich panoply of characters manage to cover a wide range of issues during the two hours on stage. Through their lens we view subjects such as parenting style, domestic violence, alcoholism, inter racial sex, education and racial stereotyping. It cleverly executed and informative without ever hectoring, and is a unique contribution to understanding a black minority standpoint, underrepresented in our mainstream culture. The unity of the black experience is discussed, as well as teasing out the different experiences and cultural tropes of Africans and West Indians through the characterisations employed.
If all this sounds very dull and dry it most certainly is not, with each insight having an emotion and humour that was very real. Arguments on subjects as diverse as Mandela, Mugabe and the racism of Luis Suarez, intermingle in a way that feels immediate and genuine. The strong patois and Pidgin English employed by the cast adds to the authenticity, if not always the understanding by the audience. Both Tobi Bamfeta and David Webber in particular infused their multiple characters with realism, but all the cast hugely impressed on their collective Royal Exchange debut.
The episodic movement from one country to another was played out under a striking wire globe suspended above the stage, and colourful signage lit according to our location. Director Bijan Sheibani, Designer Rae Smith and Lighting Designer Jack Knowles created an intimate bowl of light in the Exchange's circular space, which by turns, was both intimate and raucous. The striking choreography of Kwami Odoom, using skidding barber's chairs and flapping capes created colour and beauty, played out against an eclectic mix of musical styles from London to Johannesburg. It made for an intoxicating spectacle.
Fuel and The National Theatre are currently touring this production throughout the UK, and has a limited two week run at the Royal Exchange. It feels like a snapshot of the real world in 2019, and in our racially fractured and divided society provides a funny, unique and individual voice in British theatre. https://goo.gl/itRwzv
Reviewer: Paul Wilcox
Reviewed: 11th March 2019
North West End Rating: ★★★★