'Burn The Floor' was created after Elton John requested some ballroom dancers at a birthday party and it has gone from strength to strength, breaking box office records on Broadway, appearing in the West End and touring all over the world. It is in its twentieth year this year. However, this is the first UK tour: there was apparently some concern that UK audiences would be too reserved for the high energy performances....well from what I witnessed in Manchester tonight, that isn't going to be a problem at all.
The show consists of multiple professional dancers who "breathe new life" into traditional dances and it certainly is a full on dancing assault on the senses: from the opening number which was danced to "Happy" to the closing number which was danced (seemingly endlessly) to 'Ballroom Blitz'.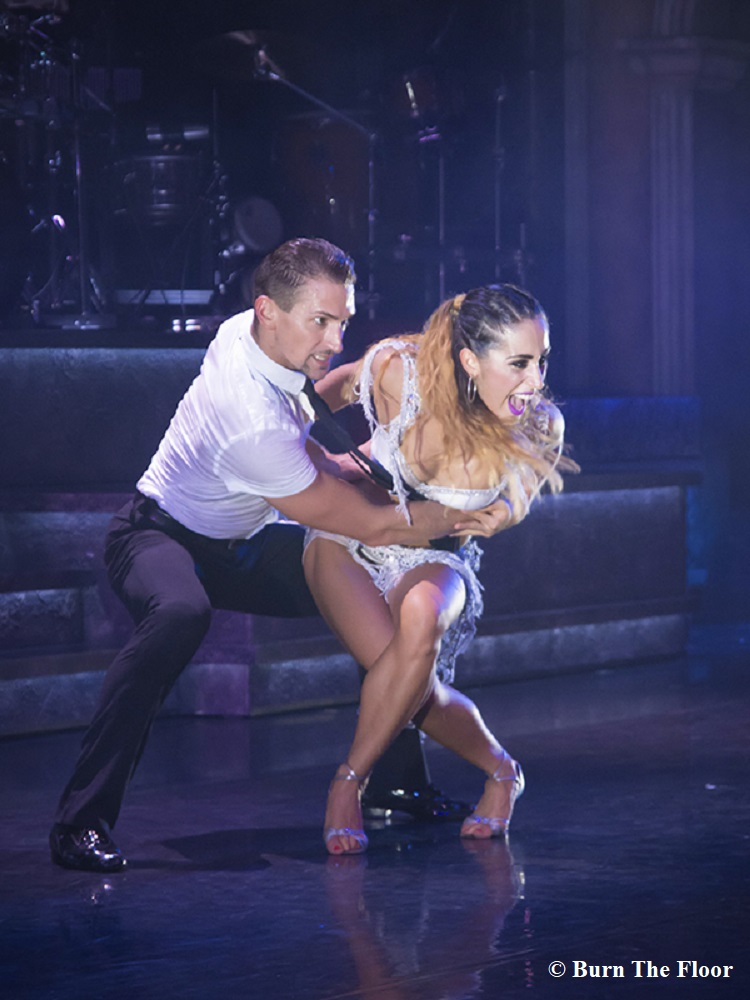 Fronted by Kevin Clifton (or 'Kevin from Grimsby' as Sir Bruce Forsyth christened him on Strictly Come Dancing), the cast of fourteen outstanding dancers literally hurl themselves at us for well over two hours. Their energy levels and stamina have to be seen to be believed – there is simply no let up at all; some of the dancing being visceral and the passion and intensity going off the scale.
The costumes are unusual and not what you would normally see in ballroom dancing, which is another slant on tradition. Kevin at one point reminded me of Kiefer Sutherland in "The Lost Boys" as he was dancing in a long leather coat. Very menacing!
Kevin spoke to the audience a lot in between dances. He is very likeable, very personable and comes across as having no airs and graces whatsoever, just someone who loves what he does. I did feel that these sections could have been tighter: at times the talking did seem to go on for just a bit too long. I was also surprised that he did quite a lot of singing – at the expense of his dancing, unfortunately, which meant we didn't see as much of Kevin dancing as I'm sure everyone would have liked as he is wonderful to watch.
Strictly newbies, Graziano Di Prima and Johannes Radebe were also part of tonight's cast: cue much gratuitous shirt unbuttoning (to a very receptive audience, it has to be said).
This isn't a dancing show where you are presented with one complete dance after another. The choreography is mixed – I sometimes found it difficult to identify which dance they were doing and then it would morph into something else. This is an interesting concept and certainly does shake up the traditional aspect of dancing – although I would question whether it needs shaking up to this extent. I found some of the choreography a little chaotic at times with too many people on stage which for me, diluted the dramatic effect of the dancing. Less is more. That said, at other times I found it very powerful, for example when the dancers were in a triangular formation which was much more defined and had a greater impact than when they were more scattered. There is a great deal of non-partner dancing and I would have liked to see a lot more in-hold dancing. However, the dancing itself is of the highest quality. It is extremely energetic and gymnastic and the energy levels are consistent from beginning to end.
The highlight of tonight's show for me was the Viennese Waltz which was danced to "Hallelujah". It was interpreted and executed beautifully and was showstopping. Another very memorable dance was the Rumba which Graziano danced with his partner (in dancing and in life) which was so fluid, it could have been poured from a bottle.
Kevin certainly knows how to work a crowd and gets full marks for completely getting the entire audience on his side from the very beginning. At the end of the show, he talked about his historic disillusionment with dancing and decision to give it up and also recent problems in his personal life: his own personal struggle and difficulties he has encountered with press intrusion. Joining 'Burn The Floor' has been his salvation on both occasions. This was quite difficult listening as he was sharing very personal feelings and I'm not entirely sure it was the time or the place to be so frank and open but the audience was warm and supportive and judging from his performance in the finale, he was delighted with the response he received and didn't want to leave the stage.
The four piece band did an absolutely sterling job, producing the menacing, pounding soundtrack to an evening full of drama and intensity. At times it was very earthy and tribal which really enhanced the already dramatic atmosphere.
If you like your ballroom dancing traditional, this show may not tick all your boxes but it is very entertaining, extremely impressive and showcases some amazing dancing talent.
In the world of ballroom, if Strictly Come Dancing is the familiar and comforting Auntie, then "Burn The Floor" is the rebellious teenager. The floor certainly burned tonight...with just occasional moments of being a little too cool for school.
Reviewer: Nicky Lambert
Reviewed: 20th April 2019
North West End Rating: ★★★★