Love conquers all.
Aida, by Giuseppe Verdi, is an opera that is about war and peace, duty and betrayal but most of all it is about love.
This production by Opera North is exact in its details, sumptuously performed and sublime to the extreme.
It is the latest in the company's large-scale works presented in a concert staging and it is a masterpiece. It is impossible to find fault with any aspect of this production.
Even though the opera is about an ancient conflict between Egypt and Ethiopia the director, Annabel Arden, decided to set it in modern day.
At the beginning Radames, the hero, and Ramlis, chief Priest of Egypt, learn the news of the impending battle on their mobile phones.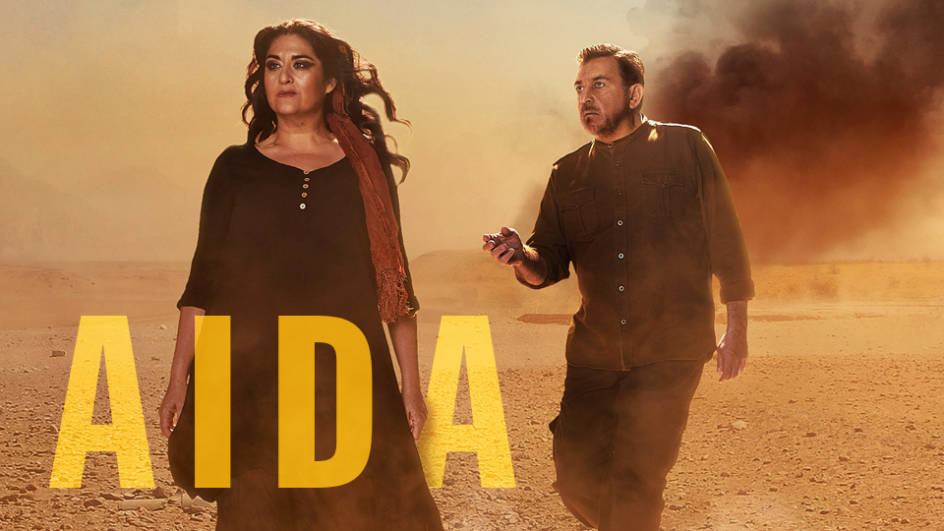 A large video screen above the stage displays artistic projections in tune with the scene. It is done in such a way that it acts as a counterpoint and does not distract from the action on stage.
With the orchestra being on stage the set is minimal and all the action takes place on a thin strip at the front. This did not diminish the power of the performances which were incredible.
Alexandra Zabala as Aida was able to portray the conflicted princess with emotion and verve. Her voice was powerful yet tender, heartbroken but determined. She gave the part a spiritual quality that was deeply moving.
The basic plot of the opera is that Aida, an Ethiopian princess, has been separated from her family and enslaved by Amneris, Princess of Egypt and the only daughter of the King.
They both love Radames, captain of the Egyptian military and a war hero. He is in love with Aida which naturally enrages Amneris.
Aida is forced to make a choice between the love she has for her homeland and the man she loves.
Rafael Rojas plays Radames with a powerful intensity. He exudes a fierce passion. His singing is almost overwhelming as he moves between anger, despair and love.
The orchestra was conducted by Sir Richard Armstrong, a distinguished conductor, who led the musicians with skill, timing and panache.
The music they produced was overpowering but in a good way. It swept the audience up into this personal and political conflict with its pulsing energy filling the cavernous space of The Bridgewater Hall.
The dynamic chorus were tribal, splitting, at times, on gender lines and adding moments of humour. As you would expect they harmonised beautifully but it was their sheer enthusiasm that made their contribution all the more enjoyable.
Amneris was played by Alessandra Volpe. She was able to show how the initially flirty, spoilt princess is able to learn about life, sacrifice and peace. In a way she has the hardest journey to make and her singing was immense.
One of the highlights of Aida is The Grand March, played on the Aida Trumpet. This instrument was created by Verdi for this opera.
Love conquers all and I loved this production.
Reviewer: Adam Williams
Reviewed: 4th June 2019
North West End Rating: ★★★★★