'One Good Night' premiered at Manchester's Hope Mill Theatre last night. Written by Aisling Caffrey and directed by Alyx Tole, this one act play explores the topic of rape and sexual assault. Watching it just the night after Harvey Weinstein was convicted of rape on numerous occasions, it seems more important than ever that these issues are being written and brought to the stage.
The story follows Amelia (Sammy Winward) and her sensible flatmate May (Misha Duncan-Barry) who are trying to navigate their way through adult life, often joined by their Northern neighbour Julie. (Susan McArdle) McArdle's comic timing throughout the piece was excellent and often brought a welcomed and lighthearted relief to more serious moments of the play.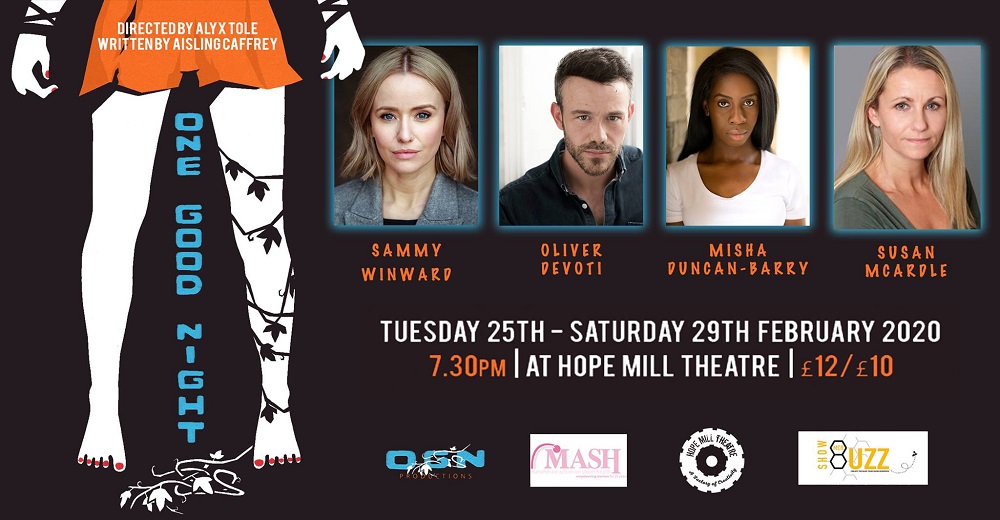 May is reluctant to believe Amelia that she has been raped by her boyfriend and takes Pete's (Oliver Devoti) side of the story instead. Devoti's performance was harrowing, particularly in the more violent scenes shown between him and Amelia.
One particular clever part of the play was a repeated scene between Amelia and Pete. It showed different outcomes of what could have happened between them, differing between violence and actually talking about their problems. Inevitably, this ends in Amelia having the last laugh. Intimate conversations about the objectification of women and their experiences are followed by Julie and Amelia, in a cathartic way.
After May and Julie work together to help Amelia, the play ends with a concluding scene where the three girls are attending to the Julie's garden, and Amelia compares her story to the uncontrollable ivy that has taken over the garden; 'it's like that ivy..it starts small but it feeds off everything.' This scene was moving as it showed the power of female friendship and helping one another.
'One Good Night' is at Hope Mill Theatre until Saturday 29th February.
Reviewer: Claudia Thomas
Reviewed: 25th February 2020
North West End UK Rating: ★★★★