It's that time of year again, when the youngest of us are all agog and excited, whilst the oldies try our best to let our hair down and enter into the spirit - and what better way can there be than having the whole family, young and old alike, come along to The Bridgewater Hall to hear the superb joined forces of four of the six Halle groups bring you some Christmas cheer! You don't need to be Christian to come along - there is plenty in there for all to enjoy - but it certainly helps. There is a natural bias quite obviously, since Christmas celebrates the birth of Jesus Christ; and the songs we are invited to sing along to are hymns and very religious. But even devote atheists like myself still enjoy the atmosphere, and especially the superb singing from the Halle Choirs.
The orchestra started the concert off in fine form with the Polonaise from Rimsky-Korsakov's 'Christmas Eve', and then we were launched straight into the first of several pieces where the audience are invited to raise their voices along with the choirs, this one for Once In Royal David's City. The concert kept alternating between orchestral pieces and choral, with the choral pieces featuring one or more of the three choirs singing this afternoon. The Halle Choir (for review purposes and to avoid confusion - The Adult Choir) boasts over 140 members, and although not a professional choir in the sense that they do not get paid for their singing, they are most certainly world-class in their vocal ability. The first half of this afternoon's concert ended with what can only be described as pure kitsch magic! With an almost cinematic quality to the writing, and with every device thrown into the piece for good measure, including a long a capella section and a rousing organ backing, composer Darius Battiwalla threw everything at this well known piece and came up with a hugely dramatic showpiece and showstopper in his version of Adam's O Holy Night. The Adult Choir raised to the occasion superbly, and I was completely blown away! Magnificent!
The second choir to be featured was The Halle Youth Choir. Taking choristers between the ages of 13 and 19, The Youth Choir has developed a fantastic reputation and is now known not only throughout the UK but on the continent too, and is renowned as one of the leading mixed youth choirs in the country. And quite rightly so too. Their renditions of Suo Gan ( a traditional Welsh air ), and the Catalan Fum, Fum, Fum were delightful, and their joining forces with the adult choir to sing another highlight of the concert; Jan Sandstom's reworking of the traditional German song about a blossoming rose, Es Ist Ein Ros Entsprungen, was breathtaking and hauntingly beautiful.
The third but by no means least choir to be represented this afternoon was the ever wonderful, and hugely impressive Halle Children's Choir. Of all the musicians in the Halle Family this choir continues to impress the most every time I see them. Under the firm and martial control of their director Shirley Court, the choir of almost 100 youngsters aged between 8 and 12 are a pure delight to both watch and listen to. They are also the choir to sing more from memory than the other two choirs, which always impresses. In the first half they sang Unfinished Story, and in the second half, complete with cracker hats and choreography, I'm A Little Christmas Cracker. Their diction was crystal clear, their movements all together, the harmonies good and solid, and even the last line sung by a solo child came across so well.
Other concert highlights included Angel Alleluias sung by all three choirs with tambourine accompaniment; and two curiosities which I had never come across before. First, the adult choir and orchestra performing Tomorrow Shall Be My Dancing Day, followed by an even more curious piece, a movement from a short suite called Festive Drinking Songs For Organ And Orchestra by Roderick Elms. Here the orchestra (with organist Jonathon Scott) played the slow and rather drunken movement, God Rest Ye Merry, Gentlemen.
There is a poster in the foyer of the Bridgewater Hall which simply reads; 'Halle - Thrilling - Breathtaking - Stunning - Inspiring - Passionate.' I would agree wholeheartedly with every sentiment. But there is yet another adjective to add to that list, and with this being the season of jollity and frivolity, 'fun-loving' is also very appropriate. These Christmastide concerts are all about letting your hair down and lessening that distance between us and them. In this regard, the orchestra and choristers are given the leeway of adorning music stands and folders with tinsel or lights and wearing festive hats or tinsel etc on their bodies. It's a nice idea which simply for me fails on every count. Please allow me a moment to get this off my chest...
The Halle is world famous and stands head and shoulders above most other similar organisations. It has that reputation and dignity. By allowing such haphazard and higgeldy-piggeldy adornments, the Halle is lowering its standards and losing that dignity. I DO like the idea of 'chritmassifying' the stage and performers, but there certainly needs to be rules about what, where, when and how. It should either be ALL or nothing, and there needs to be a uniformity about it. The other groups need to take several leaves out of the book of The Children's Choir. Once again, they had got it just right. They all walked in, in order, and all sat together. They all sat completely still throughout, impeccably behaved, and in the second half, they all adorned their wrists with tinsel bands. Every one had them, they were all the same, and they all wore them together. They all put their cracker hats on all at the same time, all together and they all had the same hats. Utterly perfect - a brilliant way of allowing something a little different and christmassy to brighten the visual spectacle; but nothing that is too eye-catching or distracting, and everyone had the same. Such a shame that the other two choirs and the orchestra deemed it fit to be extremely ad hoc and laisse-faire in this regard. OK, I have got that off my chest now!
And so, with a rousing choral and audience rendition of O Come All Ye Faithful, the concert was over - well, almost... there was still time for the orchestra to play Sleigh Ride and for the three choirs to join with the orchestra in singing We Wish You A Merry Christmas. The whole concert was conducted by the very personable and excellent conductor Stephen Bell, the Halle's Associate Pops Conductor, with the exception of one song conducted by The Halle Choir's Choral Director, Matthew Hamilton, and one by The Youth Choir's Director, Stuart Overington,
These Carol Concerts are extremely popular, and this afternoon was a near capacity audience, and there are two more on Sunday. Little wonder why they are so popular though - for a Christmas Carol and Music celebration, you will have to go a very long way to find an equal.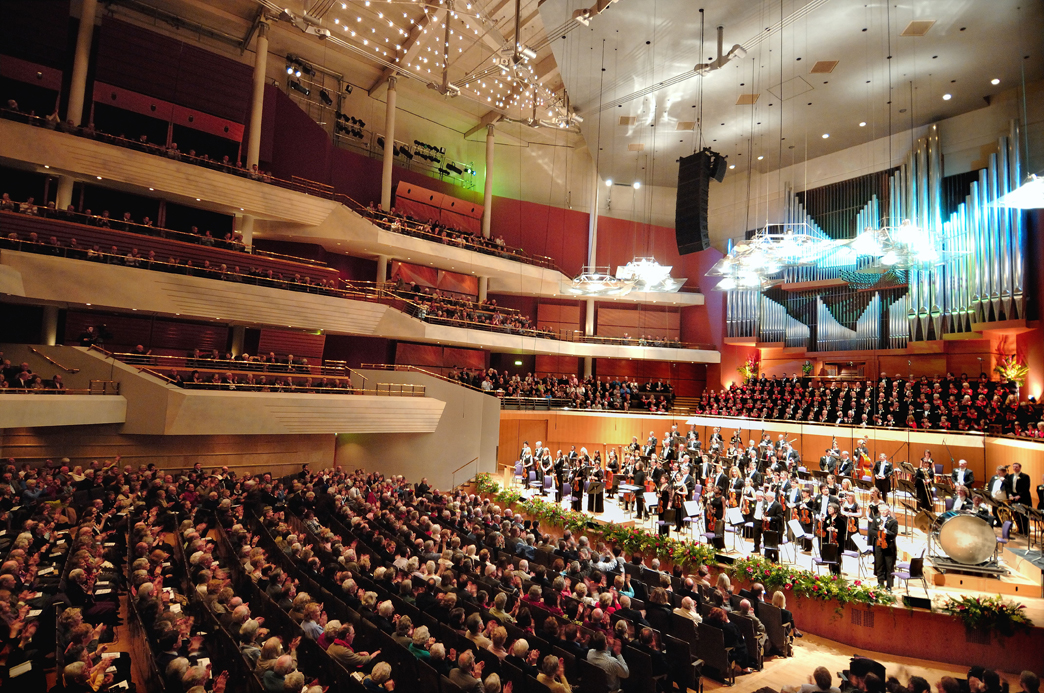 Reviewer: Mark Dee
Reviewed: 17th December 2016
North West End Rating: ★★★★